NYC Comedy Picks for Week of August 31, 2009
NYC Comedy Picks for Monday 8/31/09
Avenue Q's Stephanie D'Abruzzo, SNL's Jason Sudeikis, and other stars perform tonight at Gravid Water
6:30 pm & 9:00 pm (no cover, 1-item min.): The perfect show for short attention spans—open mic stand-up with 4½ minutes per set and 25 comics crammed into 2½ hours—at John Morrison's Ochi's Motel
[TOP PICK] 8:00 pm ($5): Wonderful stand-ups Dave Hill, Victor Varnado, Joe DeRosa, and Dan St. Germain, plus sketch duo Laura & Bradford, performing at Lolita Bar in Liam McEneaney's Tell Your Friends
[TOP PICK] 8:00 pm ($5): TV stars Jason Sudeikis (Saturday Night Live) and Scott Adsit (30 Rock), and luminous Broadway actors Stephanie D'Abruzzo (Tony nominee for Avenue Q; Sesame Street), Jonathan Kaplan (Tony nominee for Falsettos), Alison Pitt (Tony nominee for The Lieutenant of Inishmore), and more mixing it up with some of the best improvisors in the world—Becky Drysdale, Michael Delaney, Thomas Middleditch, and Tami Sagher—as they crash improv into classic theatre scenes at Gravid Water
9:30 pm ($5): Two comedy shows with intriguing titles trying out for a regular slot on the UCBT stage: The Movie Set and Morality Plays
[TOP PICK] [FREE] 11:00 pm: A gathering of some of the finest stand-ups in the country—who tonight are Eugene Mirman, Marc Maron, Hannibal Buress, Joe DeRosa, and Rory Scovel—hosted by the wonderful Leo Allen (Saturday Night Live, HBO, Comedy Central) at Whiplash
NYC Comedy Picks for Tuesday 9/1/09
Acclaimed writer/artist Danica Novgorodoff appears at Comic Book Club, and top comedic storytellers perform at Speakeasy
[TOP PICK] 8:00 pm ($5): Book author Steve Saffel (The Best of Simon & Kirby), award-winning graphic novel writer/artist Danica Novgorodoff (Slow Storm), and (via phone) comics journalist Chris Sims (Chris' Invincible Super-Blog) joining in on a lively & hilarious discussion about four-color pop culture at Comic Book Club
8:00 pm to midnight ($5): Four full hours of improv for only five bucks—tonight featuring UCBT house troupes Robber Baron, DeCoster, Badman, Bastian, and The Scam—followed by UCBT students at the top 600 level performing improv as citizens of Tiny Town, all at Harold Night
[TOP PICK] [$] 8:30 pm ($10 plus $7 drink min.): Superb storytellers—including Eileen Kelly, one of the finest writer/actresses to ever perform a solo show at FringeNYC—tell comedic true tales at Sherry Weaver's Speakeasy: Stories From the Back Room
9:00 pm (no cover, 1-item min.): NYC comics tell tales about their "first time"—be it with sex, or anything else—at a show in Ochi's Lounge that provides free chocolate-covered cherries, hosted by Evan Morgenstern: The Virgin Chronicles
NYC Comedy Picks for Wednesday 9/2/09
Huge congratulations to Jenny Slate on becoming the newest cast member of Saturday Night Live!
(And kudos to SNL for its wonderful taste in stellar talent.)
Jimmy Fallon: Jimmy, I'm Jenny
NYC Comedy Picks for Wednesday 9/2/09
Margie Kment (Now We're Talking) and Eugene Mirman (Big Terrific)
[FREE] 6:00 pm to midnight: Six free hours of improvisation in The PIT's Super Free Wednesday
[TOP PICK] [FREE] 8:00 pm: Superb stand-ups Margie Kment (who'll soon be moving to LA), Morgan Murphy, Kumail Nanjiani, Jamie Lee, Craig Baldo, and Dave Rosinsky at a free weekly comedy show at Rodeo Bar hosted by the luminous Margie Kment & Matt Maragno: Now We're Talking
[TOP PICK] [FREE] 8:00 pm: Former Saturday Night Live & Daily Show star A. Whitney Brown, plus brilliant storyteller/standup Leslie Goshko, and stand-ups Mark Riccadonna, Trevor Williams, Selena Coppock, Malaika Gordon, and Liz Simons, all performing at a free weekly East Village show hosted by Sharon "Mama" Spell: Shrink
[TOP PICK] [FREE] 8:30 pm: Comedy giants Eugene Mirman and Leo Allen, plus UK TV comedy star Phil Jupitus, and sharp NYC stand-ups Rory Scovel and Brent Sullivan, at a free weekly show at Brooklyn's Cameo (behind Lovin' Cup) hosted by Gabe Liedman & Max Silvestri: Big Terrific
[TOP PICK] 9:30 pm ($5): An hour-long play made up on the spot by razor-sharp, passionate improvisors Scott Adsit (30 Rock, Moral Orel) and Christina Gausas (Conan O'Brien, The Colbert Report) at Adsit & Gausas
[TOP PICK] [FREE] 11:00 pm: Host Justin Purnell (The Colbert Report) provides a mix of guests who perform stand-up, improv, sketch, and occasionally acts that defy categorization. The level of talent can vary wildly—but for some (like me), that's part of the laid-back fun. Come support the experimentation, and periodic magical surprises, that this uniquely organic rollercoaster of a show makes possible: School Night
NYC Comedy Picks for Thursday 9/3/09
Seth Herzog (Night of Fun), Jessica Delfino (Variety SHAC), and Eric Scott (Cage Match)
8:00 pm ($5): Sharp improvisors directed by James Eason "take an audience suggestion and break it into a million funny pieces" in The Deconstruction
8:00 pm ($8): "Pat Shepherd thought he was getting married. He was wrong. Follow his story in the premier of this hilariously heartbreaking one man show:" The Breakup
[TOP PICK] 9:30 pm ($5): Jessica Delfino (back from her UK tour!), Tami Sagher (writer for 30 Rock), Eric Slovin (Saturday Night Live, Comedy Central Presents), and short filmmaker Edmond Hawkins joining the fresh, sexy, and razor-sharp gals of Variety SHAC
[TOP PICK] [$] 9:30 pm ($10 with code SETH online & 2-drink min.): Who but the wonderful Seth Herzog (VH1's Best Week Ever, Jimmy Fallon, Sweet) would kick off the description of his debut show at Comix as "kind of the night you wish you could have at a comedy club all the time"—effectively pissing at every other show playing at that club? Seth is a dynamic performer and engaging stand-up; plus he's friends with most of the top comedy talent alive, so there's no telling who'll be dropping in for Seth Herzog's Night of Fun
[$] 10:00 pm ($31.25 & 2-drink min.): A provocative comedy star who's written for Richard Pryor, Red Foxx, and Saturday Night Live, and performed on Chappelle's Show and David Letterman, headlining through Sunday at Carolines: Paul Mooney
[TOP PICK] 11:00 pm ($5): Death by Roo Roo tonight facing a challenger of equal brilliance—C, C, & C Improv Factory, the 2007 Season Cage Match Champion—in a battle for audience laughs and votes of such mammoth proportions the gods themselves will be watching Cage Match
NYC Comedy Picks for Friday 9/4/09
Brilliant comedic character performer Kate McKinnon plays five messed-up women hoping to win an Oscar in Best Actress
Recommendations for the best in New York City comedy tonight
(in chronological order, with top picks noted and shows over $10 marked with $) include:
[TOP PICK] 8:00 pm ($10): Brilliant character performer Kate McKinnon (co-star of Logo's Big Gay Sketch Show) playing five very different actresses waiting to hear which of them won an Oscar (keep an eye out for the old lady, who's one of the funniest characters you'll see this year, anywhere); and ace sketch troupe Pangea 3000 performing all-new routines, in the double-bill Best Actress and Pangea 3000 Sucks
[TOP PICK] [FREE] A CD release party for superb stand-up Rob Cantrell, with performances by such other superb comics as Victor Varnado, Tony Camin, and Yannis Pappas, at Brooklyn's Coco 66 for Nick Turner's Too Cool for School
9:00 pm (no cover, 1-item min.): Sharp NYC stand-ups Claudia Cogan (AfterEllen), Adam Lehman (here! TV's Hot Gay Comics), William Mullin (PTown Favorite), Monrok (Winner of California's Funniest Females), and more performing at Ochi's Lounge at a gay-themed comedy show hosted by Jenny Rubin: The Back Room
[TOP PICK] 9:30 pm ($10): Some of the finest improv in NYC from the comedy genius members of The Stepfathers
10:00 pm ($7): Singing improvisors who use an interview with an audience member to craft The Made-Up Musical
[TOP PICK] 11:00 pm ($5): A comedic freestyle rap contest featuring some of the funniest & sharpest comics in NYC—who tonight are Baron Vaughn, Becky Drysdale, John Dixon, Diane O'Debra, and Nate Shelkey—plus a volunteer from the audience!, hosted by genius comedic musical performers Chris "Shockwave" Sullivan (Freestyle Love Supreme) and Eliza Skinner (I Eat Pandas), all at The BEATdown
[FREE] 12:20ish am:A free opportunity for you to perform sketch on the UCBT stage at Liquid Courage
[$] 12:30 am ($31.25 & 2-drink min.) A provocative comedy star who's written for Richard Pryor, Red Foxx, and Saturday Night Live, and performed on Chappelle's Show and David Letterman, headlining through Sunday at Carolines: Paul Mooney
NYC Comedy Picks for Saturday 9/5/09
Horror sketch comedy (I Laughed Until I Died), Jon Dore (Headlining at Comix), and Christina Casa (Don't Cry Out Loud)
7:00 pm ($10): Christina Casa, who memorably played Angelina Jolie in Jen & Angie at last month's FringeNYC, demonstrates she's got other hilarious characters in her repertoire in the one-woman show Don't Cry Out Loud
7:00 pm (no cover, 1-item min.): Sharp NYC stand-ups RG Daniels, Kevin Mcaffery, Ali Woller, Zach SIms, Gilad Foss, and "a very special guest" performing in Ochi's Lounge at Lil' Seany Boy
[TOP PICK] 7:30 pm ($10): Brent Sullivan performs a one-man show about his experiences with NYC's gay community, and Mike Still, Leslie Meisel, and writer Geoff Garlock perform five terrifying sketch comedy tales, in the double-bill Fag Life and I Laughed Until I Died
[$] 8:00 pm & 10:30 pm ($25 & 2-item min.): One of Variety's Top Ten Comics to Watch in 2009 headlining at the elegant Comix Comedy Club: Jon Dore
8:00 pm ($10): Comics experiencing the rush of performing with no clothes on in The Naked Comedy Showcase
[TOP PICK] 9:00 pm ($10): The gutsiest improv troupe in NYC, Death by Roo Roo
[TOP PICK] [$] 9:00 pm ($15): Ted Greenberg (Emmy-winning David Letterman writer) performing a fun, quick-paced theatrical comedy show—complete with audience rides home!—at The Complete Performer
9:00 pm ($5): Organic & energetic improv by the four guys of 4 Track!
[TOP PICK] 10:30 pm ($10): All-star improv troupe Reuben Williams
10:30 pm ($5): Vibrant improv—and the last Magnet show until October 10th—from acclaimed trio Statues of Liberty
[$] 12:30 am ($31.25 & 2-drink min.) A provocative comedy star who's written for Richard Pryor, Red Foxx, and Saturday Night Live, and performed on Chappelle's Show and David Letterman, headlining through Sunday at Carolines: Paul Mooney
NYC Comedy Picks for Sunday 9/6/09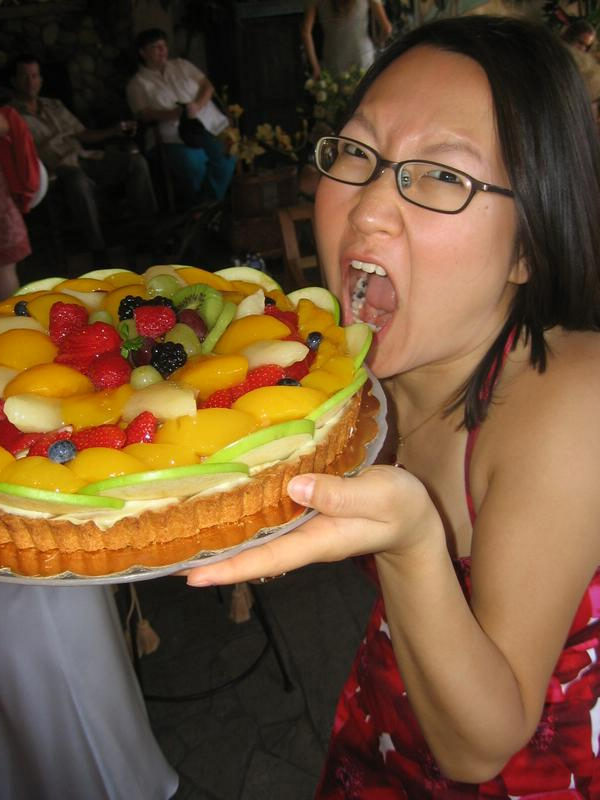 Helen Hong performs tonight at the Electro Shock Therapy Comedy Hour
[TOP PICK] 7:30 pm ($10) and 9:30 pm [FREE]: UCBT's signature improv comedy extravaganza, which typically includes stars in the improv world, and sometimes even TV & movie stars such as Amy Poehler and Horatio Sanz —ASSSCAT 3000
[FREE] 8:00 pm: Ali Waller (writer for Jimmy Fallon), Tom McCaffrey (The Onion News Network, TruTV), Rob O'Reilly (Jay Leno, Comedy Central), Sarah Tollemache (Last Comic Standing), and Tom Sible at RG Daniels' free weekly show at the Three of Cups East Village lounge: Sunday Night Stand-Up
[FREE] 9:00 pm: Chesley Calloway, Jon Lang, Zach Sims, and Danny Rouhier at Vince Averill's & Jesse Popp's free weekly East Village stand-up show Beauty Bar Comedy
[FREE] 10:00 pm: Helen Hong, Lisa Kaplan, Dana Lovecchio, and Chantal Carrere performing stand-up at a free weekly gay-themed show at Therapy hosted by Brad Loekle: Electro Shock Therapy Comedy Hour
[$] 10:00 pm ($31.25 & 2-drink min.) A provocative comedy star who's written for Richard Pryor, Red Foxx, and Saturday Night Live, and performed on Chappelle's Show and David Letterman, headlining at Carolines: Paul Mooney
Copyright © 2009 Hy Bender
Email: hy@hyreviews.com