NYC Comedy Picks for Week of September 1, 2008
NYC Comedy Picks for Monday 9/1/08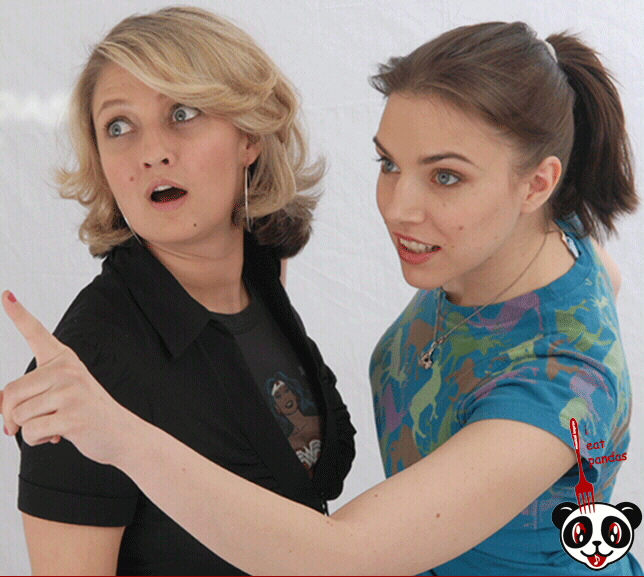 Glennis McMurray and Eliza Skinner are simply geniuses
at taking a suggestion from the audience and creating
an entire musical based around it, using only their imaginations,
immense talent, and the aid of their wonderful improv pianist
Frank Spitznagel. Each of these gals is a powerhouse performer;
what they manage to create together tends to be sheer magic.
You don't have to take my word for it, either:
the duo won the 2008 ECNY Award for Best Improv Group; and they
just starred in the Fringe festival hit Gem! A Truly Outrageous Parody,
which won two FringeNYC 2008 Awards.
Don't miss any chance to enjoy these comedic wizards at play.
9:30 pm at UCBT, 307 West 26th Street (off 8th Avenue); tickets are $5
NYC Comedy Picks for Tuesday 9/2/08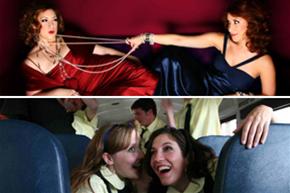 Some of NYC's funniest and tuniest musicians perform at this entertaining show.
The guests include Ben Lerman, The Hazzards, Mel & El, and Tom Leopold.
Save $5 off the $20 cover (i.e., $15 per ticket)
with discount code HYREVIEWS. To order, please click here.
8:00 pm at Comix, 353 West 14th Street (between 8th & 9th Avenues);
$15 online with code HYREVIEWS, plus 2-item minimum

The Harold is longform improv, pioneered by Del Close.
Tonight, five improv troupes—
Bangs, The F*cking Kennedys, Ragnaröck, Bastian, and Whorenado—
each give it a go for 30 minutes, with
short breaks in between, for a total of 3 hours.
Some of the groups are great; some are less so. And this show
is designed more for students of improv than the general public.
But if you're interested, and patient, a mere $5 will buy you
a full evening's education...and periodic solid laughs.
And directly following this show is The Ladies of Harold Night, which consists of all-female improv, and which you can see for just an additional $5.
Harold Night is 8:00-11:00 pm at UCBT, 307 West 26th Street (off 8th Avenue); tickets are $5
The Ladies of Harold Night is 11:00 pm-mMidnight at UCBT; tickets are $5
NYC Comedy Picks for Wednesday 9/3/08
Lennon Parham and Jason Sudeikis
Lennon Parham: She Tried to Be Normal and Dan Dratch's Pilot Reading
There are few performers, comedic or otherwise, as appealing as
the sexy, laid-back, wry, and hilarious Lennon Parham.
Whether she's playing Nomi Malone (see my review of her Showgirls parody), author JK Rowling (as the clear highlight of a Harry Potter parody, in which Rowling reveals all the novels are based on actual events in her life), Sandy Michaelson as a Solid Gold Dance understudy, or zillions of characters while delivering world-class improvisation every Saturday night as part of stellar troupe Reuben Williams, watching the wonderful Ms. Parham is always a treat.
Tonight Lennon burns up the stage with an array of characters ranging from an unsettling radio DJ to a sweet little girl to Freddy Kruger...and will likely have you helpless with laughter.
(And if you don't want to take just my word for it, Jane Borden has written in Time Out New York that Lennon's antics "will leave you wondering why she isn't famous yet;" and writes in this week's edition, "Attention Lorne Michaels, please give Lennon Parham a job." )
The extravaganza is directed by the brilliant Jason Mantzoukas, who should take a bow for helping Lennon really show off what she can do in this solo outing.
Stop by and fall in love with one of the finest comedic actresses in New York.
The double-bill then continues with a sitcom pilot written by Daniel Dratch (writer for The Chris Rock Show, The Man Show, Monk), and performed by some of the finest comics in NYC: Jason Sudeikis (Saturday Night Live writer since 2003 and cast member since 2006; former love interest of Liz Lemmon on 30 Rock), Jack McBrayer (brilliant co-star of 30 Rock; Talladega Nights, genius musical improv troupe Baby with Candy), Dave Hill (see Video Clips of the Month), David Rakoff (The Daily Show with Jon Stewart; NPR; author of the humor essay books Fraud and Don't Get Too Comfortable), Julie Klausner (Julie & Jackie), and more.
Please Note: This show's seats are sold out. However, you can still come and enjoy it if you're cool with standing.
8:00 pm at UCBT, 307 West 26th Street (off 8th Avenue); tickets are $5
John Lutz and Peter Grosz
Superb comics Peter Grosz (writer for The Colbert Report, star of over 100 Sonic fast-food commercials, co-writer & co-star of UCBT sketch show The Steve Miller Band and Other Annoying Monsters) and John Lutz (writer & occasional actor on SNL since 2004; recurring character on 30 Rock) perform a two-man improv show (a version of their previous long-running and acclaimed Chicago show 4 Square, which also included Dan Bakkedahl and Rob Janas).
9:30 pm at UCBT, 307 West 26th Street (off 8th Avenue); tickets are $5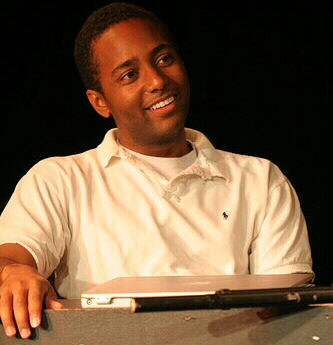 Justin Purnell
Host Justin Purnell provides a mix of guests who perform stand-up, improv, music,
and occasionally acts that defy categorization. The level of talent can vary wildly—
but for some (like me), that's part of the laid-back fun.
Come support the experimentation, and periodic magical surprises,
that this free show makes possible.
11:00 pm at UCBT, 307 West 26th Street (off 8th Avenue); free
NYC Comedy Picks for Thursday 9/4/08
Scott Bateman self-portrait
Scott Bateman is a prolific and witty cartoonist who produced an animated short
a day for an entire year. Scott's work can be found at Plum TV's Scott Bateman Presents; at Salon.com, for which he creates a weekly animated series; and on YouTube, where you'll find such unlikely stuff as Scott's animated versions of PIT improv troupes. To get a feel for his work, check out Scott's public service announcement about VD (which actually aired on prime time) by clicking here.
Tonight Scott will show some of his political cartoons and then host a panel discussion about the news with sharp NYC comics Leo Allen (SNL, Comedy Central Presents),
Max Silvestri (Bestweekever.tv, Gabe & Max's Internet Thing), and Ali Farahnakian (SNL, 30 Rock). As the official description puts it, "Think The McLaughlin Group, but funny on purpose."
7:00 pm at The Peoples Improv Theater, 154 West 29th Street (off 7th Avenue); tickets are $5
Please Note: The PIT show directly following this, the premiere of Totally Worth It by Kimmy Gatewood (Apple Sisters) and Alicia Levy (Drop Six), is sold out. However, you can purchase tickets for a subsequent performance (it's playing every Thursday in September) by clicking here.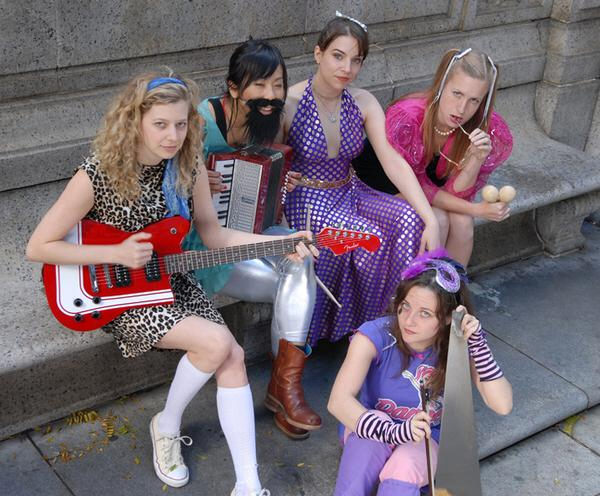 Stickerbook is a terrific experimental cover band whose members include some of the funniest women in NYC: Jen Hammaker (theremin, keys, vocals), Becky Poole (saw, accordion, guitar), Eliza Skinner (drums, accordion, vocals), Sue Galloway (guitar, keys, vocals), and Becky Yamamoto (keys, tambourine, vocals, beard). In addition to jammin', they'll be interviewing Peter Gwinn (writer for The Colbert Report; co-founder of genius musical improv group Baby Wants Candy). Please sample their stuff via their MySpace page, and then come see them perform live this evening for a mere five bucks.
9:30 pm at UCBT, 307 West 26th Street (off 8th Avenue); tickets are $5
Cage Match: Death by Roo Roo vs. Dogbasket
This delightful show pits two improv teams against each other while creating the
atmosphere of a professional wrestling arena—and providing such side-shows
as a bout to the death between guys costumed as an alcoholic wolf and TV's Alf.
(For a spirited weekly report on the wrestling aspect of Cage Match, please click here.)
The current reining champ at Cage Match is arguably the gutsiest improv group in NYC: Death by Roo Roo, consisting of uniformly brilliant comics Anthony Atamanuik, Neil Casey, Jackie Clarke, Brett Gelman, John Gemberling, and Curtis Gwinn. So far this season, DBRR has trounced 15 troupes in a row—breaking the all-time record of 14 for winning streaks set by Optimist International in 2002! And this juggernaut doesn't merely walk over opponents, it pounds them into the ground: DBRR has won a total of 1,508 audience votes vs. a mere 632 for all its opponents combined.
Tonight's contender is Dogbasket, which is either an adorable puppy housed in a convenient wicker container, or a relatively new troupe consisting of Emily Axford, Jordan Boughrum, Eddie Brawley, Matt Cutler, Christine Nangle, Zhubin Parang, Josh Patten, and Zack Phillips.
There's no telling what'll happen...which is one of the great pleasures of this extravaganza.
11:00 pm at UCBT, 307 West 26th Street (off 8th Avenue); tickets are $5
NYC Comedy Picks for Saturday 9/6/08
Kristen Schaal & Kurt Braunohler
Kristen Schaal is one of the finest comics in the country...and can do it all.
She's a master of improv, sketch, comedic acting (e.g., she co-starred in HBO's comedy series
Flight of the Conchords), and is one of the shining jewels on The Daily Show
as the official correspondent on women's issues. Plus she's an awesome
stand-up comic; to read about Kristen's previous killer set at Comix, please click here.
Kurt Braunohler is a frequent comedy partner of Kristen, performing sketches with her that are hilariously indescribable. Kurt also co-stars with Kristen in the Web series Penelope, Princess of Pets, for which he won the 2008 ECNY Award as Best Director;
and is co-host with Kristen of of NYC's Hot Tub Variety Show.
Tonight these magical performers put on the hit comedy show they debuted at the 2008 Edinburgh Festival. This is a not-to-be-missed event.
Save $5 off the $25 cover (i.e., $20 per ticket) with discount code HYREVIEWS. To order, please click here.
Please note there's also a two-item minimum; with tax & tip, figure another $13 or up.
My guess is the evening will be well worth it.
8:30 pm & 10:45 pm at Comix, 353 West 14th Street (between 8th & 9th Avenues)
Magnet instructors & Second City veterans such as Rachel Hamilton, Ed Herbstman, Abby Sher, and Miriam Tolan, plus stars of Mother: The Soundtrack (see below) Jason Mantzoukas, Tara Copeland, James Eason, Christine Walters, plus occasional special guests (such as superstar Mike Meyers), turn a tiny suggestion into larger-than-life improvised scenes.
7:30 pm at The Magnet Theatre, 254 West 29th Street (off 8th Avenue); tickets are $5
Jason Mantzoukas leads a vibrant team of improv comics—Scot Armstrong, Tara Copeland, Jon Daly, James Eason, Jesse Falcon, Doug Moe, and Christine Walters—who make up scenes based on CD tracks contributed by the audience. One of UCBT's most beloved shows.
9:00 pm at UCBT, 307 West 26th Street (off 8th Avenue); tickets are $10
Reuben Williams: As Seen on TV
Anthony King demonstrates that in addition to running UCBT-NY brilliantly, he's a superb improvisor and actor. Joining him are stellar talents Eugene Cordero, Lennon Parham, Charlie Sanders, Eric Scott, Kate Spencer, Charlie Todd, and Joe Wengert. Together, they interview an audience member, and then use the answers as the basis for a new TV show...which this fiercely talented comedy troupe creates & performs for you on the spot.
10:30 pm at UCBT, 307 West 26th Street (off 8th Avenue); tickets are $10
Springboarding from a word suggested by the audience,
George Basil, Frank Campanella, Christian Capozzoli, and Matt Evans
perform organic & energetic long-form improv for about 40 minutes.
Basil is a stand-out, but they're all sharp, committed improvisors.
There's also a warm chemistry between the men, which is especially evident
if you arrive early to watch them getting ready on stage: They toss a ball
back and forth, and then toss each other back and forth...sending
a body message of "If you throw an improv concept at me, you can trust me
to not let it drop..." One of the Magnet's most popular shows.
10:30 pm at The Magnet Theatre, 254 West 29th Street (off 8th Avenue); tickets are $5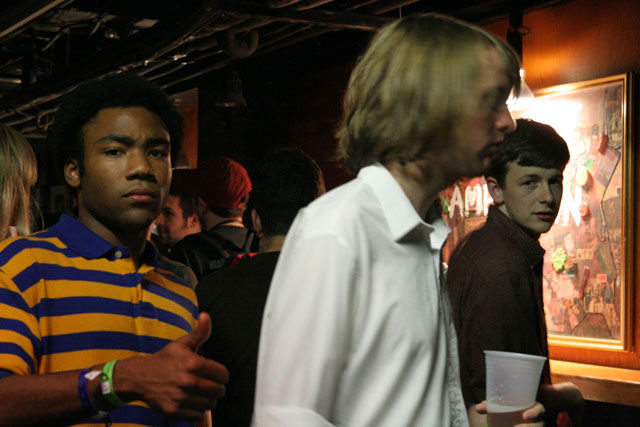 Derrick is three sharp and enormously appealing performers,
Dominic Dierkes, Donald Glover, and DC Pierson, who have
proven themselves to be both stars and improvisation champions,
winning a breathtaking 11 improv matches in a row last year at Cage Match...
and breaking several all-time records while at it.
The guys also make wildly popular YouTube videos—
for some samples, please click here and here and here.
In this show, they perform sketch comedy live,
and throw in an improv session to boot.
These wonderfully inventive writer/actors are continually
creating new material, so even if you've seen this show before,
don't hesitate to come tonight; they're sure to surprise you.
Midnight at UCBT, 307 West 26th Street (off 8th Avenue); tickets are $5
NYC Comedy Picks for Sunday 9/7/08
The Upright Citizens Brigade Theatre's signature show, which features a monologist telling stories based on audience suggestions and a group of top improvisers (sometimes including stars such as SNL's Amy Poehler and Horatio Sanz) creating scenes based on the stories. There are two shows every Sunday which share the same format, but are otherwise entirely different because everything is improvised. The 7:30 pm show is $8; advance tickets might be sold out by the time you read this, but a limited number of seats are available at the door for
those who arrive early enough to nab 'em...and even more tickets are available for those willing to watch the show standing. The 9:30 show is free, with tickets distributed outside the theatre
at 8:15 pm; but again, you may need to come early and wait on line to ensure getting into
this first come, first served performance.
7:30 pm & 9:30 pm at UCBT, 307 West 26th Street (off 8th Avenue)
Michael Showalter and Eugene Mirman
If you live in Brooklyn, or simply don't mind going a few subway stops beyond Manhattan,
some of the best funny minds in New York can be found at this weekly show
run by these two comedy giants (winners of the 2008 ECNY Award for Best Hosts):
Eugene Mirman (Late Night with Conan O'Brien, Comedy Central Presents half-hour special,
Comedy Central's Premium Blend and Jump Cuts, HBO's Flight of the Conchords, VH1,
The Absurd Nightclub Comedy of Eugene Mirman and En Garde, Society! comedy albums) and
Michael Showalter (Michael Showalter (MTV's seminal sketch show The State, legendary comedy troupe Stella,
writer/director/star of feature film The Baxter, co-writer/co-star of feature film Wet Hot American Summer).
The guys took off for the summer, but tonight resume their immensely popular and beloved weekly show...and will undoubtedly have stories to tell. (This year even I have an August anecdote—about the FringeNYC one-woman show that erected an alter to Showalter.)
Tonight's guests haven't been announced, but they're typically stellar NYC stand-up comics.
8:00 pm at Union Hall, 702 Union Street at 5th Avenue in Park Slope, Brooklyn; tickets are $7
Take the R train to Union Street and walk 1 block east; or take
the F train to 4th Avenue, walk north on 4th Avenue and turn right on Union Street, and go 1 block up;
or take the 2/3/4/5/Q train to Atlantic Avenue, walk south on 5th Avenue, and make a left on Union Street.
Vince Averill and Jesse Popp
Vince Averill (Comedy Central's Live at Gotham, DC Comedy Festival) and Jesse Popp (Comedy Central's Premium Blend) host this free comedy show.
Tonight's guests haven't been announced, but they're usually very sharp NYC stand-ups.
9:00 pm at Beauty Bar, 231 East 14th Street (between 2nd & 3rd Avenues); free
Return to Previous NYC Comedy Picks
Copyright © 2008 Hy Bender
Email: hy@hyreviews.com