New York Comic Con 2019 Highlights
There are way more wonderful things that happen at a Comic Con than can be experienced by any one person. That said, here are my personal favorite memories of #NYCC19:
If you find what follows of interest, and you like comedy, please feel encouraged to subscribe to my BestNewYorkComedy.com blog and allow for email notifications, and/or to follow me on Twitter (@hybender) or Instagram (@hybenderny).
For any corrections and/or comments, please email me at hy@hyreviews.com.
Thursday 10/3-Sunday 10/6: New York Comic Con is one of the largest annual cultural events in the country—according to #NYCC, in 2018 it attracted over 250,000 people!
In addition to comic books and anime, this ultimate fan fest featured many comedians and spotlighted lots of TV comedy series or films, including "Rotten Movies We Love: The Stinkers That Stole Our Hearts" (Thursday at 12:30 pm, Room 1A10), "Netflix Presents Big Mouth" (Thursday at 5:30 pm, Main Stage 1D), "SpongeBob Squarepants Appreciation Day" (Friday at 10:30 am, Hammerstein Ballroom), "Adult Swim's Robot Chicken" (Friday at 4:30 pm, Hammerstein Ballroom), "TruTV's Impractical Jokers" (Friday at 6:15 pm, Main Stage 1D), "CollegeHumor's Dropout" (Friday at 6:45 pm, Room 1A21), "The George Lucas Talk Show" (Friday at 9:15 pm, Room 1A21), "Full Frontal with Samantha Bee—Election 2020" (Saturday at 4:30 pm, Room 1A10), and "Hulu's The Orville" (Sunday at 3:15 pm, Main Stage 1D). And comedy guests included Nick Kroll, Jason Mantzoukas, Jessi Klein, Samantha Bee, Paul Reubens, Paul Rudd, Seth Green & Matthew Senreich, Brian Posehn, Laraine Newman, Griffin Newman, Connor Ratliff, and Jameela Jamil (The Good Place).
I attended all four days of New York Comic Con 2019, which happened Thursday-Saturday 10:00 am-10:00ish pm, Sunday 10:00 am-5:00 pm, with the hub of activities at Jacob K. Javits Convention Center at 11th Avenue between 34th and 40th Streets.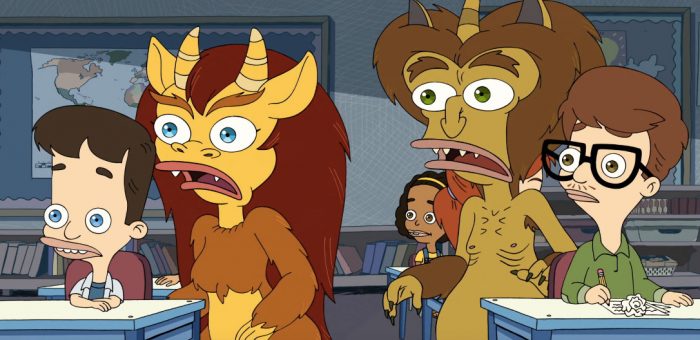 Thursday Highlights: The highlights of the first day of New York Comic Con included a gloriously long Q&A session with the writers and voice actors of Big Mouth—who are some of the funniest comics in the world (among the panelists were Nick Kroll, Jason Mantzoukas, and Jessi Klein)—plus the screening of the Season 3 premiere, which is a jaw-dropping, laugh-crammed epic about Florida. You can see all the episodes right now, as Netflix released Season 3 in its entirely mere hours after the panel. Netflix also renewed the series for another three seasons—and green-lit a spin-off devoted to the hormone monsters, tentatively titled Human Resources. Big Mouth is poised to enjoy a big future, and is highly recommended.
Author, cartoonist, and former NASA contractor Randall Munroe gave a thoroughly entertaining and thought-provoking talk about his new book How To: Absurd Scientific Advice for Common Real-World Problems, which encourages thinking in ridiculous ways to come up with uniquely effective solutions. Too many Comic Con panels are little more than self-congratulatory and dullish PR fluffery. In contrast, Munroe championed an uncommon way of thinking, with uniformly funny examples, that could end up being life-altering for anyone with an open mind.
My most difficult decision on Friday was choosing between a Dragon Ball panel with stellar voice actors Sean Schemmel and Christopher Sabat and a panel about bad movies. I let love for greatness win over love for terribleness, and had a delightful time watching Sean and Christopher. Among memorable moments was Sean explaining his voice for the villain Goku Black changed over time because the show refused to provide him with background information about the character due to an (arguably excessive) concern over maintaining secrecy. Sean therefore had to make up a voice based on almost nothing, and then refine the voice as he learned progressively more from each episode. Sean added that writers endure comparable experiences: "If you become a professional writer, you're going to deal with weird production things that really mess with your art—and you're going to get real mad. The trick is, if you can make magic under those parameters, those difficult conditions, then you're going to be a working writer."
I expect the movie panel was also way fun, though, so want to recommend the book it celebrated, titled Rotten Movies We Love: Cult Classics, Underrated Gems, and Films So Bad They're Good by the razor-sharp editors of the popular Rotten Tomatoes movie reviews site.
Friday Highlights: The high point of Friday for me was a wonderful hour with Paul Reubens (above) as he answered audience questions by telling numerous stories about his career—including the almost miraculous set of circumstances leading to his hiring Tim Burton to direct Tim's first feature film.
The short version (paraphrasing from memory): Warner Bros. asked Paul to provide a list of directors who he felt would be right for his movie Pee-Wee's Big Adventure. Paul handed in a list of 150 names—pretty much anyone who'd done a scene he remembered that he really liked.
When Paul met the studio heads, he quickly discovered that they'd vetoed all his choices. They responded by handing Paul a sheet of paper with a single name on it. "This is your director," they said.
Paul realized the person was totally wrong for the look and feel of his story, and said, "No." The execs said, "You don't understand. It's this director, or no movie." Paul said, "I'm sorry, but no. He's just not right for this."
After some more back and forth, the execs offered this compromise: "You can have one week to find us another director. But he has to meet the three "A"s—Appropriate, Affordable, and Available." What went unspoken was their apparent belief that finding a director meeting those criteria in such a short amount of time was virtually impossible.
Paul Reubens was a member of The Groundlings, and the comedy troupe was having a party that night. Paul went up to each person there and said, "I'm making a Pee-Wee movie. Do you know anyone who'd be a great director for it?" And by some miracle, one of the women comics named Marita responded, "I hadn't mentally connected him to you before this second; but oh my god, Paul. I know exactly who you should ask! His name is Tim Burton, and he's phenomenal!" The more she thought about it, the more she was going, "Oh my god, Paul, this is the guy!!!" Then she added, "Shelley Duvall just worked with him, for his short film Frankenweenie. Talk to her!"
Paul was friends with Shelley—he'd done one of her Faerie Tale Theatre episodes—so he called her. It turned out Shelley had : "I hadn't thought about it until you just brought it up; but oh my god, Paul! Tim would be perfect!!! Oh my god!!!"
The next day, Paul arranged through his manager to see a screening of Frankenweenie. Within the first minute, Paul knew it was the right match: the film showed TIm's amazing eye for style, art design, and specific clever details. Meanwhile, Warner Bros. attitude was "What do you need an art director for? What do you need style for? It's a comedy!" Which made hiring Tim all the more vital.
Paul returned to Warner Bros. and said, "I found the perfect director, in so many ways. His name is Tim Burton."
The execs laughed. "Tim Burton!" they said.. "You'll never get him! We've sent him eight projects already, and he turned every single one of them down. He's not going to even read your script."
But Paul persisted. His manager somehow got the script to Tim within a day or two.
And to Warner Bros. incredible shock and surprise, Tim read the script right away...and agreed to do the movie as his feature debut.
And that was just one story Paul told...
Saturday also featured a fascinating talk by Michael Uslan on the long, difficult journey he took to get the first modern Batman film made—which, by the way, was also directed by Tim Burton! Among the memorable details was Michael seeing the promotional "Here's Johnny!" shot of Jack Nicholson from The Shining, coloring the face white and lips red, and then pitching Jack to play The Joker.
Felicia Day promoted her new book Embrace Your Weird; but arguably undercut it by being so poised, dynamic, and charming that "weird" was probably the last word that occurred to anyone attending.
TNT's new AEW Wrestling group showed themselves to be quick wits and great showfolk. For example, when one of the female wrestlers was asked how she gauged progress in the industry, she said, "When they stop calling it women's wrestling and just call it wrestling." The same talent later boasted that "I never had trouble holding onto any man." The female colleague next to her followed up, "I never had trouble holding onto any man, either. Or any woman." The panel culminated in a huge physical fight, bringing everyone in the audience up from their seats and rushing the stage.
The evening ended with brilliant comics Connor Ratliff and Griffin Newman—pretending to be Star Wars' George Lucas and Watto—doing a single squirt into the air of Billy Dee Williams' old fragrance "Undeniable" and finding it filled the huge room with the power and appeal of a noxious gas (one panelist exclaimed, "Oh no! It's triggering my asthma!").
Events I didn't manage to see, but wanted to, included screenings and creatives from HBO's Watchmen, Adult Swim's Robot Chicken, and Adult Swim's Primal.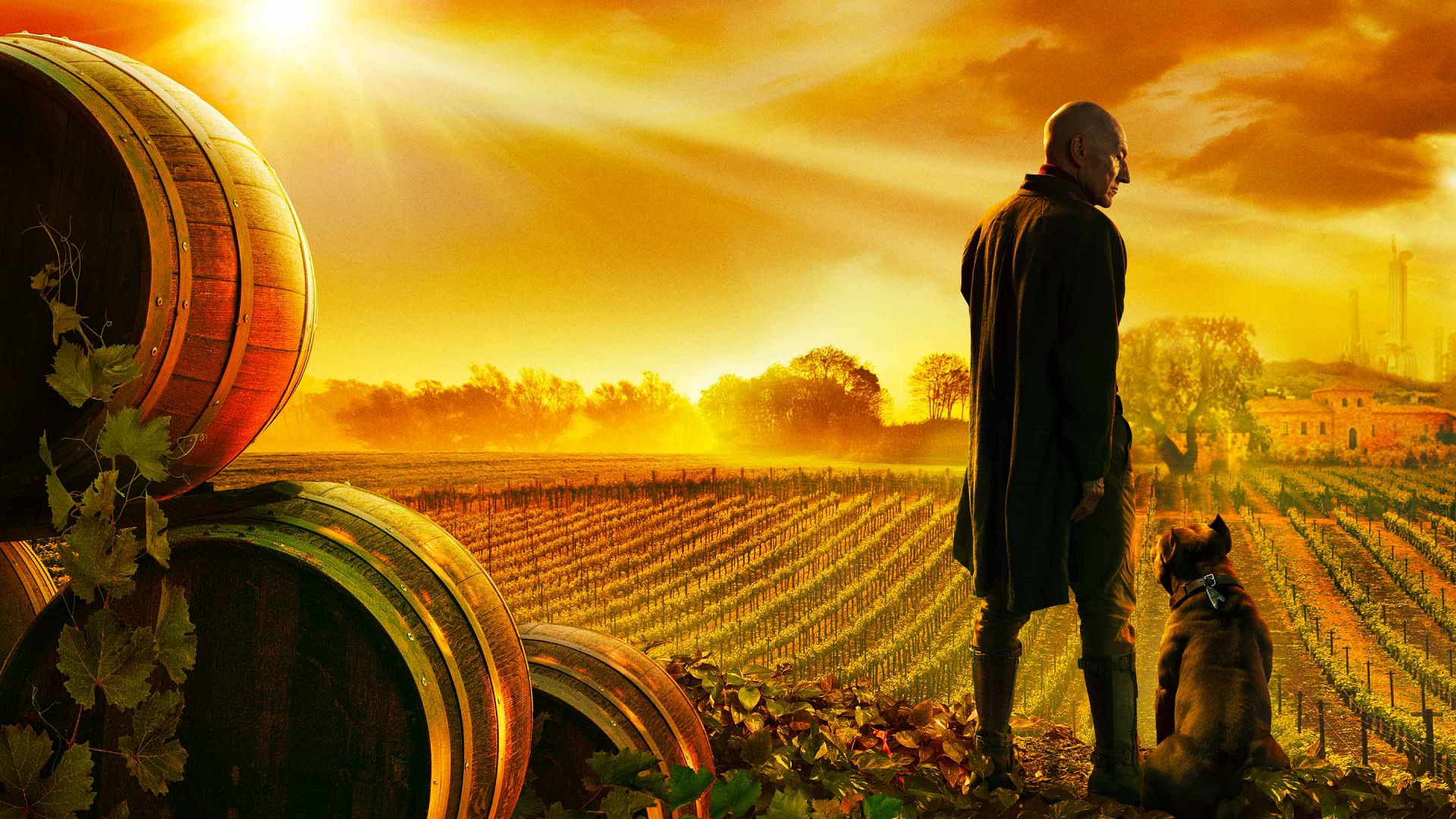 Saturday Highlights: This day started out amazing, as AMC's The Walking Dead put together a killer morning panel at Hulu MSG with moderator Chris Hardwick, series creator Robert Kirkman, showrunner/producer Angela Kang, long-time producer Scott M. Gimple, executive producer David Alphert, Danai Gurira (Michonne), Cailey Fleming (Judith; her first-ever comic con appearance), Norman Reedus (Daryl), Jeffrey Dean Morgan (Negan), Josh McDermitt (Eugene), Seth Gilliam (Father Gabriel), and Ross Marquand (Aaron). Given the star-filled stage, the air was electric with interest about anything they might say. That noted, one of the most memorable moments for me was Robert Kirkman revealing (paraphrasing) "I kept this to myself while I was writing the comic book; but now that it's over, I have to admit my favorite character was Negan. There were three separate points where I came very close to killing Negan. But each time, I just couldn't bring myself to do it." This made Jeffrey Dean Morgan very happy and drew faux-mean looks from Danai Gurira (who'll be leaving the series after this season for Black Panther, and later received a standing ovation from everyone).
Another reveal was that The Walking Dead universe would be opening up to tell a wider range of stories. In fact, the very next panel was devoted to the new third series (as yet untitled), about a group of 10,000 people who've led relatively sheltered, safe, civilized lives for 10 years since the zombie apocalypse, and whose main cast resembles that of a YA novel. (One touch I especially liked was this community referring to the walkers as empties.) It was also noted that the three-circle logo that's been appearing represents three major groups that cooperate with each other but we haven't yet met.
Directly following the TWD panels were panels on CBS All Access' Star Trek: Discovery and, more notably, Star Trek: Picard—with no less than Sir Patrick Stewart on stage! Sir Patrick initially said no to the concept, but then was won over by a 35-page outline—which bodes well for the quality of the storytelling. Also in the series will be TNG favorites Brent Spiner (Data), Jonathan Frakes (Commander Riker), and Marina Sirtis (Deanna Troi). You can see a trailer here.
Todd McFarlane celebrated breaking the record for "longest-running creator-owned superhero comic book series" with Spawn 301 by hiring a representative from Guinness World Records to come make the achievement official. Todd's 27-year run overtakes Dave Sim's previous record of 300 issues of Cerebus (a sword-wielding barbarian aardvark who becomes Pope), which ended in 2004. Todd vowed to continue breaking the record for many more years, potentially taking Spawn to issue 500 and beyond.
Todd is also trying to get a movie deal for Spawn, and urged us to go see Joker to prove to studios there's an audience hunger for darkly dramatic comic book movies. Todd's wish came true, as Joker broke all-time records for an October domestic open, grossing $93.5 million this past weekend in the US (and an also highly impressive $234 million worldwide).
My Saturday ended with a generous giveaway. Every person who attended an interview with seminal author William Gibson was handed a copy of GIbson's New York Times bestselling 498-page novel The Peripheral, about which Cory Doctorow wrote, "Spectacular, a piece of trenchant, far-future speculation that features all the eyeball kicks of Neuromancer and all the maturity and sly wit of Spook Country. It's brilliant." NPR added, "From page one, The Peripheral ticks and sings with the same controlled, dark energy and effortless grace of language....Like the best of Gibson's early, groundbreaking work, it offers up the same kind of chewy, tactile future that you can taste and smell and feel on your skin; that you believe, immediately, like some impossible documentary, because the thing that Gibson has always been best at is offering up futures haunted by the past." And about the author overall, The New York Times wrote, "William Gibson's science fiction is so eerily prophetic that sometimes it seems as if he's creating the future, not just imagining it." Gibson's other novels include Neuromancer, Mona Lisa Overdrive, Count Zero, Spook Country, Burning Chrome, The Difference Engine, All Tomorrow's Parties, Idoru, Pattern Recognition, and the upcoming Agency.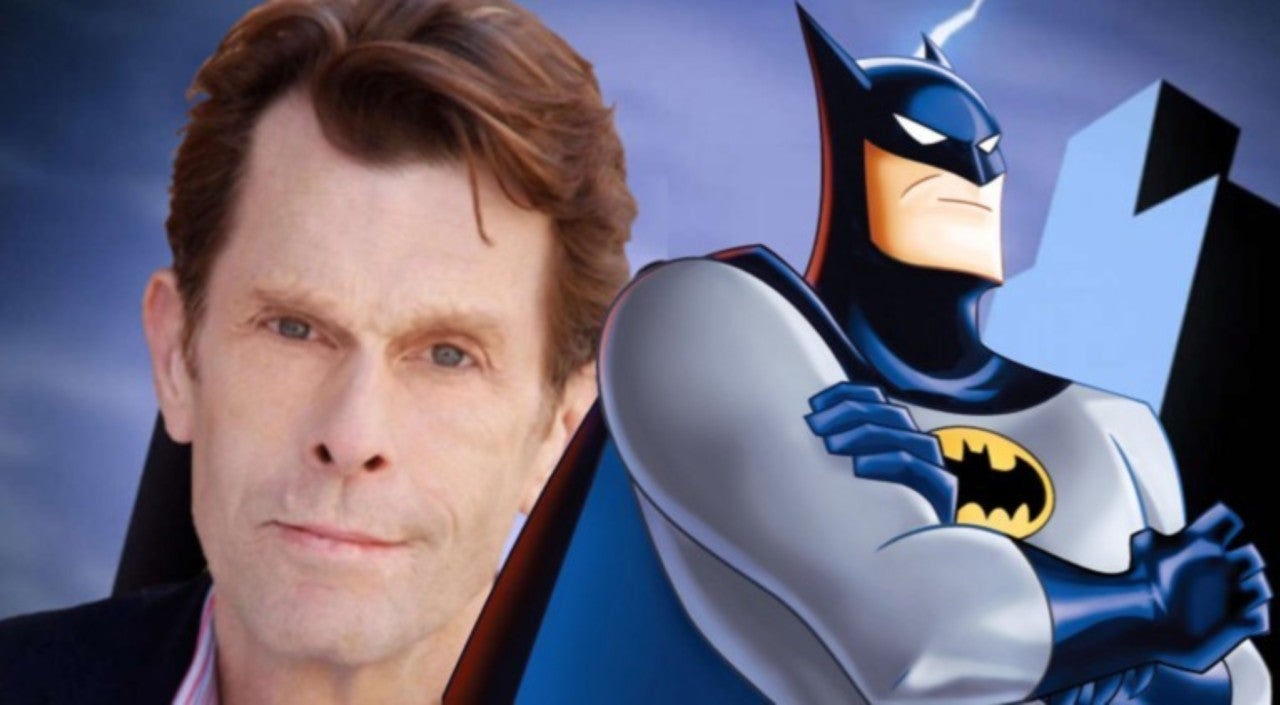 Sunday Highlights: Sunday included two panels that were filled with fun and laughter throughout.
The first was Batman Beyond, which was celebrating its 20th Anniversary with a box set release on Blu-Ray. Present were a number of the creative team members—plus the best Batman in any medium, Kevin Conroy (above). After over 25 years of being the definitive voice of Batman, Kevin will finally play Batman live in the CW's upcoming Crisis on Infinite Earths superhero crossover TV epic.
And the second featured most of the key players of The Orville (except for Seth MacFarlane, who was tied up writing and directing and voice acting). The big reveal was how hilarious the cast was, showing themselves to be far quicker and wittier than the characters they play. Most of them are long-time friends of Seth and hand-picked by him for their roles; and that showed in the exceptional chemistry they have together.
Overall, it was an amazing four days. New York Comic Con is an event I look forward to all year, and the 2019 edition did not disappoint.
Copyright © 2019 Hy Bender
Email: hy@hyreviews.com