HyReviews.com
The Most Complete & Accurate Info on NYC's Best Live Comedy Shows—Stand-Up, Improv, Sketch, Storytelling, Variety, and More, Fully Updated Daily—Plus Comedy Discounts, Theatre Discounts, Jokes, and Videos
From legendary NYC comedy site Brooklyn Vegan: Thank God for Hy Bender's religiously updated show bible Best New York Comedy (or HyReviews.com). He is literally the only person in NYC providing daily summaries of what's happening comedy-wise. It must be exhausting keeping that monster of a website alive.It is your daily comedy itinerary and it scares me how on top of his shit this guy is.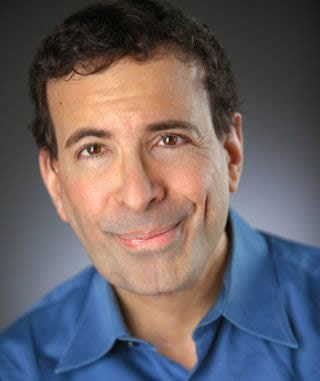 Last updated on Sunday July 23rd 2017
Please click to go directly to:
Tonight's Best NYC Live Comedy (updated daily)
Comedy Blog (For Subscriptions, Mobile Devices): BestNewYorkComedy.Com
NYC Comedy Club Discounts—NO COVER on all Eastville & Broadway Comedy shows!
(Eastville Comedy, Greenwich Village Comedy, Broadway Comedy, Dangerfield's)
NYC Comedy Picks for Sunday 7/23/17
It's week #3 of a 4-Sunday series of free outdoor comedy shows in July at NYC parks. This afternoon's lineup features Josh Gondelman (above right; Emmy & Peabody Award-winning writer/producer for HBO's Last Week Tonight with John Oliver; Conan O'Brien, The New Yorker; stand-up comedy album Physical Whisper), Roy Wood Jr. (above left; correspondent for The Daily Show; David Letterman, Conan O'Brien, Seth Meyers, HBO's Def Comedy Jam, TBS' Sullivan & Son; Comedy Central one-hour special Father Figure), Kevin Bartini (above middle; warm-up comic for The President Show, and previously for Stephen Colbert, The Daily Show, and The Nightly Show), Nimesh Patel (Comedy Central, TruTV; written for Chris Rock hosting the 2016 Oscars; co-host of Broken Comedy), and Emma Willmann (Stephen Colbert, @midnight, Sirius XM): Laughter in the Park (2:00 pm-4:00 pm, Free!, the East Village's Tompkins Square Park by the 7th Street entrance between Avenues A & B)...

...and a stand-up benefit show for Planned Parenthood features a breathtaking collection of female comedy talent, including Aparna Nancherla, Jo Firestone, Liza Treyger, Emmy Blotnick (above left), Lane Moore (above right), Sasheer Zamata, Ana Fabrega (above middle), Giulia Rozzi, Christi Chiello, and many more, for a total of 50—all telling jokes about their genitalia! Hosted by Sachi Ezura & Halle Kiefer, it's 50 Lady Bits: An Evening of Junk Jokes (8:00 pm, $20, Brooklyn's The Bell House at 149 7th Street; take R subway to 9th Street or F/G to Fourth Avenue)
NYC Comedy Picks for Monday 7/24/17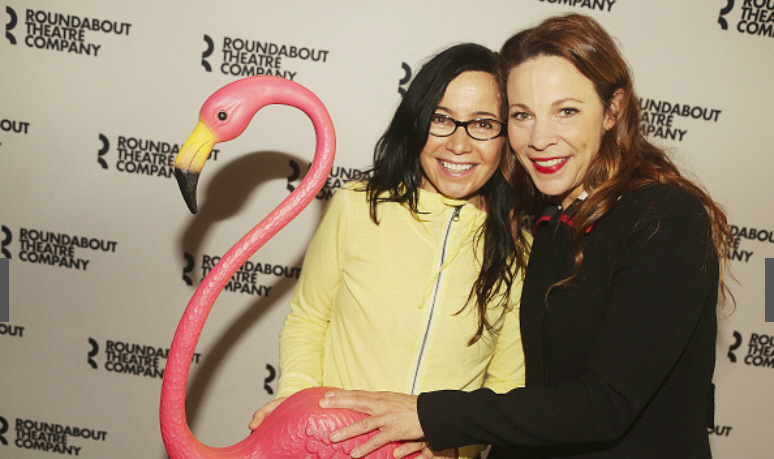 Stars Janeane Garofalo and Lili Taylor—who play sisters in the Broadway revival of Marvin's Room, running through August 27th at the American Airlines Theatre—are the guests of this NPR weekly comedy trivia show taped live in Brooklyn and hosted by the wonderful Ophira Eisenberg (NBC's The Today Show, CBS' The Late Late Show, Comedy Central, VH1, Showtime, bestselling book Screw Everyone, comedy album Bangs!): Ask Me Another (7:30 pm, $25, The Bell House at 149 7th Street; take R subway to 9th Street or F/G to Fourth Avenue)...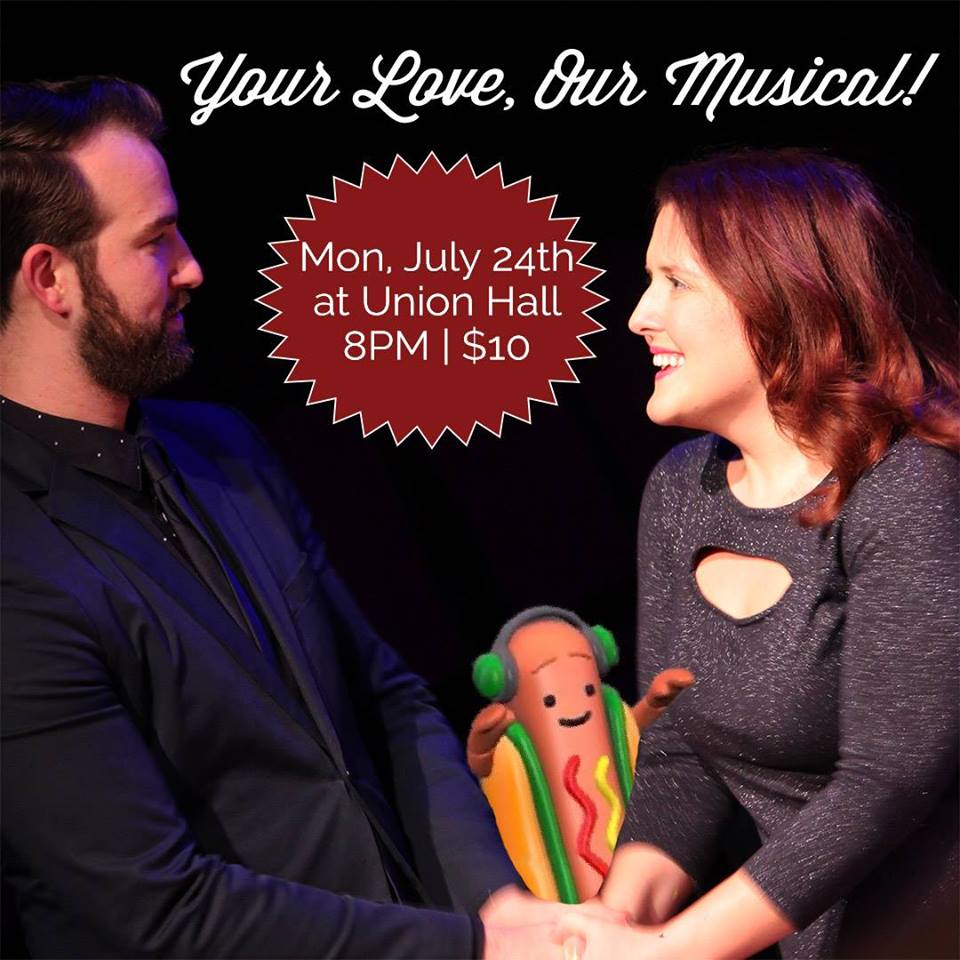 ...or marvel at world-class singing improvisors Evan Kaufman & Rebecca Vigil interviewing an audience couple about their love life and then turning it into a musical—with breathtaking skill (see my review of their award-winning FringeNYC 2015 shows here). Plus tonight offers the extra treat of music from a hot dog DJ. I highly recommend the phenomenal Your Love, Our Musical (8:00 pm; $10, which is super cheap—;this show has regularly sold out at $18 at other venues; The PIT Mainstage at 123 East 24th Street)...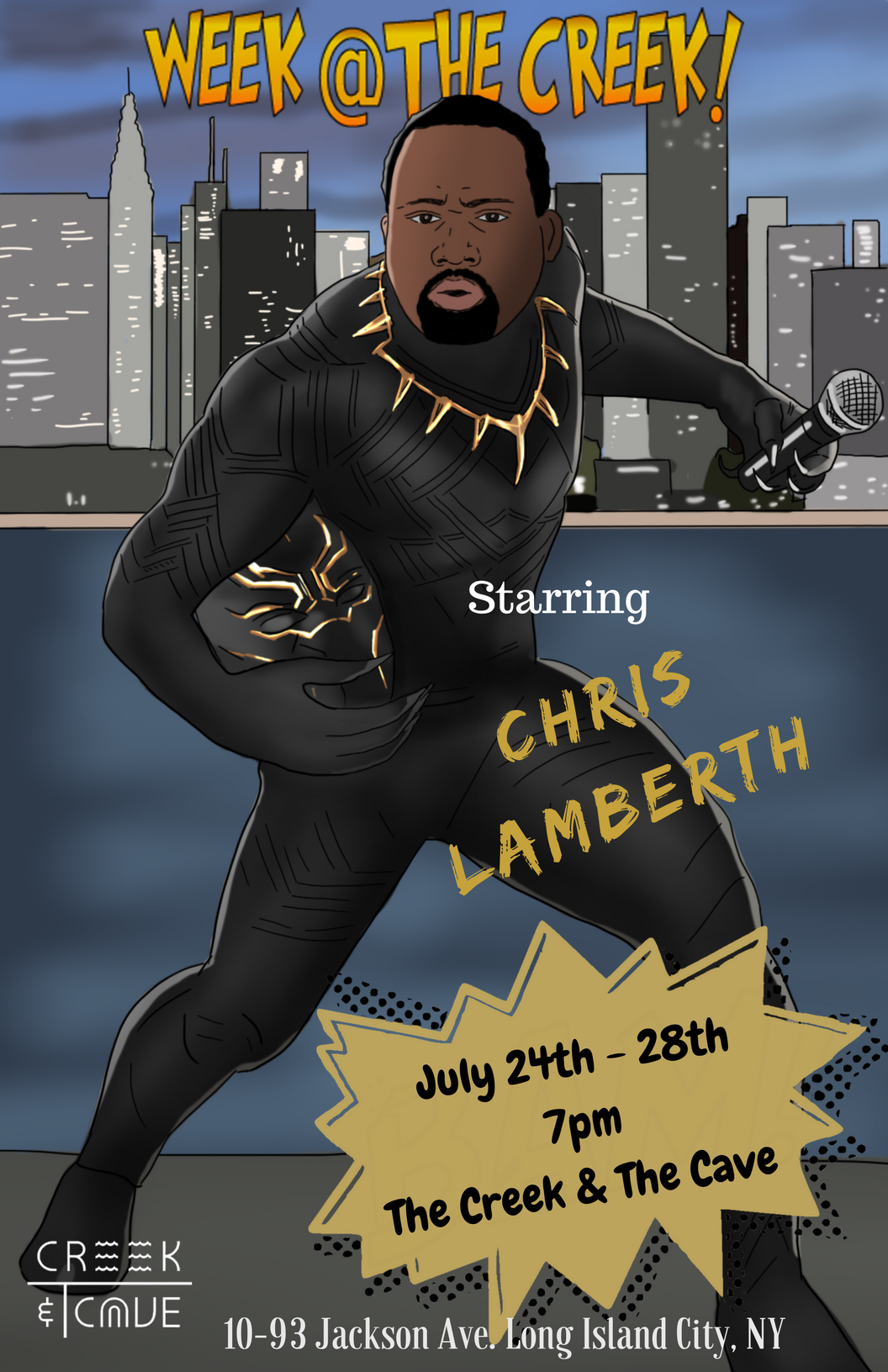 ...or check out Chris Lamberth (HBO's High Maintenance; film Can You Ever Forgive Me? with Melissa McCarthy; host of The Mundane Festival podcast) tonight, or any night this week through Friday, at a free show that's letting him hone a long stand-set set: Week at the Creek: Chris Lamberth (7:00 pm, Free!, Queens LIC's The Creek at 10-93 Jackson Avenue)
NYC Comedy Picks for Tuesday 7/25/17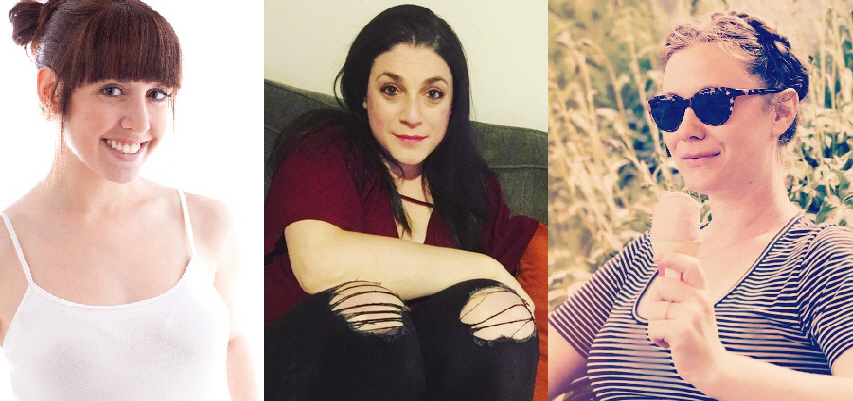 Chelsea White (above left; writer/producer for MTV's Girl Code) and Erin Leafe (writer) bring their podcast about ghosting and other scary dating stories to the stage, with tonight's guests Jessie Jolles (above middle; MTV; half of sketch duo Soren & Jolles) and EA Hanks (above right; Huffington Post): Ghosted Stories Live (7:00 pm, $7, The PIT Underground at 123 East 24th Street)...

...and every Tuesday, eight singing & dancing improv groups—who tonight are Captains, Warm Blooded, Kittyhawk, Pyros, Squash, Public Pool, Honeymoon, and Wonderland, all typically led by the best improv pianist in the biz, Frank Spitznagel (above)—make up musicals on the spot based on audience suggestions: Magnet Musical Megawatt (6:00 pm for free musical jam that gives you the chance to get on stage with veteran performers; 7:00 pm-11:00 pm for paid shows—which are a mere $10 for the entire evening; The Magnet at 254 West 29th Street)
NYC Comedy Picks for Wednesday 7/26/17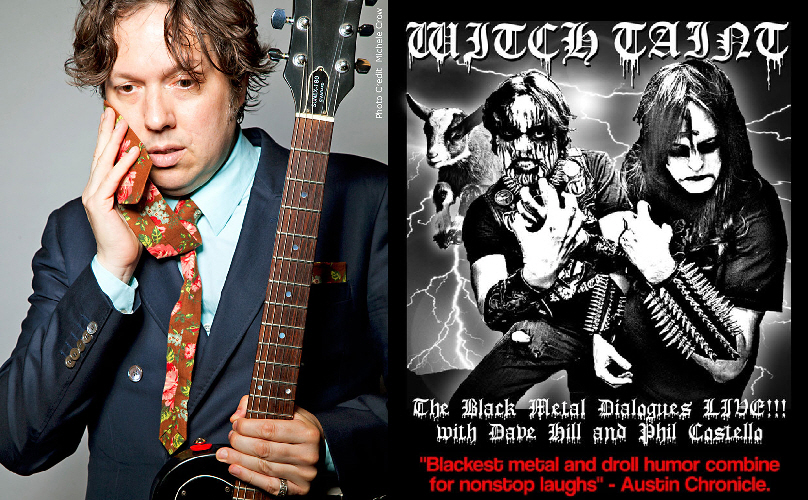 Dave Hill (one of the most original and hilariously sharp alternative comics in the country; @midnight, Inside Amy Schumer, Full Frontal with Samantha Bee, The Unbreakable Kimmy Schmidt, This American Life; host for HBO and Cinemax; host of WFMU's The Goddamn Dave Hill Show; books Tasteful Nudes and Dave Hill Doesn't Live Here Anymore; comedy album Let Me Turn You On), Phil Costello (Dave's bandmate in groups Valley Lodge and—with Moby—Diamondsnake), and Greg Barris (MTV's All That Rocks, host of Heart of Darkness) perform Dave's epic email exchange with a Norwegian black metal record label while pretending to be "Lance, a teenager living with his parents in Gary, Indiana who also just so happens to be the lead singer and sole member of the most extreme, brutal, and Satanic black metal band of all-time, WitchTaint, and hopes to get signed on the strength of one excruciatingly bad song called Necrodreamraper." To get a feel, visit Dave's website devoted to these emails, The Black Metal Dialogues, and then come enjoy the stage version: Witch Taint Live (8:00 pm; $10, Brooklyn's Union Hall at 702 Union Street; take R subway to Union Street)...

...storytellers Adam Wade (two-time Moth GrandSlam Storytelling Champion (2006 & 2009) and record-breaking 20-time StorySlam Champion; for a sampling of Adam's award-winning tales, please click here), Ashley Brooke Roberts (energetic, enormously likeable stand-up; writer for Nat Geo and MTV's Guy Code, co-host of Fresh Out), Mike Kelton (MTV), and Sean O'Brien (stand-up) tell comedic tales on this month's theme Coming Clean at David Martin's The Nights of Our Lives (8:00 pm, $7, UCB Chelsea at 307 West 26th Street)...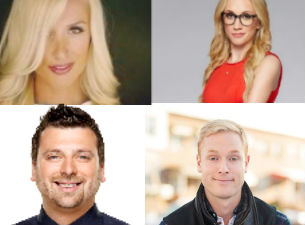 ...or see Sophie Julia, Kat Timpf, Chris Manzo, Francis Ellis, and Carolyn Gitomer tell stories and jokes about dating at Carolines: The Red Flag: A Comedy Dating Show (7:30 pm, $11 cover using discount code REDFLAG online (otherwise $22) plus 2-drink min., Carolines Comedy Club at 1626 Broadway)
For many more shows, please click the following links to top NYC comedy venues:
Best Inexpensive Stand-Up, Improv, Sketch, and Storytelling
Upright Citizens Brigade Chelsea (307 West 26th Street): 150-seater; one of the most respected comedy theatres in the world; especially strong on improv, sketch, solo shows, and one-act comedic plays; shows free-$10
Upright Citizens Brigade East (153 East 3rd Street): 99-seater; a top comedy venue that focuses more than sister theatre UCB Chelsea on stand-up and screenings, and on experimental shows taking big risks; shows free-$10
The PIT Striker (Upstairs) Theatre (123 East 24th Street): 88-seater; a top venue that's a powerful rival of UCB, and often surpasses UCB when blending comedy with music and/or theatricality; shows free-$20
The PIT Underground (Downstairs) Theatre (123 East 24th Street): 40-seater; often more quirky & experimental than upstairs Striker; shows free-$10
The PIT Loft (154 West 29th Street): 50-seater; the third of The PIT theatres, located separately on the West side, hosts a wide range of comedy, but is especially effective as a home for intimate solo and/or theatrical shows; free-$20
The Magnet (254 West 29th Street): 60-seat theatre; strong on improv, musical improv, sketch, and energy; shows $5-$10
The Creek and the Cave (Queens' Long Island City): 40-seat theatre upstairs, 25 downstairs; virtually all weeknight shows free; weekend shows free-$10
Union Hall (702 Union Street in Brooklyn; R to Union Street): 50-seat theatre; shows $5-$20
Littlefield (635 Sackett Street in Brooklyn; R to Union Street): 100-seat theatre; shows $5-$20
Bell House (149 7th Street in Brooklyn; R to 9th Street or F/G to Fourth Ave.): 200-seat theatre; shows $10-$25
QED: A Place to Show & Tell (27-16 23rd Avenue in Astoria Queens; N/Q to Ditmars Boulevard): 40-seat theatre; shows free-$10
Best NYC Stand-Up Comedy Clubs
Comedy Cellar (117 MacDougal Street): Among the finest daily stand-up lineups in the world; 2-item min.

Village Underground (130 West 3rd Street): Comedy Cellar's larger sister venue, just around the corner with the same top comics; 2-item min.

The Stand (239 Third Avenue): Recent competitor to Comedy Cellar; no drink min.—support this policy!

Carolines Comedy Club (1626 Broadway): Focuses on the world's top headliners, who perform hour-long sets; 2-drink min.

Gotham Comedy Club (208 West 23rd Street): Headliners on weekends, specialty & lineup shows weekdays; 2-drink min.

Eastville Comedy Club (85 East 4th Street): Strong weekend lineups; no cover using code HyReviews; 2-drink min.

Greenwich Village Comedy Club (99 MacDougal Street): Convenient if Comedy Cellar's sold out; no cover using code HyReviews; 2-drink min.

Comic Strip Live (1568 Second Avenue, off 81st): Upper East Side club with typically solid lineups; 2-drink min.

Stand Up NY (236 West 78th Street, off Broadway): Upper West Side club with typically solid lineups; 2-drink min.

The Standing Room (4738 Vernon Blvd., by #7 train; Queens LIC club): No drink min.—support this policy!
NYC Comedy Picks from previous weeks
Mike Lawrence Career Interview (TMCPB.com Podcast)
Myq Kaplan Career Interview (TMCPB.com Podcast)
Other NYC Live Shows, Heavily Discounted via Goldstar; Click Images to See Deals
Submissions to Hy as Editor of Ghosts on Drugs
Submissions to Hy as Director of Television & Film Development for MSP
Heavily Marked Down via Goldstar (click image):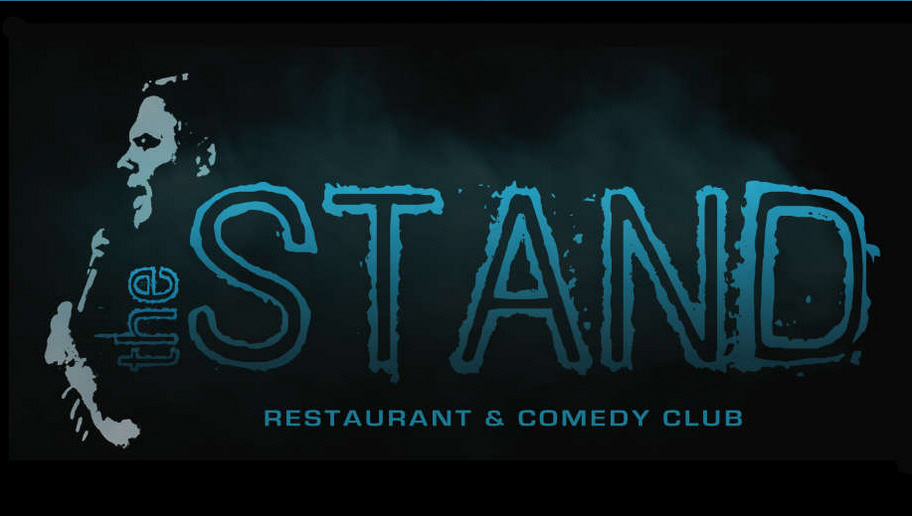 Special Freebies & Discounts for HyReviews.com Insiders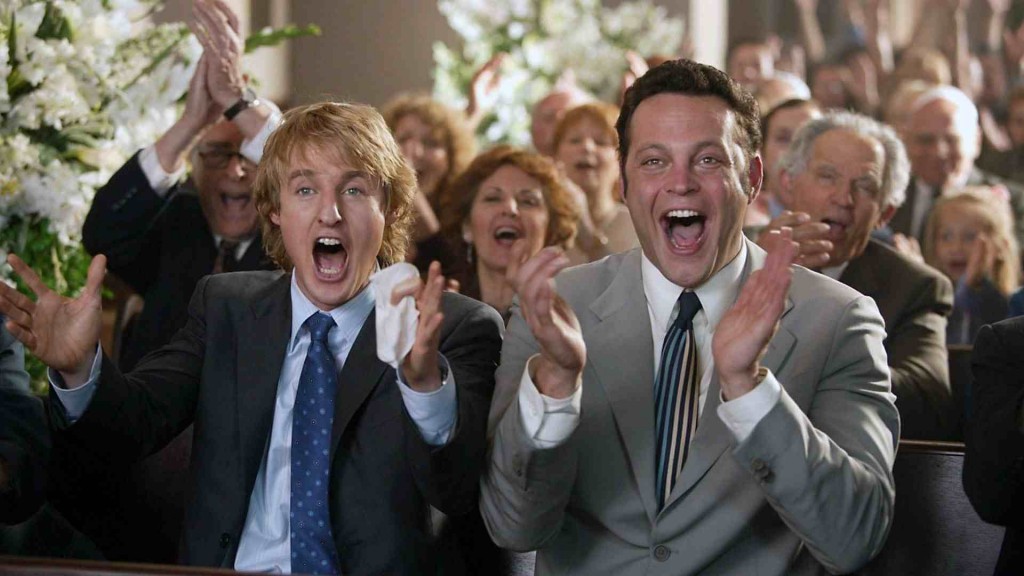 Almost all the recommendations and discounts HyReviews.com provides appear directly
on this site. However, occasionally I may feel an offer is so special that it merits extra attention.
Also, sometimes comedy clubs, theatres, and others contact me with offers that they
don't want on a searchable Web page but that they're happy to provide to my readers.

If you'd like to take advantage of such opportunities, please provide your name and email address, and once in a while you'll receive a notice directly from me about cool deals.
(Your email address will never be sold, rented, or given away to anyone else.)
Please use the subscribe box below to become a comedy/theatre Insider.
Special thanks to comedy photographers supreme Anya Garrett and Mindy Tucker for creating so many of the stellar photos that grace this site...and the sites of hundreds of NYC comics.
Please check out these New York City theatre sections of HyReviews.com:
Hy on Theatre Discounts: See Great Shows for as Little as $4
Please also check out these New York City comedy sections of HyReviews.com:
HyReviews.com Comedy Video Picks
For a comprehensive list of links to all the sections on this site
(including ancient ones), please see the Site Index below, or click here.
HyReviews.com Legacy Site Index
If you'd enjoy an elegant evening at an NYC comedy club
but also want to save some money, please click here.
You can get free tickets for all shows at the Eastville Comedy Club,
free tickets to most shows at the Broadway Comedy Club, and
free & 50% discount ticket offers for Dangerfield's Comedy Club.
Top NYC Comedy Venues
The following are the primary theatres hosting notable NYC comedy shows:
Upright Citizens Brigade Chelsea
The Creek and the Cave (Queens LIC)
I'm trying to keep this section super-concise,
but If a top site isn't listed that you think oughta be,
please drop me a note and I'll take a close look.
Comedy Coverage
(in alphabetical order):
Comedy Providers
(in alphabetical order):
Ghosts on Drugs Fiction Anthology: GhostsOnDrugs.com
Screenplay & Teleplay Submissions: HyReviews.com/Submissions.htm
Book Service: BookProposal.net
Screenplay Service: HyOnYourScript.com
The Millennial Career Playbook Podcast: TMCPB.com
15th Nonfiction Book: CIGThyroid.com
Contact Hy
I'd love to hear from you at hy@hyreviews.com.
History will be kind to me,
for I intend to write it.
—Winston Churchill

Copyright © 2017 Hy Bender
Email: hy@hyreviews.com