Reviews of Notable NYC Stage Productions
Page 1 of 2
This Page Was Most Recently Updated: July 2012
| | |
| --- | --- |
| Rating: **** | |
Seminar is one of the very best plays ever produced about writing, mentoring, and the power of giving good notes.
The show's marketing campaign and other reviews notwithstanding, at its heart this is a drama that takes its subject damn seriously—and rightly so. But it weaves in comedy so skillfully throughout that it's always accessible and entertaining.
Jeff Goldblum, equally brilliant at being dramatic and playful
Enormously aiding the laughs are Jeff Goldblum, Justin Long, and Zoe Lister-Jones, who are all phenomenally talented comedic actors, and in this production are working at the top of their form. (Jerry O'Connell and Hettienne Park are also fine, just not operating at quite the same level.)
Jeff Goldblum evaluating his literary clients Justin Long, Hettienne Park, and Jerry O'Connell
Justin Long, longing for Zoe Lister-Jones
Zoe Lister-Jones, hungry for more
The script by Theresa Rebeck is smart, thoughtful, tricky...and ultimately so on target that it's genuinely inspiring. If you're an artist creating less than your best, this play may make you rethink your life.
Kudos also go to director Sam Gold, who's encouraged these stars to shine at their brightest, and balanced the drama and comedy to form an experience both entertaining moment by moment and worth remembering long after the curtain falls.
Seminar is running through May 2012 at the Golden Theatre at 252 West 45th Street (between Broadway and Eighth Avenue). Tickets can be nabbed for as little as $69 via discount code SETCX401 either at the box office (if you want to avoid service charges) or online; for details, please click here.
This has my highest recommendation. If you're a writer or other artist, see it.
I've assigned all reviewed shows one to four stars, using the following rating system:
**** = Transcendently Great
*** = Solid & Worth Seeing
** = Unless Your Relatives Are in the Cast, Think Twice
* = "I Wanted to Kill Myself"
If you spot any factual errors, please don't hesitate to let me know by emailing hy@hyreviews.com. I'm always happy to make corrections and updates.
Please click below to read reviews of:
Adira Amram Is An American Idol
Deconstructing with Seth Rudetsky: The Good, the Bad, and the Headachy
Dog Sees God: Confessions of a Teenage Blockhead
Fitz and Walloughs Get It In the End!
Less Than Rent: Little Town Blues
Less Than Rent: Friends Don't Let Friends
New York Musical Theatre Festival 2006:
New York Musical Theatre Festival 2011
Offensive Fest 2007: UCBT's Shockingly Delightful Mini-Festival
Plays and Playwrights 2007 (book review)
Showgirls Showgirls (overview)
Showgirls: The Best Movie Ever Made. Ever!
An American Idol

Rating: ***½
Sexy, sly, subversive, and adorable, Adira Amram celebrates her sensuality and pokes fun at it simultaneously in a show crammed with her witty, thoughtful, and hilarious comedic songs...and a performance brimming with a wry yet joyful zest for life. Amram is a rising star worth catching; and at a mere $8 at ticket, there's no reason to not experience this wonderful performer. Her show is running at 7:00 pm on Friday October 5th, 13th, 20th, and 27th, 2006 at The Peoples Improv Theater, 154 West 29th Street (between 6th and 7th Avenues). To read a recent Backstage article about the show, please click here. To read a couple of recent interviews with Amram, please click here and here. And to play some of her songs and videos, please click here.
Rating: ***

Paul Sparks, Michael Chernus, Guy Boyd,

Matthew Stadelmann, and Marylouise Burke
Some of the most memorable blends of comedic & dramatic acting in New York can be found at American Sligo, about a family headed by a retiring professional wrestler that's playing at The Rattlestick.
The cast is uniformly wonderful; but special kudos must go to Marylouise Burke, who is simply one of the finest actors in NYC. Her comedic brilliance has previously led to performances for such film luminaries as Woody Allen, Martin Scorsese, and Robert Altman; to see Burke work her magic in a relatively small, intimate theatre is sheer joy. (After this run, Burke will be going directly into rehearsals for the upcoming Broadway comedy Is He Dead?)
Also outstanding is Paul Sparks, who portrays a genius coke-head with an intensity that threatens to turn the play's kitschy set ablaze.
American Sligo is both written and directed by Adam Rapp, one of the most fascinating and prolific creators of dark comedy in American theatre. There are many pleasures in Rapp's choices for this show, but they mostly stem from his highly talented and quirky cast, and his consistent skill with witty dialogue. The overall story isn't extreme enough to qualify as a haunting Rapp mood piece (along the lines Rapp's previous Rattlestick productions, Faster and Finer Noble Gases); but it's also not sufficiently humane to provide a satisfying character-driven play. The result is entertainment mixed with frustration; and an ending little short of infuriating. But so much in American Sligo is unusual and interesting that the show is worth catching despite the story's shortcomings.
American Sligo is running September 12-October 14, 2007. For full reviews of the play, please click here and here and here. To read a recent self-interview with Marylouise Burke, please click here. And to purchase tickets ($40, or $20 for students with ID), please click here.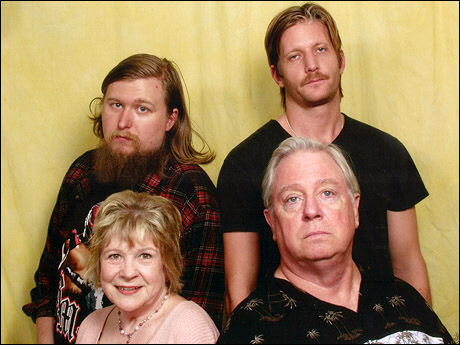 Top, left to right: Michael Chernus and Paul Sparks
Bottom, left to right: Marylouise Burke and Guy Boyd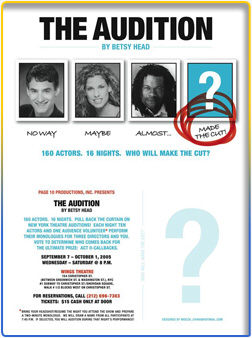 Rating: **, **½, or *** (depending on your luck)
If you enjoyed the 2003 FringeNYC show Sides—The Fear is Real, you should also be aware of The Audition, which ran at the Wings Theatre during September 2005 and might eventually play again at a different venue.
This "reality theatre" production focuses on 10 pre-selected actors—entirely different ones every night—who each perform a two-minute monologue before the audience and a panel of three directors. Further, every night one member of the audience who submits a headshot/resume also gets to audition. (More on this later...)
How were the actors chosen? The show's creator, Betsy Head, says she got about 75% of them through a vaguely-worded ad in Backstage which set no restrictions on experience, age, or appearance. She also utilized ads in Craigslist, and word of mouth. Head employed almost no screening process, however, aside from making sure the resume was the standard size and was stapled properly to the headshot—in other words, was from an actor with at least a scintilla of professionalism. Beyond that, the first 160 applications that came in were accepted (to fill the slots for 16 nights worth of shows). Head says this non-judgmental approach represents her philosophy that anyone working to be an actor deserves a chance on stage.
Since Head is herself an actor, and this production was born from her frustrations with the often brutal audition process, one can have empathy for her attitude. However, I found the show affirmed what most audience members know instinctively: While there are many actors in New York who are tremendously fine, there are many others who are not. A tight screening process could have made the show much more consistently entertaining.
As is, most of the actors in The Audition appear to be low on experience, or talent, or both. If all the production consisted of were the relatively dull monologues, it would be a crashing failure.
Fortunately, after each scene, the panel of directors provides suggestions, or adjustments, for the actor to try. This gives the audience a genuine feel for the different ways an actor can consider handling a role; and how a director can gently help an actor push at boundaries and move onto the right paths. This on-the-fly demonstration of the manner in which directors and actors creatively interact is the heart of the show.
Here are some of the directions I heard over the course of three consecutive nights:

Other adjustments with interesting results included "imagine you're drunk," "imagine you're seducing each other over the casket," and "do the same thing, only as opera."
Of course, the effectiveness of these suggestions depend not only on the sensitivity and creativity of the directors, but also the openness and talent of the actors. Sometimes a wise suggestion falls on deaf ears, resulting in only more dullness.
Another source of frustration is the "callback" process. After all the actors strut their stuff, every audience member votes for one male and one female actor to return. However, given that many of the people attending are friends and relatives of someone on stage, it's a vote often based not on merit, but nepotism—ironically, an even more unfair system than the one that led Head to create the show. (A quick fix might be to have the audience also mark off their secondary favorites; after granting a primary vote to a friend, people tend to give secondary votes to those who really deserve them...)
One other notable element of the show is the 11th performer, whose name is drawn from a pool of applicants shortly before the evening begins. If you're an actor, be aware that there are reportedly some nights when no one from the audience readily volunteers to participate. Therefore, you could do worse than gamble $15 on the chance you'll be the only one on a slow night who wants to go on stage—a ridiculously easy way to add an off-off-Broadway credit to your resume.
Of course, this production is well worth seeing even if you're simply fascinated by process. Just be warned that the energy can vary wildly. After giving it three tries, and having experiences ranging from a vapid Friday night to a lukewarm Wednesday night to a wonderfully lively Thursday night, I found the key factor isn't the day, or the audience, or even the directors. Quite simply, it's the calibre of that evening's actors.
For a show about auditions, that's probably as it should be.
If you have any questions about the show—or would like to get in touch with an actor whose audition impressed you—you can write to the producers at email address page10productions@yahoo.com.

Del Close 7th Annual Improv Marathon
Upright Citizens Brigade Theatre
Rating: Varies wildly from show to show, but ***½ for overall experience
There are two types of people in the world: Those who find Jiffy Pop as much fun to make as it is to eat; and those who prefer to skip the interim steps and buy their snacks pre-popped.
If you're in the former group, you'll probably enjoy improvisational comedy—which not only supplies laughs, but shows you the process performers take to get to them.
Many of the best improv comics in the country will be converging July 22-24, 2005 at the Upright Citizens Brigade Theatre (307 West 26th Street) for a continuous 3-day festival. (And I mean continuous—some of the most popular acts come on around 3:00 am.) Admission for the entire 50+ hour extravaganza is only $20—though, like a trendy nightclub, when the house is packed you must wait on line for people to leave until there's room to let you in.
The marathon is an annual UCB ritual to honor the memory of Del Close, who pioneered and championed improvisational comedy for over 30 years, tutoring such comedic icons as John Belushi, Dan Ackroyd, Bill Murray, Gilda Radner, Harold Ramis, John Candy, and Mike Myers.
Close led a colorful life. For example, according to his writing partner Kim Johnson, in the late 1950s the U.S. government conducted experiments with the sleeping mind for which Close was a paid participant. When he prematurely left the program, Close received a letter from the government stating "You owe us two more dreams." During the 1960s, Close roller-skated through the sewers of Chicago with a flashlight strapped to his head, shooting rats. And in 1999, Closes dying words were "I'm tired of being the funniest one in the room."
Hundreds of improv troupes apply each year to participate in the Del Close marathon—and the cream of the crop will be unleashed this weekend. (For a complete schedule, visit www.delclosemarathon.com.)
By definition, there's no telling what to expect from these impromptu performers. But to give you a taste, last year's festival offered such pithy observations as "Michelle Kwan's a really good skater, too bad she's Asian...;" gangs of celebrities, including multiple versions of Burt Reynolds, partying and periodically beating each other up; and some maniac pretending to be Tony Hawk slamming his body repeatedly between the back wall and a column at the foot of the stage, until it was impossible to not see the graceful arc of the nonexistent skateboard beneath him.
If one performer epitomized last year's marathon, however, it was the guy who abruptly stood on his head and then declared "I'm wearing the world as my hat." With that simple move and seven words, he transformed our entire planet—with all its governments, cultures, and conflicts—into his personal apparel. It was a demonstration that no matter how bad things get, we can always use imagination to empower us. And that's the true magic of improv.
The down side, of course, is that in between those transcendent moments on stage, there can be long lags when nothing genuinely interesting happens. In this way, improv comedy is much like life itself.
For that matter, it can be argued the purest form of improv is created not by professionals, but by everyday people under structured conditions. This is unquestionably the most popular and commercial form of improv—it's called reality television.
Small wonder that safe and predictable scripted TV fell victim to Richard Hatch dropping his shorts, Omarosa railing against falling plaster, and William Hung providing a rendition of "She Bangs" no one ever dreamed possible.
By the same token, if you've tired of retread sitcoms and Adam Sandler vehicles, the Upright Citizens Brigade Theatre awaits to give you the world—as long as you're willing to stand on your head.
For coverage of all the Del Close Marathons I've attended, please click here.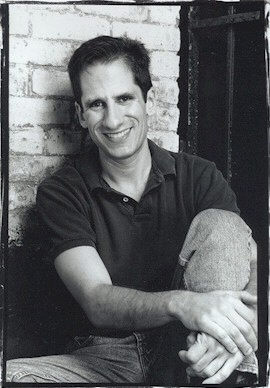 Deconstructing with Seth Rudetsky:
The Good, the Bad, and the Headachy
www.sethsbroadwaychatterbox.com/seth.htm
Rating: ***½
This consistently hilarious pop culture lecture consists of Seth Rudetsky sharing his decades-long obsession with TV variety shows, and with TV performances by singers ranging from Ethel Merman to Barbra Streisand to the actors from The Brady Bunch (on the short-lived but highly memorable Brady Bunch Variety Hour). Rudetsky obviously loves these kitschy treasures; as he explains with a professorial matter-of-factness, "Sometimes it isn't until your 82nd viewing of a clip before you notice something you've never seen before."
Rudetsky's greatest charm is that he's fascinated by both truly magnificent performances (which he describes as "a-ma-zing") and profoundly bad work (which he classifies as "a-mah-zing"). And his favorite kind of TV clip combines both.
For example, on a live awards show Patti LuPone recreated one of her Broadway scenes from Evita, and Rudetsky explains precisely why her singing is masterful and a joy. However, around the middle of the scene LuPone normally puts her left arm through the arm of the actor playing Evita Peron's husband. During this TV version, however, the latter is slightly off his mark; and so in the midst of her otherwise flawless performance, we suddenly see LuPone moving her left arm up and forward with great purpose...and hooking air. It happens so quickly that most people wouldn't notice; but with Rudetsky to point it out—repeatedly, replaying the moment like a disaster on CNN—it's thoroughly funny. To ensure we understand that LuPone is mostly "a-ma-zing," though, Rudetsky then plays a clip of Madonna as Evita—and makes the difference between LuPone's brilliant singing and Madonna's "a-mah-zing" lackluster performance as clear as day and night.
Rudetsky further brightens his show with periodic lip-synching—which he executes perfectly—to illustrate the different techniques used by the singers he's deconstructing. When he does so, it's clear that we're witnessing the results of years of practice to get every nuance right.
Like many obsessive comedians, Rudetsky can be a bit of a pill. For example, he begins Deconstructing by playing a Barbra Streisand clip and then asking audience members to identify what makes her singing so special. After they fumble for words, he dismisses them to show off his knowledgeable and articulate analysis. However, Rudetsky's wonderful Singing for Dummies-style explanations are impressive all by themselves; he really doesn't need to put the audience down in order to elevate himself.
This personality quirk aside, Rudetsky's show is "a-ma-zing." He provides so much information about ways to appreciate musical performances that you may never listen to a diva the same way again. At the same time, Rudetsky garners scores of laughs throughout the 90-minute production with the skill of a world-class comic. An expert who can share his obsessions with both clarity and humor is a rare gem. If, like Rudetsky, you're able to equally enjoy performances that are outstandingly fine and extraordinarily awful, you're likely to find this one of the most entertaining shows playing in New York.
Deconstructing with Seth Rudetsky: The Good, the Bad, and the Headachy is at the Ars Nova Theater (511 West 54th Street, between 10th and 11th Avenues). The show debuted on October 10, 2005, and its final performance will be on December 19th, 2005. For more information about the Ars Nova, please click here.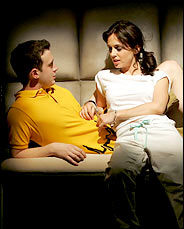 Confessions of a Teenage Blockhead
Rating: ***½
It's easy to take for granted something as small and disposable as a comic strip. But every now and then, a work appears that demonstrates the true power of this humble medium. There's no better example than Charles M. Schulz's Peanuts, a 50-year tale about children, and a special dog, that gently and brilliantly spoke to us about our frustrations, joys, neuroses, and hopes.
To create an unauthorized parody of Peanuts is risky, because the strips—and their subsequent TV shows and movies—are deservedly beloved; and because Schulz was such an uncommonly honest writer and artist that there's little to deride. At the same time, a send-up that fails to be biting would be instantly forgettable.
Playwright Bert V. Royal cleverly solves this problem by moving Peanuts forward a decade and showing how Charlie Brown and the gang have turned out as teenagers. Royal happily accepts that Peanuts is part of our psyche; and he uses those collective memories as a springboard to examine the gap between childhood innocence and what happens to us as we get older. With wit and compassion, Royal reminds us of how our characters emerge through the choices we make, and of the lies we tell until we feel ready to face our true selves.
To set the tone, the play begins with a funeral for Snoopy. Of all the Peanuts inhabitants, this beagle who dances, writes novels, and flies a WWI doghouse most embodies the power of childish imagination to transcend everyday mundanity. His death—from a rabies infection that made him insane enough to eat Woodstock—signals that he should prepare ourselves for a world of harsh realities that can't be readily escaped.
We're then introduced to the rest of the gang, who we encounter with all the fascination of a school reunion. Linus is now a philosophizing pothead (who recently parted with his blanket by smoking it); Sally is a Goth girl with an identity crisis; Peppermint Patty and Marcie are sexy sluts; Pigpen is a bullying jock; Schroeder is still a music nerd, but also gay; and Lucy is locked up in an insane asylum for pyromania (in a fit of jealousy, she set fire to the hair of the little red-haired girl...).
To avoid a lawsuit from the Schulz estate, the characters are given slightly different names; for example, CB for Charlie Brown, and Beethoven for Schroeder. But because they've been so well-defined in the comic strip, we have no trouble figuring out who's who.
The first two-thirds of the play are a joy, as it teases our memories with numerous fond echoes of Peanuts, and delights us with demonstrations of how people both change and stay the same as they get older.
It also features superb comedic performances from most of the cast, including Keith Nobbs (Van/Linus), Kelli Garner (Tricia/Peppermint Patty), Ari Graynor (Marcy/Marcie), and Logan Marshall-Green (Beethoven/Schroeder).
The show isn't perfect, though. In the last third, it pushes a gay theme a bit too far, moving the story from a universal one about the human condition to a preachy one about intolerance.
Further, and surprisingly, this star-studded commercial production is in some crucial ways not as good as its original version, which was the breakthrough hit of the 2004 New York International Fringe Festival (picking up the FringeNYC Excellence Award for Overall Production).
The biggest problem is Charlie Brown as acted by Eddie Kaye Thomas (best known for the role of Finch in the American Pie movies). In the original FringeNYC production, Michael Gladis handled CB with affection and warmth, playing him as a standup guy with a moral core who simply makes some bad choices along the way. It was clear from Gladis' performance why all the other characters like and respect CB. However, Thomas fails to make equally strong choices, instead playing CB as a sort of cartoonish cypher who lacks any definite identity and drifts with the wind. This works against the spirit of the play, and seriously weakens it.
Conversely, other roles aren't sufficiently layered for the star actors who tackle them. For example, America Ferrera (Real Women Have Curves, The Sisterhood of the Traveling Pants) is a powerful presence on stage; but as Charlie Brown's sister, she's given little to do. The part should've been beefed up to take advantage of Ferrera's energy and charisma.
At the same time, when tinkering does occur, it's usually wrong-headed. Eliza Dushku (best known for her breathtaking performances as Faith in the TV shows Buffy the Vampire Slayer and Angel) is perfectly cast as the deliciously manic Lucy; but in the original script, Lucy gets only one scene. Presumably figuring the audience wants to see more of Dushku—which is absolutely correct—another scene with her has been added to this production. Unfortunately, it's god-awful; and it does substantial damage by turning a bold story choice (be it right or wrong) into a faint-hearted mishmash.
All that said, Dog Sees God is at core a very funny and moving play. With some wiser adjustments, it could be a timeless classic. But even as is, it's a terrific show, and well worth seeing.
For a touching review of last year's production from an audience member, please click here.
Dog Sees God is running from December 15th, 2005 through February 26th, 2006 at the Century Center for the Performing Arts (111 East 15th Street, between Union Square East and Irving Place). For more information and to purchase tickets, please click here.
Still from the 2004 FringeNYC production of Dog Sees God: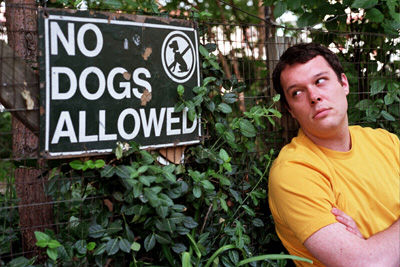 Michael Gladis as CB
Stills from the current off-Broadway production of Dog Sees God: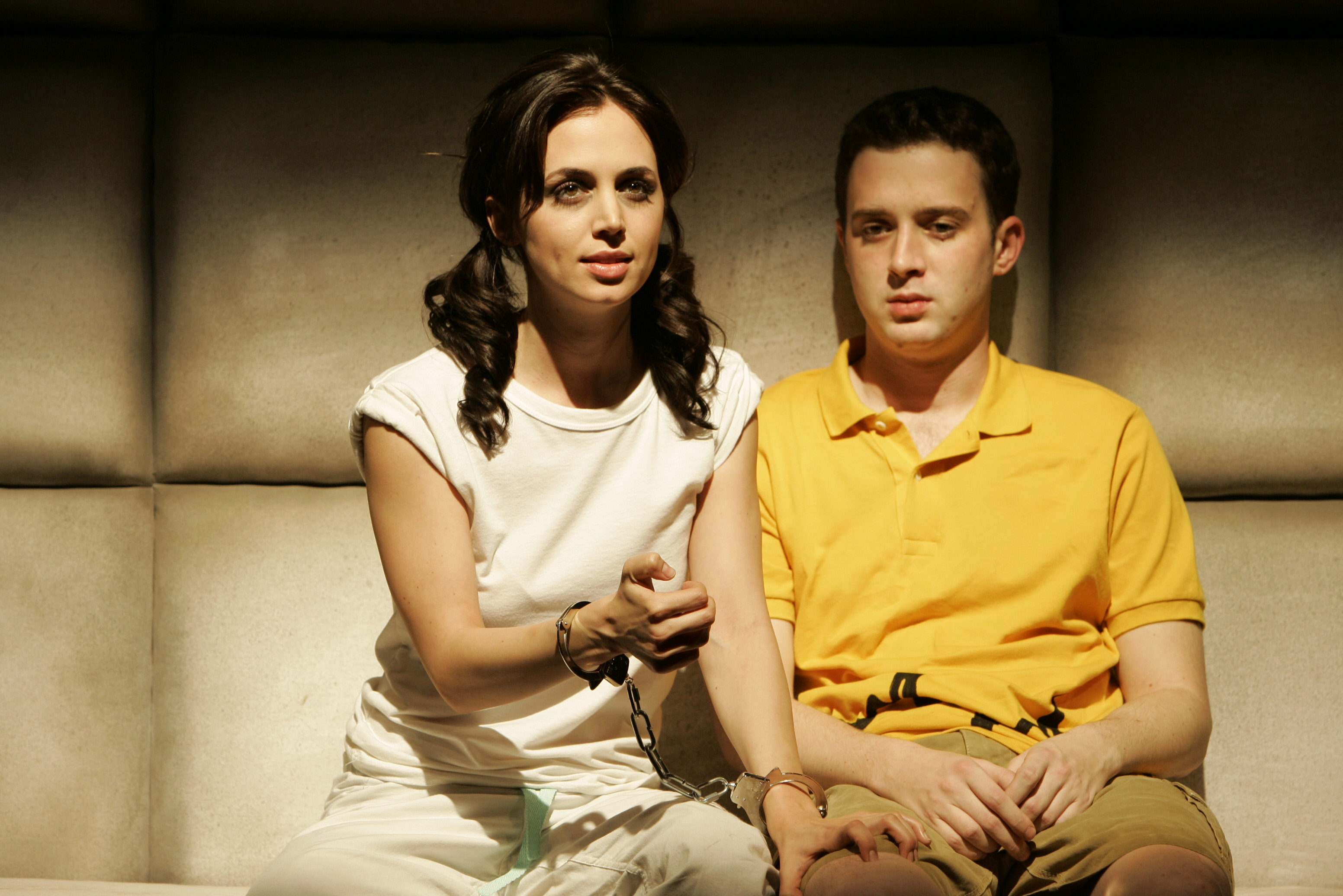 Eliza Dushku as Van's sister Eddie Kaye Thomas as CB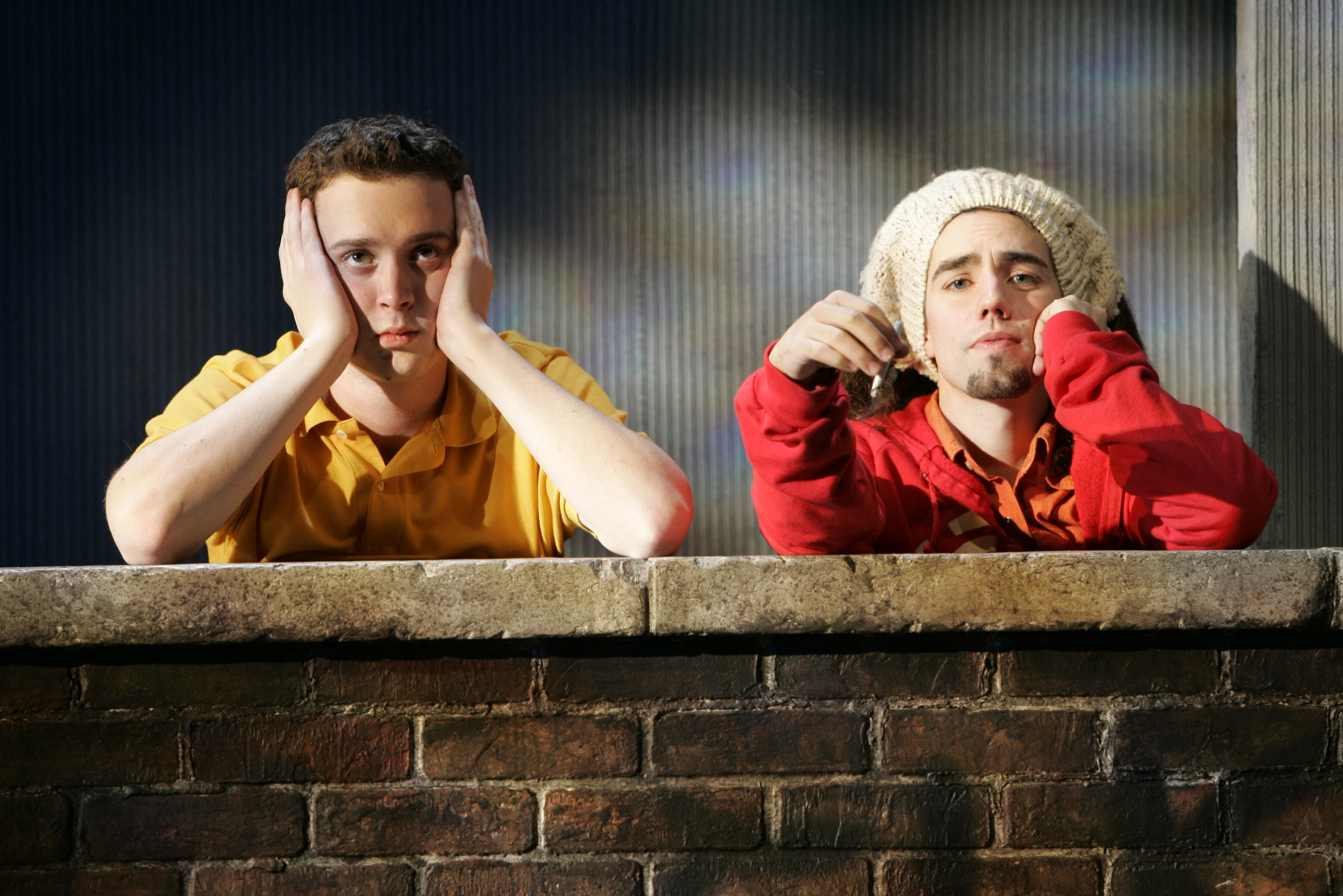 Eddie Kaye Thomas as CB Keith Nobbs as Van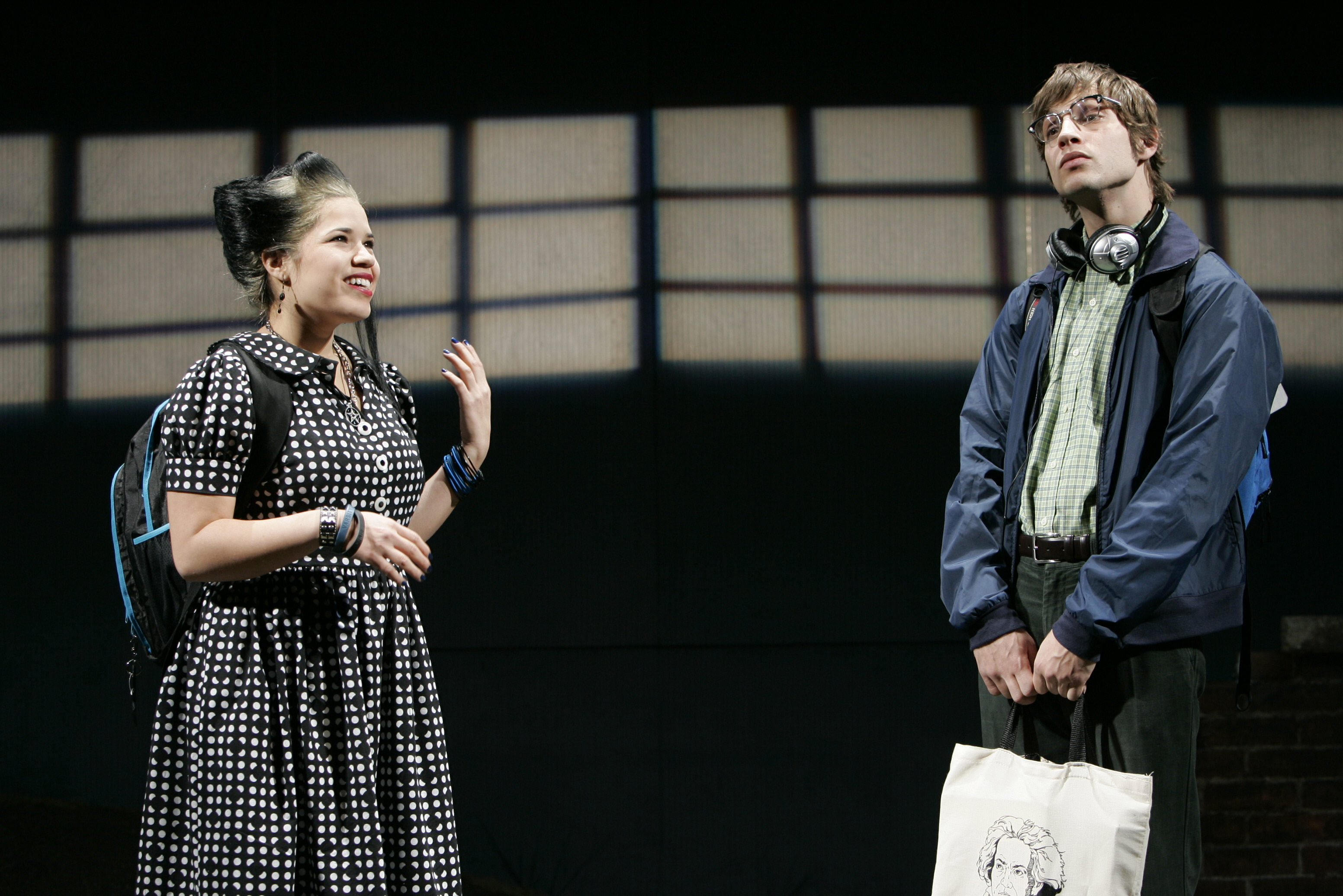 America Ferrera as CB's sister Logan Marshall-Green as Beethoven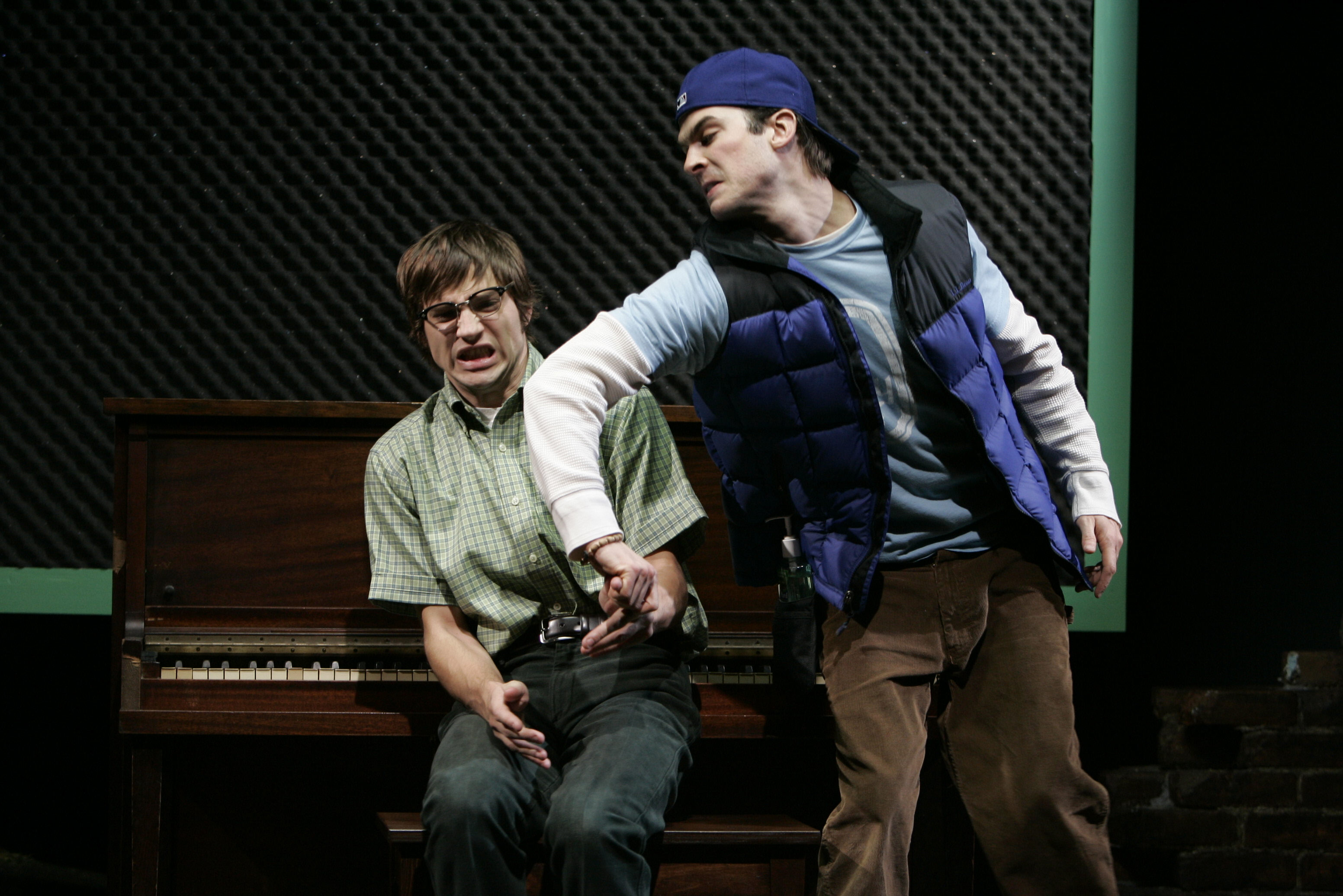 Logan Marshall-Green as Beethoven Ian Somerhalder as Matt
The sketch group Fearsome has been performing weekly for the past five years. The team therefore decided to put together a bunch of its favorites; and the result is Gun Grease, a zany and very enjoyable comedic anthology. Seeing this show will probably not change your life. But chances are it'll make you laugh continuously for its entire 50 minutes of playful tricks with words, sight gags, time, space, and Yahtzee dice.
And if that's not reason enough, go to discover its delightful performers: Shayna Ferm, Katherine Bryant, Chris O'Connor, and Alex Goldberg.
Shayna Ferm is best known as one of the most hilarious singer/songwriters in New York (to learn more, please click here). But Ferm is also a brilliant comedic actress, offering up razor-sharp timing, carefully thought-out movement, and unforgettable deadpan expressions. Quite simply, she's a star just waiting to be discovered by the right people.
Katherine Bryant is a perfect partner for Ferm, matching her in slim body, wry facial choices—and even musically, achieving lovely harmonies while singing about such unsettling items as fupa, the soft fatty tissue that can develop above the vagina. (I shudder to think what sort of Google hits that last sentence will attract, but the truth must be told...) Bryant is a gem in her own right, demonstrating tremendous wit and fearlessness...while at the same time managing to come across as adorable.
And speaking of adorable, Chris O'Connor steals the opening of the show with his clueless act, generating lots of energy and laughs by doing little more than repeating the word Yeah! over and over.
Rounding out the group is Alex Goldberg, who smoothy tackles a wide range of roles, from smarmy reality TV show host to a guy yearning to find the dad he's never met.
Again, the show isn't deep or thought-provoking; but it's smart, beautifully executed by performers who are utterly comfortable with each other, and jam-packed with laughs.
The final performance of Gun Grease was April 20th, 2007 at NYC's Peoples Improv Theater, a.k.a. The PIT, at 154 West 29th Street (between Sixth and Seventh Avenues). You can still enjoy Fearsome, though, because the troupe continues to regularly perform new sketches. To learn about upcoming shows, please visit Fearsome's MySpace page by clicking here; and check the schedule of their primary venue, The PIT, by clicking here.
The most awful unexpected development at last year's FringeNYC was the last-minute cancellation of Fitz and Walloughs Get It In the End! due to its wonderful star and lyricist, Micah Bucey, having his right lung collapse during tech rehearsals mere hours before his first performance. Micah was rushed to a hospital, where he stayed for a full week; and his recovery took months. But all who know Micah are incredibly happy that he's now well again; and more, that he's strong enough to finally bring this physically demanding show to life.
Micah is charismatic and delightful as a diva gay singer, and he belts out about a dozen numbers (accompanied by two fine female backup singers and a talented band). If you want to see a genuine star at work, catch Fitz and Walloughs Get It In the End!, which is playing Sundays at 8:00 pm from June 3rd through July 8th, 2007 at the Ace of Clubs, 9 Great Jones Street (i.e., 3rd Street between Lafayette and Broadway, downstairs from the Acme restaurant). Nearest subway stops are Bleecker Street on the #6 and Broadway-Lafayette on the F/V/D/B.
To hear some of this cabaret musical's fresh (in every sense) songs—with Micah singing and co-star & composer Andrew Edwards on piano—please click the MP3 audio links below. (Note: These are NOT for children! Fitz describes the show as "a homomusical spectacular" in which he sings "beautiful songs about very, very messy things...")
For a fun interview—conducted by nytheatre.com's Martin Denton shortly before 2006's FringeNYC—with Micah (in character as Fitz) and the writer of the show's book, Paul Hagen, please click here. (Note: To access all of the terrific nytheatre.com podcasts, please visit www.nytheatrecast.com.)
For more information, please visit the show's Web site at www.fitzandwalloughs.com. To purchase tickets ($15 each), please click here.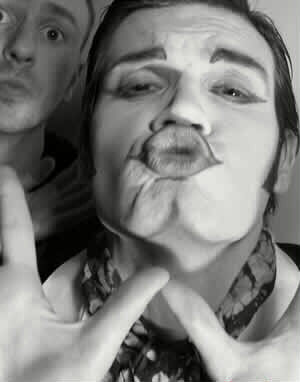 Andrew Edwards (composer/Walloughs) and Micah Bucey (lyricist/Fitz)
One of my all-time favorite theatre duos are Rachel Buethe and James Presson, who co-run the theatrical company Less Than Rent.
Buethe has previously done extraordinary work as an actress, writer, and producer, and Presson is a brilliant director. In this new show, though, they've switched roles; Buethe is the director and Presson is the playwright.
For Buethe, it's an unqualified home run. She clearly applied loving care to every detail of the production, from the carefully thought-out set, to the clever staging, to the spot-on casting, pitch-perfect timing, and blend of over-the-top and nuanced performances.
There are even such lovely little touches as a humble placard on the wall—that only audience members studying the stage during intermission will ever notice—offering advice eerily resonant for the play: "To deal with worry, work is better than whiskey."
For Presson, the results are a bit more mixed. For example, while Hedda Gabler was the inspiration, I'd recommend recognizing this is its own story and inventing a very different ending that's more suitable to its own unique rhythms. But the positives strongly outweigh the structural issues.
This is a fresh, ambitious work that pushes at the borders between art and reality, entertainment and meaning. And while it's not a comedy—in some ways, it's actually an anti-comedy—at its core is a TV sitcom.
If you're open to something different, don't miss the two-week run of this vibrant show.
Friends Don't Let Friends is playing December 2-18, 2011 at Walkerspace (46 Walker Street, near the Canal Street stops of the A/E/C/N/R/1/2/3/6 subways. For the full schedule, please click here. To learn more, please click here. To order tickets—a way low $18, and even less when the production is offering discounts, as it's currently doing—please click here.
Rachel Buethe, and Buethe and James Presson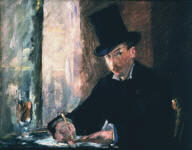 Rating: **½
The Heist Project, running November 4-19, 2005 at Jersey City's Victory Hall, is an inventive mix of art and theatre.
Instead of having you sit down and watch a performance, the show guides you around a large space loosely modeled after the Isabella Stewart Gardner museum in Boston, which in 1990 suffered the biggest art theft in U.S. history—13 pieces valued at over $300 million, including paintings by Rembrandt, Manet, and Vermeer. After more than 15 years, and an offered $5 million reward for information, there's still no evidence as to who committed the crime or what happened to the artwork.
Producing Artistic Director Christine Goodman and Director Jack Halpin commissioned contemporary artists to create their own installations inspired by the stolen works. They then placed actors in each installation; and as you're guided from one piece to the next, the actors tell original stories inspired by the art, effectively creating a living museum.
Unfortunately, most of the tales—crafted by a variety of writers—aren't very good. (My favorite was a playful monologue written and performed by director Halpin—who's also an exceptionally talented actor—for a Chinese vase that gripes about being overshadowed by the paintings.) Visually and viscerally, however, this "museum as play" offers an unusual and worthwhile experience.
After about 40 minutes, the tour ends and you're guided upstairs to watch a short documentary about a different living museum—111 First Street (just nine blocks from Victory Hall), which was a primary venue for Jersey City artists. The institution was torn down this March to make way for commercial redevelopment...and you're induced to feel this was a modern-day crime, committed in broad daylight and with the city's blessings.
Finally—in the most visually delightful moment of the production—the movie screen is rolled down, a curtain is pulled back...and you suddenly have a clear view of the museum you were touring a short while ago. And as you watch in dismay, performers reenact the March 1990 robbery of the 13 works of art to which you'd been so intimately introduced.
This isn't a perfect show; but its coordination of over 50 artists, writers, actors, and other talents to paint a living picture of lost treasures makes it a highly ambitious and auspicious start for the Art House Productions company run by Goodman. Here's hoping Art House goes on to offer increasingly compelling reasons for New Yorkers to make the 15-minute PATH train trip to Jersey City.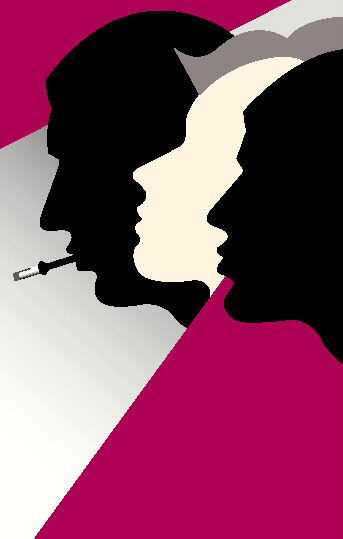 Rating: n/a (workshop production)
You're unlikely to find a better $15 play this month than The Jazz Age, a magical workshop production about the friendship of two literary giants, Ernest Hemingway and F. Scott Fitzgerald.
Hemingway is played by PJ Sosko, a charismatic actor with exceptional energy and focus. Sosko gives his all to bringing the driven author-adventurer to life, and the results are mesmerizing; whenever Sosko's on stage, you can't take your eyes off him.
Equally notable is Marta Reiman as Zelda, Fitzgerald's flapper wife. Zelda is an especially difficult role, because it requires an actress to be irresistibly sexy and charming—while simultaneously hinting at a dark side tinged with madness. It would be easy to go over the top with this character and turn her into a cartoon; but Reiman consistently exhibits subtlety and sensitivity, giving us a Zelda who's beautiful, tragic, and breathtaking.
Completing the triangle is Dana Watkins as F. Scott Fitzgerald. Particularly in his early scenes as a young author full of life and ready to conquer the world, Watkins is dazzling. When Zelda first meets him, she comments, "you're much too pretty for a boy," and you know just what she means.
Having the opportunity to see these three wonderful performers on stage is by itself worth the trip. (And if you aren't already familiar with these talents, keep an eye on them over the next few years and watch their stars rise...)
As for the writing, it's from accomplished playwright Allan Knee, whose previous credits include the book for the Broadway musical Little Women, and the play The Man Who Was Peter Pan (later turned into the lovely feature film Finding Neverland). Because this is a script-in-progress, it would be inappropriate to discuss it in detail. However, the subject matter is fascinating, and Knee provides lots of smart dialogue and intriguing scenes. There's certainly work to be done; but there's also a great deal of potential.
The Jazz Age is running at the Jewel Box, 312 West 36th Street, 4th Floor, April 13-22, 2006. For additional info, please click here.
Jackie Clarke & Julie Klausner
Getting to Know Jackie: Comic Book Version of My Life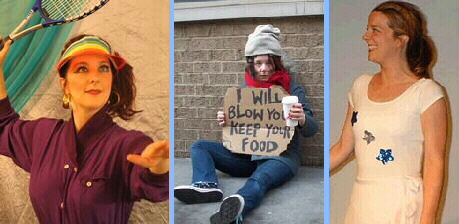 Getting to Know Julie: Search for the Next Elayne Boosler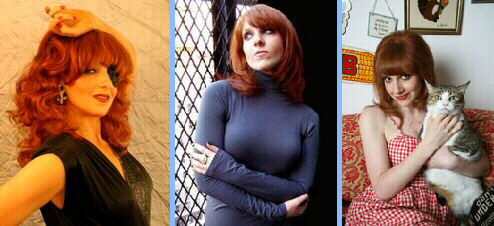 Julie & Jackie Short Films

Trivia Night: Double Date with Julie & Jackie
Welcome to Our House #1, WTOH #2, WTOH #3, WTOH #4
(see also the 1987 Brenda Dickson video and more recent antics that inspired the above...)
For more on these two brilliant comedic writer/performers,
please visit the duo's Web site at julieandjackie.com,
Jackie's site at jackieclarke.net, and Julie's site at julieklausner.com.
| | |
| --- | --- |
| Rating: ***½ | |
There's no production company I'm more excited about than Less Than Rent Theatre.
Spearheaded by two young creative geniuses, director-writer James Presson and actress-writer-producer Rachel Buethe (above right), Less Than Rent first caught NYC's attention with Richard 3, a highly energetic punk rock musical version of Shakespeare's Richard III that was a smash at FringeNYC 2010.
To top that ambitious show was a substantial challenge. But Presson & Buethe have proved themselves up to it—and not by going bigger, but by wisely going deep and personal.
Their new show is a modern take on Chekhov's Three Sisters. Titled Little Town Blues, it's set in a Iowa prep school where three high school girls, and their male friends at a neighboring military school, are spending their last year before graduation. Despite the Chekhov dramatic foundation, most of the show is joyous...so much so that the characters regularly break into song and dance, as if it's the only way to adequately express their charged feelings. As these teens search for identity, love, and the right path, they form friendships so intense that they essentially become family members. I've seldom seen a play that does such a wonderful job of capturing both the closeness and emotional dangers of dorm school life; and of conveying an age when anything seems possible—and how such vast potential can be a double-edged sword.
The 2½ hour production is packed with delightful surprises. For example, the opening dance numbers provide more youthful energy than you'll get from some entire Broadway productions. As another example, towards the end two characters abruptly start speaking Russian to each other, for no reason other than to remind us we're watching something springboarding off Chekhov so shouldn't be shocked when things take a turn for the dark.
The entire cast is superb—particularly since many of them have worked together for years at Fordham University, creating a lovely chemistry that makes the school friendships of their characters all the more believeable.
That said, two performers stand out. Triple threat Rachel Buethe, the show's co-writer/producer/star, is a stunningly beautiful actress who moves with the grace of a dancer. And behind those looks operates a fierce intelligence, buoyant wit, and generosity of spirit to her fellow actors that puts Buethe in a league all her own. Buethe graduated from college just last month, and she's already one of the most promising talents in NYC theatre.
The other clear standout is Jake Ahlquist (below), who has a poignant Buddy Holly quality. Ahlquist has such charisma that you can't help loving him, even when his character is behaving in ways that appear despicable. He also sings beautifully; on opening night he garnered applause and cheers for a particularly heartfelt number. Ahlquist has star power coupled with genuine talent—as reflected by his winning last year's FringeNYC Award for Best Actor.
Buethe & Ahlquist are reason enough to come see this show; but there are many more treasures to be enjoyed here.
Tickets are an absurdly low $18—making this the perfect appetizer for FringeNYC 2011. Go see this production that, were it in the Fringe, would be one of the hits of the festival.
Little Town Blues is running July 23-August 7, 2011. For the full schedule, please click here. To learn more—and watch a video interview with James Presson & Rachel Buethe—please click here. To order tickets, please click here.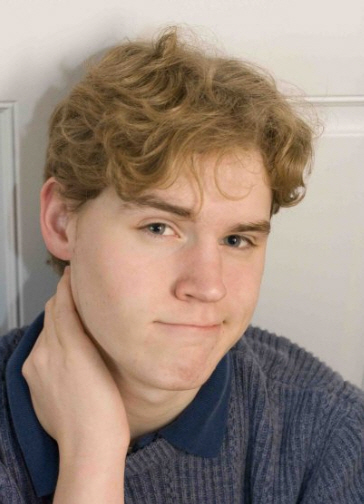 or
To read the rest of Hy on Theatre reviews (on page 2 of 2), please click here.
Copyright © 2012 Hy Bender
Email: hy@hyreviews.com