HyReviews.com's Favorite Comedy Videos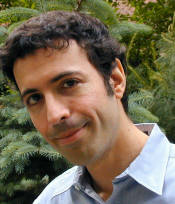 Last updated September 2014
Best FringeNYC 2014 Video Promos & Sneak Peeks
Gary Busey's One Man Hamlet..., Dancing Monk Ippen, I'll Say She Is, and The Mormon Bird Play
To help you get a feel for what's available at the spectacular upcoming FringeNYC 2014
(running August 8-24, and hosting 205 productions) , please click the following links
for video sneak peeks of shows at this year's festival:

Gary Busey's One-Man Hamlet (As Performed by David Carl): Trailer
Gary Busey's One-Man Hamlet (As Performed by David Carl): Fundraiser
Stone Cold Fox: Internet Animal Cruelty
The 8th Fold: "Don't Ask, Don't Tell"
The Imbible: A Spirited History of Drinking
La Donna Improvvisata (entirely improvised opera)
Olympus Records (click first song "Bad Girls")
Smashed—The Carrie Nation Story
Fatty Fatty No Friends: Trailer #1
Fatty Fatty No Friends: Trailer #2
Tales From Geriassic Park—On the Verge of Extinction
The Boston Tea Party Opera: "Against Writs of Assistance"
The Boston Tea Party Opera: "My Own Cloth"
Stone Cold Fox: The Creepiest Birthday Song
Xavier Toby—Mining My Own Business
Don't Panic— It's Only Finnegans Wake
20/400 Sketchy As F*ck: Homeless Mary
20/400 Sketchy As F*ck: American Family
Isis Variations: Interview with Yokko
Seven Seductions of Taylor Swift
His Majesty, The Devil—A Play With Music (audio interview)
King of Kong: A Musical Parody
Joel Creasey (stand-up set at Melbourne Festival)
Coming—A Rock Musical of Biblical Proportions: "Ballad of Bethlehem"
Coming—A Rock Musical of Biblical Proportions: "In a Way That Fits"
Song from Deborah Berenson (of One-Woman Cabaret Show Sex, Lies & Earl Grey)
Best of The Amy Schumer Show, Season 2
Few comics have risen so high and so quickly—and have so thoroughly earned it—as Amy Schumer. Not satisfied with being one of the very finest stand-ups in the country, Amy has set her sights on careers in TV and film...and is likely to hugely succeed at both.
Season 2 of Comedy Central's Inside Amy Schumer, which ran Tuesdays in Spring 2014 at 10:30 pm (with repeats at 2:30 am), is red-hot. There were some stumbles in Season 1, but the lessons have been learned. Not only are the sketches more consistently smart, funny, and sharply directed, even the selection of Amy's stellar stand-up and interview bits are better, Amy's performances are comedically subtler and deeper to the point of being world-class, and each episode is thematically tighter overall. Don't miss what's become one of the very best shows on TV...and start by watching highlights from Season 2 below:
Focus Group (featuring Kurt Metzger)
Amy in an Elevator With Colin Quinn
Amy Chooses a Movie (with Rory Scovel)
Chrissy Teigen, Couples Counselor
Interracial Wedding Photographer (starring Michael Ian Black)
Nutritionist to the Stars (with Janeane Garofalo)
Inkblots (with Mike Birbiglia)
The Nurses (with Ryan Hamilton)
Bachelorette Party Disaster (with Todd Barry)
Hello M'Lady (featuring Neil Casey & Adam Wade)
Best of The Pete Holmes Show, Part 2 of 2
In October 2013, comedy treasure Pete Holmes kicked off the first 28 episodes of The Pete Holmes Show. You can find the best bits from that run here.
On February 24th, Pete returned for a second and final round of episodes...and he continued to create some of the finest comedy on television, late night or otherwise.
The following are highlights of this second run, which aired Monday-Thursday at midnight and 1:30 am on TBS (following Conan O'Brien) through mid-June 2014, and can also be viewed anytime at Pete's website.
Ray Romano Sings Ray Romano Duets
Pete Explains to Conan About Being 63 Days Straight
Realistic Mario: Dinosaur Turtle Mushrooms
Street Fighter: Standards & Practices vs. Ryu
Street Fighter: Standards & Practices vs. Vega plus Thomas Middleditch Outtakes
Ex-Men: Magneto Magneto: Outtakes
Paul Scheer Explains Why Chevy Chase = Colossal Dick
Natasha Leggero Tells of Unchivalrous Moment From Martin Lawrence
Duncan Trussell Explains Religion—Seriously More Duncan Trussell
Return of A Nice Boy Telling Jokes
Foraging in the Forest with David Wolfe
Kristen Schaal's Favorite Ghost
Pete and Joe DeRosa Can't Believe It's Not Butter Memories of Butter
Best of The Pete Holmes Show, Round 1
Wry, brilliant, hilarious Morgan Murphy is one of the sharpest and funniest writer/performers alive, and her new album Irish Goodbye provides virtually all her best jokes to date. You can watch Morgan perform a killer set on Jimmy Fallon here; and the following are a few more of my favorites:
*******
People say to me, "Morgan, if you weren't a comic,
you'd be the funniest girl in the office."
It's not true at all.
Most of my friends are male comics,
and they would never be the funny guy in the office.
They'd be the fucking crazy guy in the office.
They'd be the guy where everybody's gathered in the
little kitchenette at lunch around the microwave
and going, "Um, that guy talks about rape all day.
Something's wrong with him.
No, like seriously wrong with him.
He shouldn't work here.
He thinks it's funny.
I don't understand."
*******
I did not drink the entire time I was pregnant.
And I'm going to be very honest with you.
It was the hardest four days of my life.
*******
How weird is it, ladies, that we put penises in our mouths?
That shit's crazy.
Guys, look at your wife or your girlfriend. Look at her right now.
She has put so many penises in her mouth,
just shoved them in there—where sandwiches go.
That is sandwich space.
And we just do it as if we're supposed to.
Like, if you put in front of me
a mint and a chocolate milk and a penis
and asked, "What do these have in common?"
I'm supposed to say,
"They go in my mouth."

*******
My favorite movie of all time is to How to Lose a Guy in 10 Days.
I watch How to Lose a Guy in 10 Days probably 7 to 10 times a year.
I love it so much.
If you don't know what it's about,
Kate Hudson plays a pretty lady.
Matthew McConaughey plays a pretty man.
And the whole thing is Kate Hudson saying,
"I'm going to lose him in 10 days."
And her friends say, "No you're not."
And then she tries real hard.
So she does all these crazy things.
She brings a plant over to his apartment,
she brings stuffed animals over,
she does a funny accent.
Then she goes to her best friend and says,
"I don't know what's happening.
I can't lose this guy in 10 days."
But every time I watch the movie
and see her do all this stuff,
all I can think is
"Shit on the floor."
What are you doing
with the plants and the baby voices?
Just shit on the floor!
I would be the worst best friend in a movie.
Because she'd come to me
and say "I did all this stuff, I don't get it."
And I'd go, "Did you shit on the floor?
'Cause I would just try that."
I'm going to make a short film called
How to Lose a Guy in 16 seconds.
For lots more, buy Morgan's downloadable album Irish Goodbye.
It'll be among the best ten bucks you spend this year.
Cut Scene from Movie Classic King Kong
Classical Music with Leslie Goshko
Classical Music Played with Unusual Instruments
Louis CK Argues for Classic Silence
Post-Holiday Shopping Comedy Classic: George Carlin on "Stuff"
Comedy treasure Pete Holmes is trying to do something fresh and different on TV. In the first 28 episodes of The Pete Holmes Show, some of it works, and some of it doesn't; but there's clear potential for Pete to develop into a late night giant. Root for him—not only because Pete has always been one of the nicest, funniest, and most talented guys in comedy, but because If he succeeds, TV will be richer for it. We'll all be the richer for it.
The following are some highlights of the show, which aired in Fall 2013 Monday-Thursday at midnight and 1:30 am on TBS (following Conan O'Brien) and hopefully will be back in 2014:
Ex-Men: Firing Nightcrawler—Outtakes
Ex-Men: Firing Cyclops—Outtakes
BET Hip Hop Awards: "All Whitey, Then"
Playing with Allison Williams More Allison
Conan O'Brien: "The Amish R2-D2"
Conan: "You're the Perfect Host for The Pete Holmes Show"
Conan: "You're Making a Living Off of Something That Should Probably Be Treated"
John Mulaney More John A Bit More John
Marc Maron More Marc A Bit More Marc
Patton Oswalt: Unicorn on the Cob
HyReviews.com's Book of the Month:
Searching for Dave Chappelle
Jason Zinoman, who performs the invaluable service of reporting on comedy for The New York Times, has written this fascinating, meticulously researched, and thoughtful ebook based on scores of interviews with people who know Dave Chappelle and recent stand-up sets by Chappelle. It covers the special challenges of being a black comic, doing on-the-fly vs. tightly scripted material, when to battle with TV networks vs. not rocking the boat, and theories on why Chappelle left one of the most successful shows in TV history.
All this and more is yours for a mere $2.99 in Searching for Dave Chappelle.
To refresh your memory on why Chappelle matters, some of his best sketches:
The Mad Real World: Token White Guy
The Mad Real World: Sleeper Hold
The Mad Real World: "I Don't Feel Safe"
A Lesson in Comedy Technique from Patrick Stewart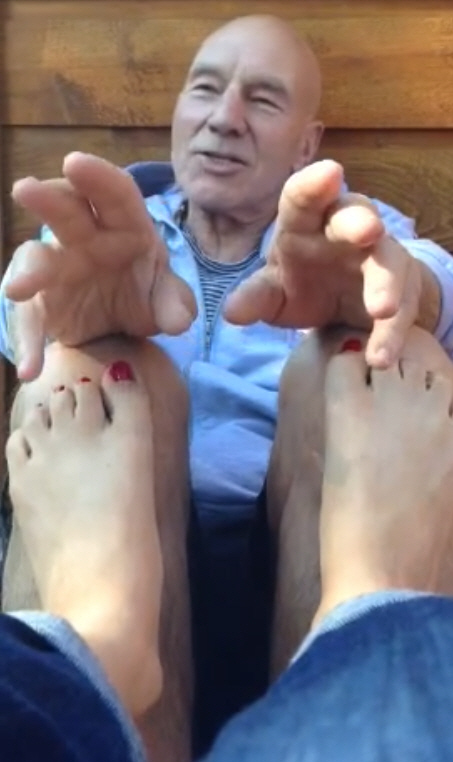 A possibly stoned Patrick Stewart gives a lesson in comedy
to his 35-year-old singer-songwriter fiancée Sunny Ozell:
HyReviews.com's Comedy DVD/Album of the Month:
Pete Holmes: Nice Try, The Devil
Something I've known for years is finally making it into the mainstream:
Pete Holmes is not only a comedy treasure, but one of our greatest comics ever.
First Pete broke into Hollywood as a sitcom writer for NBC and FOX; then he started the highly popular
podcast You Made It Weird; and now he's going to have a show directly following Conan O'Brien
midnight on TBS starting October 28, 2013. On top of all that, Pete recently did an hour-long special for Comedy Central,
with an expanded version available on CD and DVD: Nice Try, The Devil. Some samples & classic bits:
Why Google Makes Life Meaningless
Review of Pete's Show by Robots
Indie Comedy Movie of the Month:
The Exquisite Corpse Project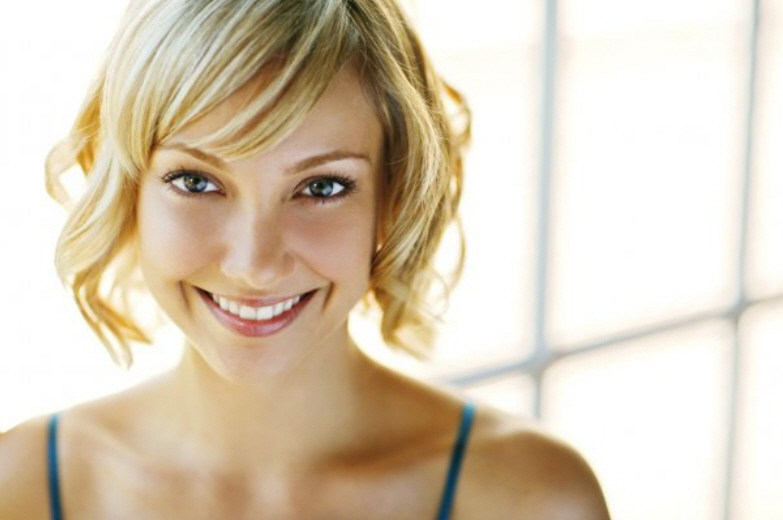 Megan Raye Manzi, the luminous and brilliantly talented actress starring in The Exquisite Corpse Project...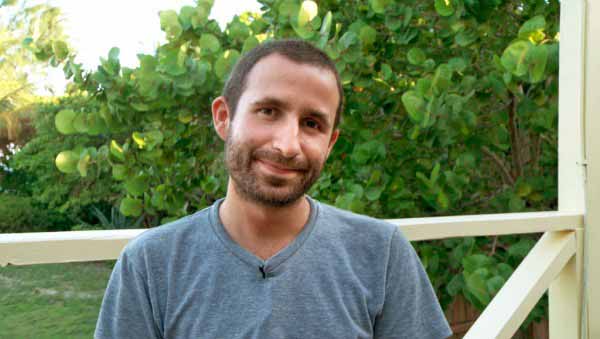 ...and the film's visionary director, Ben Popik
Olde English is a sharp group of sketch comics who performed together for years on both stage and video...but one day simply drifted apart. Then the director of the group, Ben Popik, suggested a project: Each member write 15 pages of a screenplay...while getting to see only the last five pages of the previous writer.

It's a fun gimmick to create a marketing hook for the movie. Naturally, the results of the film made from the screenplay are mixed; but they're not the crazy quilt you might expect.
A critical element that makes the latter work is phenomenally talented actress Megan Raye Manzi. While she has to play wildly different versions of her character in each 15-page sequence, she creates a solid underlying core that's always compelling and emotionally believable, allowing us to care deeply about her character throughout. Manzi is the invaluable glue that holds the "fiction" part of this project together.
Further, the execution of the screenplay is only one side of the coin of this movie. The other major component is documentary footage of the members of the group interacting before, during, and after the project. The latter is handled so subtly and artfully by director Popik that what The Exquisite Corpse Project is really about didn't sneak up on me until near the end—and then hit me in the head in a way that I'll long remember.
In a nutshell, this is a transcendent story about creative relationships...and the nature of relationships in general. And that turns what in lesser hands would be a gimmicky comedy into a genuinely great film.
As an added bonus, at the 1:01 mark, Olde English member Raphael Bob-Waksberg gives the finest description you're ever likely to hear of what it means to be a screenwriter in Hollywood.
You can watch the vibrant work of Ben Popik, Megan Raye Manzi, and the other very talented folks involved at your convenience, because this movie is available for download anytime for a mere $5 here. You can also check out the trailer here. Highly recommended.
Andrea Rosen's Take Me to Your Mother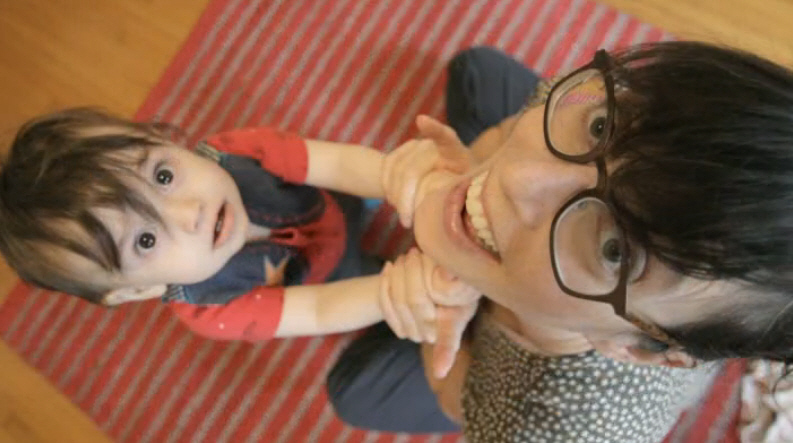 Celebrate Mother's Day every day by watching Andrea Rosen's wonderful new docuseries airing on NickMom at 10:00 pm...
...and available online for free here, and free for members of Hulu.com Plus and Amazon.com Prime: Take Me to Your Mother
Best HBO Promo Ever: Oh My God
And now promos. Is there anything Louis C.K. can't do better than anyone else?
Promo for HBO Comedy Special Premiering Saturday April 13, 2013
Anthony Jeselnik is one of the quickest & sharpest comics alive, and he now has a national forum to show that off via
The Jeselnik Offensive...where part of the joke is that behind Anthony's sadist persona is one of the nicest guys in comedy.
Tune in to Comedy Central every Tuesday at 10:30 pm to see Anthony find new ways to misdirect and delight you; and
to share the wonderful company of such NYC comedy icons as Amy Schumer, Kristen Schaal, Aziz Ansari, and Nick Kroll.
Kristen & Billy Defends Their Tweets
Natasha Leggero Has the Best Laugh Ever (Even When Discussing Cannibalism)
Jason & Natasha Defend Their Tweets
2012 Video Interview with Anthony
2013 Text Interview with Anthony by Pete Holmes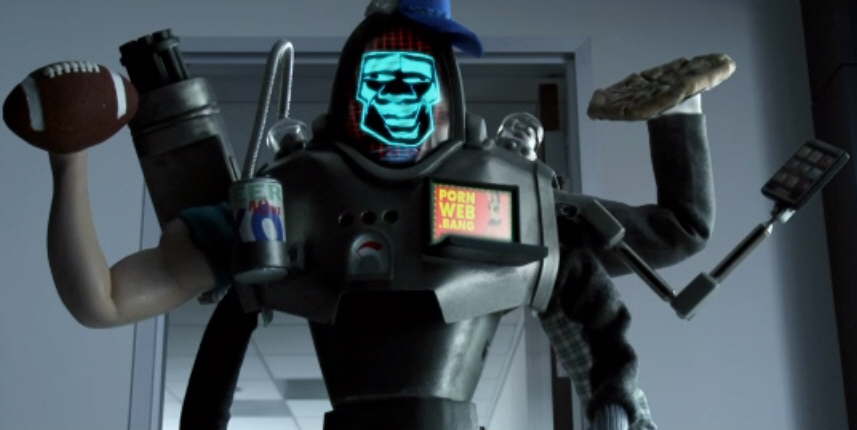 Comedy Central's Kroll Show is the finest sketch comedy series to grace television in years.
Nick Kroll has created a pop culture-driven smorgasbord of brilliantly detailed and razor-sharp parodies.
(For example, the above is the show's representation of its male 18-35 target audience...)
Nick plays a broad range of characters, most of whom are self-absorbed, extreme, and hilarious.
Another delight of the show is its featuring many stellar former and current talents of NYC's
comedy community, including Jenny Slate (above right), Jon Daly, John Mulaney, Jason Mantzoukas,
Eugene Cordero...pretty much a who's who of UCBT-NY stars over the past decade.
The first 8-episode season is over, but you can see Nick and his friends tear reality apart in these clips:

Episode 8 (first season finale)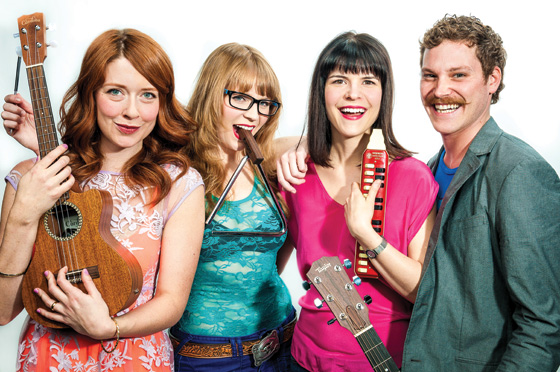 A rare combination of hilarious writing and ace musical skills make Nadia Quinn, Emily Tarver, Aaron Quinn, and
Rebecca Kaasa a band worth keeping an ear on. Here are some of the best songs (so far) from Summer and Eve:

HyReviews.com's Favorite Amazon.com Customer Reviews
Some of the funniest material on the Web can be found on Amazon,com pages,
thanks to the creativity of customers responding to randomly absurd products.
Here are some of the very best examples:

Tuscan Whole Milk, 1 Gallon: $45
The Mountain Three Wolf Moon Short Sleeve Tee
Denon AKDL1 Dedicated Link Cable
Science Comedy
Epic Rap Battles of History: Einstein vs. Stephen Hawking
A Physicist Goes Into an Ice Cream Parlor
Funniest Movie Deaths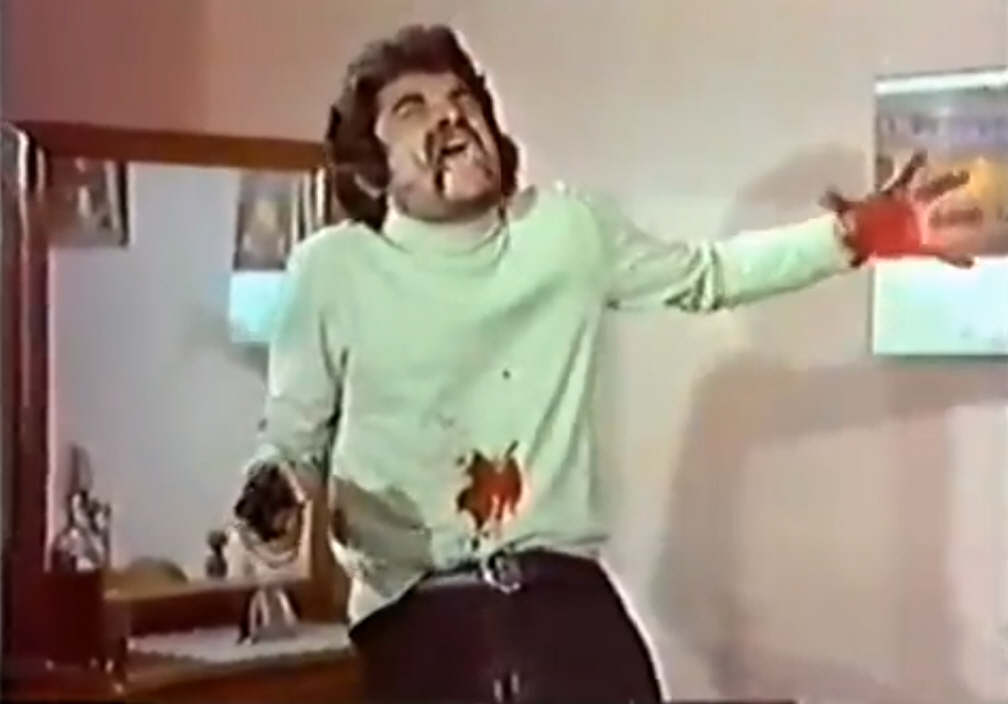 1973 Turkish film Kareteci Kiz (a.k.a. "Aaaaaaaaaaaaaaaaaaaaah")
The Princess Bride: The Choice
Greatest (Horrific) Fight Scene Ever
Dogs
Eileen Kelly and her dogs (who are assholes); a dog who cares a bit too much...
...a suspect is interrogated; and a hippo is upstaged
Eileen Kelly: My Dog is an Asshole (song)
Eileen Kelly: More on Dogs (stand-up)
Dave Hill: Tasteful Nudes
Dave Hill's first book, which was just released this month, is charming, vulnerable, and packed with laughs.
Please check out a video teaser and choice excerpts from chapters below, and then please buy the book by clicking here.
Introduction (Abridged)
Dear Reader,
Hi. How are you? I'm pretty good, mostly.
Thanks so much for asking.
I just wanted to thank you in advance for reading my book.
I typed it all by myself and I really hope you like it.

You seem nice,
Dave Hill
From Introduction (Unabridged)
For those of you who might still be standing there reading this in a bookstore:
Look, I'm not going to tell you how to live your life or anything, but just as a suggestion,
how about marching this bad boy up to the register?
Of course, if money is tight, you forgot your wallet, or you just don't feel like parting with [insert really-high-but-completely-worthwhile price here], I say you slowly shut this book, tuck it under your arm, have a quick look around, and run, run as fast as you can for the exit. I'll get my cut anyway, so don't worry about me.
From Loving You Is Easy Because You Live Close to My Parents' House
There I was, a 13-year-old boy still trying to piece his life back together after having his heart squashed all over the playground a year earlier, now totally about to make out with an actual girl for the first time in his entire life. Fortunately for me, Jenny had totally made out with someone before and guided me through the process, as I imagine most Thai prostitutes tend to do with their first-timers. As soon as we settled into one of the pleather-lined benches in the back of the sexy, sexy ski bus, Jenny wrapped her arms around my neck and shoved her tongue in my mouth, something I somehow never saw coming, not even after having seen Fast Times at Ridgemont High at my friend's house that one night. Taking my cues from Jenny, I shoved my tongue in her mouth and I held on for dear life. My technique was crude, brash, and desperate—perhaps even more so than it is now. Fortunately for Jenny, exactly seven minutes later, I felt a tap on my shoulder. "Time's up," Maria said, looking down at us like a tired and impatient madam who's seen it all. I politely peeled myself off Jenny and dizzily stood up. Having passed what felt like a major milestone in my life, I was both exhilarated and relieved, at once thrilled to have the whole thing over with while severely disappointed that an entire seven minutes could fly by quickly. "Thanks, Jenny, that was really fun," I said before returning to ny seat. "And thank you, Maria, for making it all possible. You're doing important work here."
From As Of Now, I Am In Control Here
Sometimes I managed to turn the otherwise cringe-worthy into fun. Swapping out a urine sample for apple juice and then pretending to accidentally drink it in front of my supervisor was a trademark move I remain especially proud of. Once the rumor that I was a pee drinker spread throughout the shelter, it gave me a mystique I really enjoyed.
Toward the end of each shift I'd poke my head into each of the shelter's sixty or so rooms to make sure every resident was in and accounted for by the 10:00 o'clock curfew. As a result I regularly barged in on one guy who, like clockwork, would be perched on the edge of his bed masturbating like he was in some sort of contest, no matter how many times I knocked first. I could never tell whether I was hurting or helping his mission by walking in on him like that, but regardless it was hard not to admire his joie de vivre. You can take away a man's home, and maybe even a little bit of his pride and dignity while you're at it. But, dammit, you can't stop him from living.
From On Manliness
If you get in at least one knife fight in your lifetime, no one will ever question your manhood again. Just ask one of the Sharks or Jets from West Side Story. Those guys sang and danced around like a pack of raging queens 90% of the time, but when they broke out those knives there was no question about it—these were real men. Men with a keen interest in choreography, but men just the same.
From Tasteful Nudes
I respected that she played by her own rules. But it also occurred to me that, given the close proximity of our fellow diners, everyone around us was now likely under the impression that I had arranged to meet a prostitute for lunch. "Wait a minute," I thought after considering things for a moment. "I did arrange to meet a prostitute for lunch." The 15-year-old in me giggled to himself in a bizarre mixture of mild embarrassment and full-tilt excitement that only a manchild can truly understand. But a moment later, horror set in. "Oh my gosh!" I thought. "Did she want to meet me for lunch just so she could proposition me?" I had never been so conflicted in my entire life: On the one hand, I was insulted that she might think I was the kind of guy who'd be willing to pay for sex. But on the other hand, I was completely flattered that she might think I could afford to spend $4,000 on it.
"But you're so nice and pretty, ma'am!" I wanted to blurt out. "Why would you do that sort of thing?"
"I want to quit a lot of the time," she told me, "but the money is so good."
When I thought about the hourly rates for my own work, I couldn't disagree. Clearly she had a better agent than I did.
From Rocking Me, Rocking You
Barry White was a singer/songwriter and producer who combined R&B, soul, funk, and disco into a sound that made people want to have sex, usually with him. He is perhaps the only person capable of singing the words "take off that brassiere, my dear" with confidence, authority, and not even a hint of irony, which was great for him, and for a lot of other people too.
From Witness the Fitness
I made the gym's elliptical machine my bitch a couple of times a week like clockwork for several months and largely credit it for helping me achieve the just slightly less doughy look I was totally going for. The only thing I don't like about it is at the end when it gives you a "workout summary." Instead of giving me a bunch of numbers I don't understand, I wish it would instead make me feel good about myself by telling me how bangable I am or something. Or maybe it could just be straight with me for a change. Just once I'd like to see it say, "Look, Dave, clearly you had a lot to drink last night. But don't worry, no one is judging you. There's only so many hours of the day you can sit around in your underwear before you start to feel like having eight or ten drinks and then maybe eating a pint of ice cream and staying up until 2:00 am looking at pictures of largely unattainable women on the Internet. In fact, if you factor in all of that stuff, the fact that you even showed up here today is pretty impressive. Now go hit the showers, you gorgeous and totally unpathetic man!" The technology to make that sort of thing possible is probably decades away, but I can still dream.
From The Time I Went to Prison
About a week before my Sing Sing prison debut, when the reality of my situation finally kicked in, I didn't find it quite as funny anymore. Instead, it seemed more like some sort of horrible prank I was inexplicably about to play on myself. Suddenly all I could think about were the innumerable ways my show could go horribly wrong. I saw myself bombing, with microphone feedback filling the airspace where I'd hoped laughter would go. A lone inmate would approach the stage, slow-clapping at me before removing a shank from his waistband and driving it straight through my ribs, causing the inmates to laugh for the first time of the night. Then he'd call all his friends over to take turns shanking me, playing soccer with my head, calling me names, and having sex with my face. In the week leading up to the show, I watched this movie in my mind repeatedly. Sometimes I'd see it from the perspective of those cable television prison shows. "An auditorium full of furious and violent felons is no laughing matter," the narrator would say. "Funnyman Dave Hill found out the hard way..."
From Big In Japan
I had expected Tokyo to be the Japanese equivalent of New York City. In fact, as we approached the city limits, I almost felt like we were coming home. But I soon realized that comparing Tokyo to New York is a total insult. To Tokyo, that is. In fact, if Tokyo and New York were in prison together, New York would be Tokyo's bitch, with Tokyo buying New York for a carton of cigarettes and having intercourse with its face for weeks on end just to show it who's boss. I mean that, of course, in the nicest of ways. It's just that Tokyo has so much to offer. It's like New York times ten but still crammed into the same amount of space and then popped into the microwave at full heat for ten minutes. You must go.
Over the course of the tour, I'd become increasingly fascinated with Japanese toilets, you might even say obsessed...This time I saw another button, which had a silhouette of a woman on it. "The lady-parts button," I presumed. It felt like forbidden territory. I know I'm not a lady and I wasn't even sure how the electronic eye would assess the situation. And I certainly didn't want to confuse the technology. But then I just thought "When am I going to start living my life?" I closed my eyes again, took another deep breath, threw in the sign of the cross for good measure, and pressed the lady-parts button. Another jet stream came out, only this time it hit me in what some people, including me, like to call the taint. Like most people, I had spent my whole life trying to avoid letting exactly this sort of thing ever happen to me. But once it did, I couldn't imagine how I managed to go all those years without being blasted in the taint with water every single day of life. It was intoxicating. So then I started hitting the taint button as fast as it would let me. Then I went back to the butt button. Then I went back to the taint button. Then I went back to the butt button. And then I went back to the taint button again. And again.
After about two hours of this, I felt as if I were floating over my own body as I looked down on it. I'm also pretty sure I saw that bright light that people who've had near-death experiences always talk about. And I was about to go back for more when John burst into my room screaming "Come on, we gotta go rock the fuck out of Tokyo!" Ripped from another dimension, I pulled up my pants, marched out of there with my head held high, and rocked the fuck out of Tokyo with a cleaner ass and taint area than anyone who's ever rocked the fuck out of Tokyo before.
To buy Dave's book—which you should do immediately—please click here.
HyReviews.com's Comedy Videos of the Month:
NYC's Greatest Storytellers, Part 1
Elna Baker
Adam Wade
Ophira Eisenberg
Getting Him Back (jump to 37-minute mark for Ophira)
T.J. Miller is slowly developing into one of the finest comedic film actors,
sketch comedy performers, and lightning-quick improvisors in the business—
part Bill Murray, part Zach Galifianakis, part The Mask, and mostly pure TJM.
If you haven't checked out T.J. lately, please click the links below...
and keep an eye on this talent with the potential for comedy superstardom.
Sarah Palin, Scum of the Earth
Todd Bieber, the wonderfully innovative Director of Content & Production for UCBComedy.com, helms two of the best theatrical shows at UCB. One is Commercial Interruption, which is an autobiographical one-man show that's smart and hysterical and you should rush out to see. The other is Animated Stories, in which Todd hosts some of NYC's finest comics to tell tales on stage...which he then has some of NYC's finest animators turn into cartoons. Four of the best of these follow, along with some choice animated stand-up sets:
Chris Gethard: I Was an Evil Baby
Dave Hill: Toilet of a Lifetime
Kyle Levenick: I Sorta Killed a Girl
Andrea Rosen: Auditioning for HBO
Lenny Bruce: Thank You Masked Man
Being Funny About Feeling Down
Comedy genius Chris Gethard recently wrote a brave and insightful essay on his dealing with depression; please read it by clicking here.
In tribute to Chris' words, here are a few comedy videos about feeling low:
Dave Chappelle: Keep Your Chin Up
Eddie Gossling: Cure for Depression
Louis C.K.: The Saddest Handjob Ever
It's Depression, Charlie Brown
David Cross: Speaking Seriously About Depression
Accepting Adulthood on a Subway Platform
Beware the Mean Insights of 13-Year-Olds
It's Hard to Really Get Lost in New York
That Tall Child Looks Terrible
John Mulaney is one of finest stand-ups in the country, offering hilarious on-target observations crafted with the artistry of a poet and the playfulness of a young brat. John's also one of the most beloved guys in comedy, thanks to his remaining steadfastly down-to-earth throughout his increasing success as a staff writer for Comedy Central and Saturday Night Live, and his new Comedy Central hour-long special. The latter is coming at the end of January in CD and DVD versions under the title New in Town, which you can—and should—buy by clicking here and/or here.
Can't Sleep (written/directed/starring Bridgid Ryan)
Business Time (sung by Flight of the Conchords)
Bedroom Moves (written/starring Patrice O'Neal)
Why Google Makes Life Meaningless
Pete Describes a Problem with His Enormous Balls
Pete Dissects Facebook and Why Being a Kid Sucks
Pete Gets Animated About Being Manly
Pete and Joselyn Hughes Go On a Wine Date
Dr. Pete: The Conversation No Easy Way Baseball Whooping Cough Down Syndrome
Ray Romano Sings, Christmas Edition
Pete Holmes has one of the most lightning-fast and hilarious comedic minds in the country. Pete combines the organic energy of improv with the precision of a great wordsmith and split-second timing of a world-class performer. Pete's razor-sharp observations have warmed up audiences for The Daily Show; lit up such shows as Conan O'Brien, VH1's Best Week Ever, and Comedy Central's Premium Blend & John Oliver's NY Stand-Up; and illuminated the cartoon sections of such magazines as The New Yorker. Pete's also the co-creator of the hilarious Front Page Films, and most recently has been a staff writer for two network sitcoms. A 6'6" teddy bear, Pete has the accessibility of a Ray Romano—and is genuinely one of the nicest guys in show biz—but can also be as surreal and silly as a young Steve Martin. Please check out the videos above to enjoy this genius comic's range; and then buy his just-released CD Impregnated with Wonder, which reviewers—including me—are calling one of the very best comedy albums of the year.
Louis C.K., Zach Galifianakis, Richard Pryor...even the giants have had to deal with hecklers
Louis C.K. (audio only)
George Carlin (audio only)
Eddie Izzard (audio only)
Bill Murray on David Letterman
Laura Grey's & Jennifer Grace's Horrorgasm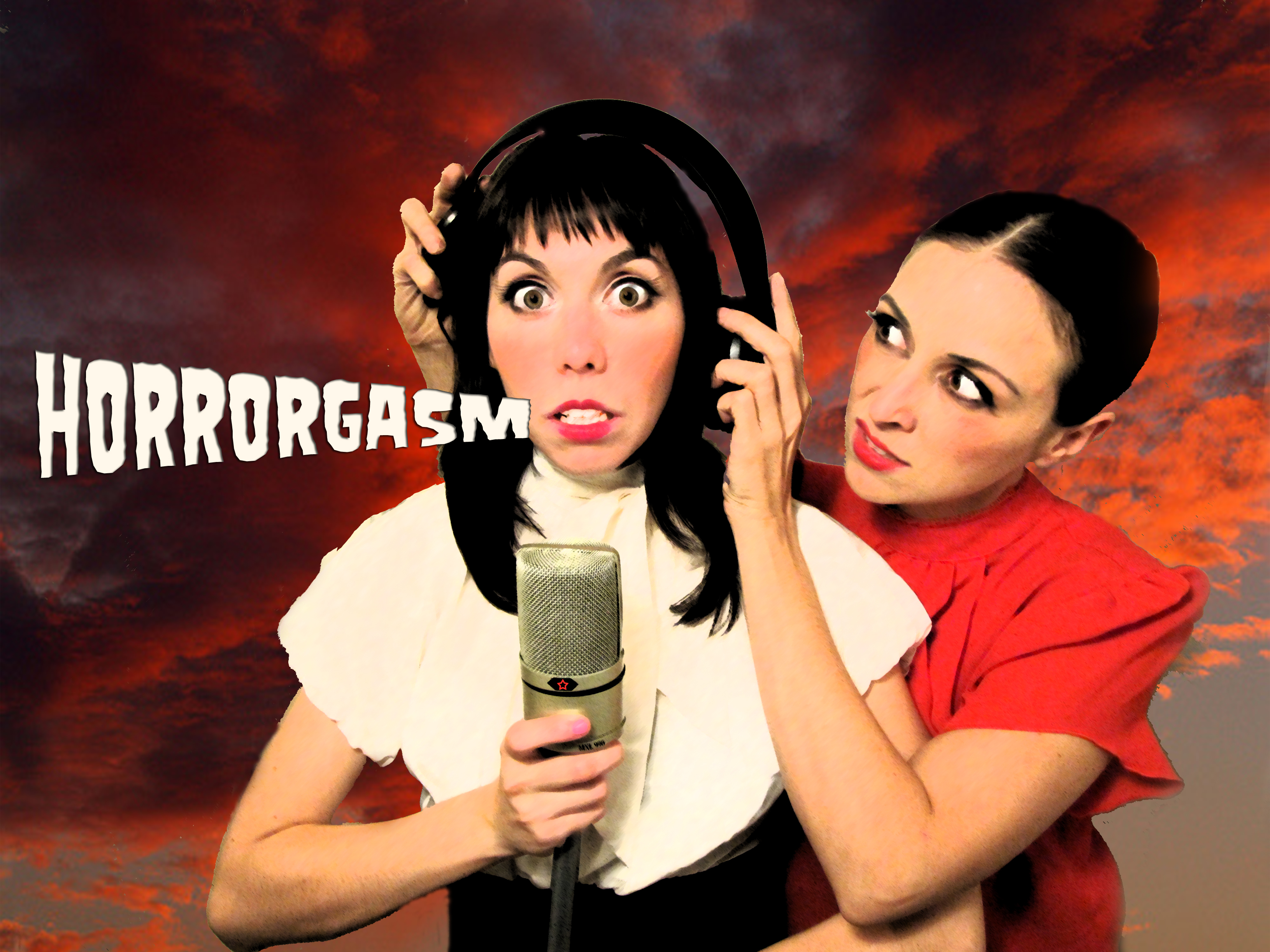 Laura Grey & Jennifer Grace: Adorably perverse
In the golden age of radio, the finest writers and voice actors in the country would craft mini-plays that thoroughly engaged your imagination using only sound. The productions covered every genre, but they were especially effective for SF/fantasy/horror tales—because the special effects budgets were limited only by what they could lead you to create within your mind's eye.
Stellar writer/comics Laura Grey and Jennifer Grace understand the power of sound-based plays; and in the best episodes of their new iTunes podcast Horrorgasm, they create stories that resurrect old timely radio...and garnish them with wry, modern comedic twists. (Think Futurama, only focused on horror and with your eyes closed...)
Below are some of the best shows Laura & Jennifer have crafted to date. There are few better ways to celebrate the coming of Halloween than listening to these quirky gems: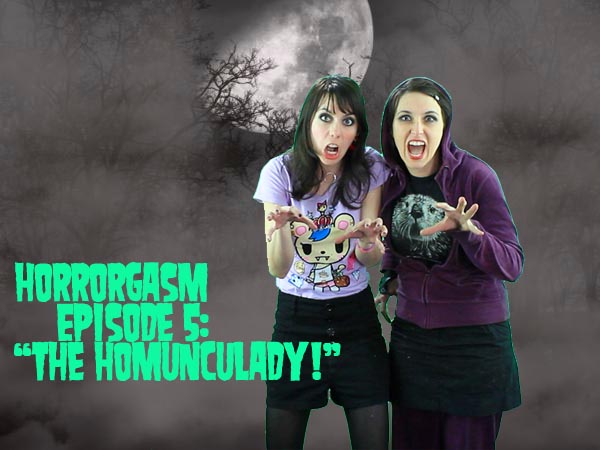 The Homunculady: Not for every taste. But if you're open to feminist horror, this is genius.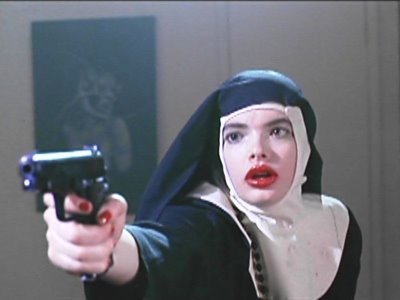 Nun with a Gun: "She's a nun with a gun. Good God, that sister's packin'! It's the Lord's ammunition—and it's Satan she's attackin'!"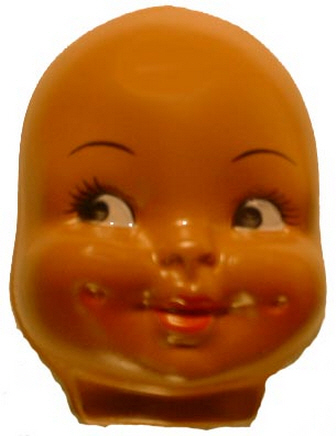 Rupert: Men shouldn't play with dolls.
The Unsinkable Mamrie Hart's You Deserve a Drink
The magical Mamrie Hart offers a transformative drink for Harry Potter fans...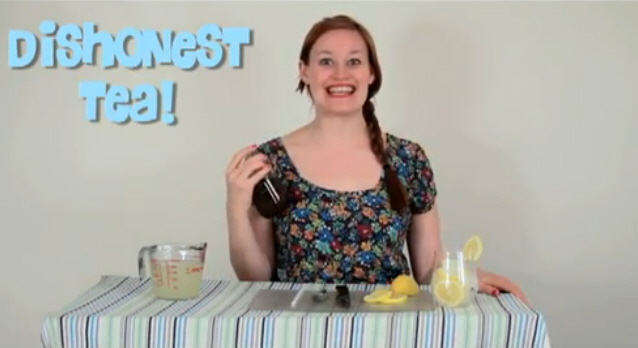 ...gives good advice to daughters on Mother's Day....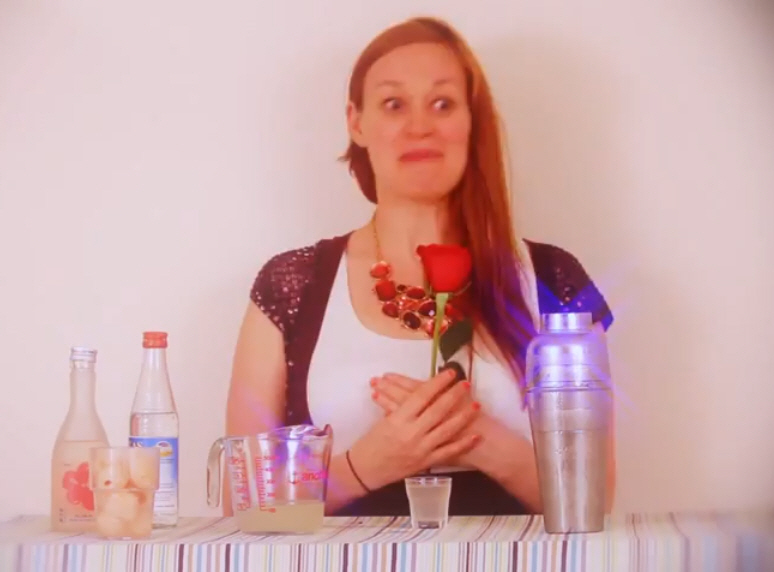 ...makes a tough choice among past lovers...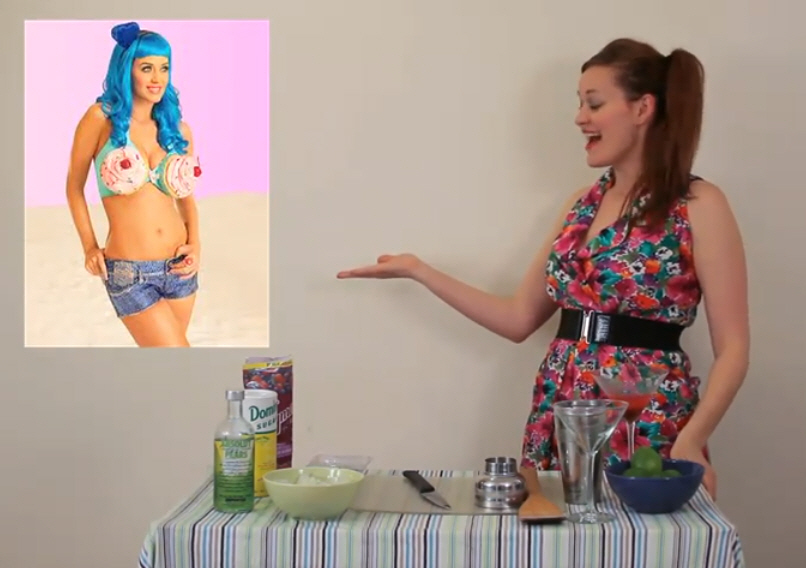 ...and goes tit-for-tat with Katy Peary
A large reason the New York comedy community has thrived over the past five years—and expanded into TV series and movies nationwide—was the consistently caring, thoughtful, brilliant work of UCBT-NY's Artistic Director Anthony King. As indicated by the photos above, Anthony achieved a rare balance between being relaxed & creative, and acting as a disciplined administrator who maintained high standards for all.
Anthony quietly resigned from UCBT in August to take a staff writing job on an NBC sitcom, and I hope he achieves enormous success in LA. Meanwhile, his impact on comedy history can hardly be overstated. As a small tribute, here are some of the more memorable comedy videos Anthony created as a writer and/or performer:
(excerpt from one of many improv shows Anthony & other stars performed on the road)
Improv Everywhere: I Love Lunch
Improv Everywhere: Food Court Musical
(improv events Anthony co-wrote—and in the first one, also co-starred in)
Craigslist Songs: Masturbating
(installment of a series Anthony co-wrote that sets Craigslist ads to music)
(self-explanatory; co-written & co-starring Anthony)
(Web series Anthony co-wrote & co-starred in about odd officers)
(Anthony's parting words on August 31, 2011 after leaving UCBT-NY)
Best FringeNYC 2011 Video Promos & Sneak Peeks

A scene from COBU, which dynamically blends Japanese Taiko Drum & American tap dance
Yeast Nation: "Love Equals Pain"
Yeast Nation: Behind the Scenes
Big Fatty Boombah: Em O'Loughlin on Losing 187 Pounds
You Only Shoot the Ones You Love: Jeffrey Sweet on Improv Legend Del Close
You Only Shoot the Ones You Love: Jeffrey Sweet on Russians
PigPen Presents: The Mountain Story
I Light Up My Life—The Mark Sam Celebrity Autobiography: "Preemptive"
I Light Up My Life—The Mark Sam Celebrity Autobiography: "It Gets Better"
The F*cking World According To Molly: Interview with Molly Equality Dykeman
The F*cking World According To Molly: Molly Looks Forward to Meeting Her Fringe Audience
Aja Nisenson Raises Funds for Daja Vu
The Bad Arm—Confessions of a Dodgy Irish Dancer: "Typing"
The Bad Arm—Confessions of a Dodgy Irish Dancer: "Culture Clash"
Mark Storen's & Oda Aunan's Killing Nellie
Leonard Cohen Koans: "Suzanne"
Jersey Shoresical: A Frickin' Rock Opera
You're Ruined a Perfectly Good Mystery
The Underbelly Diaries redux: "Innocent Canadians"
74 Minutes of Stereo Radio Theater: Gumbo (audio only)
74 Minutes of Stereo Radio Theater: Jenna Rooney (audio only)
Zombie Wedding: Assorted Songs (audio only)
Chris Gethard laughed...he managed...he chewed...
...he listened...he loved...he fought...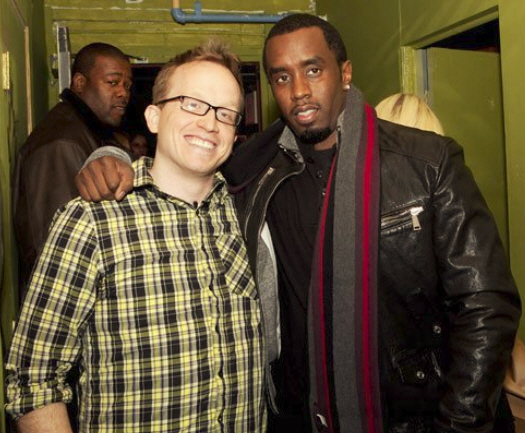 ...and he made a dream come true. And now he has his own weekly TV series: The Chris Gethard Show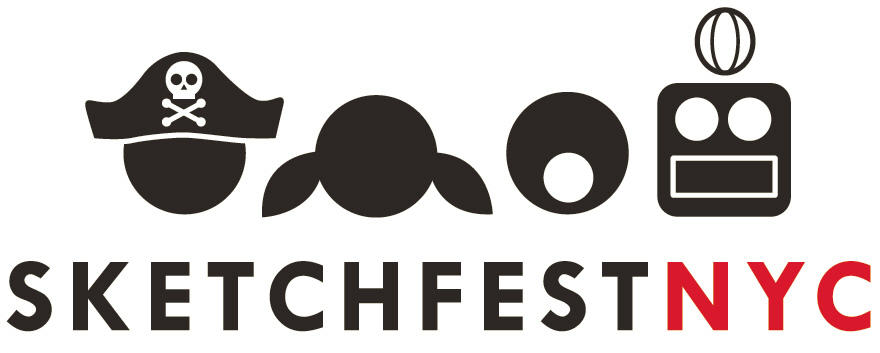 This year's magical SketchFest NYC ran June 8-11 at UCBT. You can get a sense
of the wonderful sketch troupes that participated by watching these videos:

Kristen Schaal & Kurt Braunohler, The Whitest Kids U' Know...
...The Harvard Sailing Team, Meat...
...Mamrie Hart & Stephen Soroka (BoF), and Laura Grey & Jordan Klepper (Klepper & Grey)
Kurt & Kristen: Kristen Schaal Is a Horse
The Whitest Kids U' Know: Abe Lincoln
Harvard Sailing Team: Boys Will Be Girls
Laura Grey (of Klepper & Grey): Let's Wear Masks Tonight
Mamrie Hart (of BoF): Mother's Day
Elephant Larry: Sweet Little Voice
Jane Borden, treasured Comedy Editor of Time Out New York, has written a bestselling book...
Storytelling as new form of comedy (audio only)
...and so has beloved comic Demetri Martin
Michael Showalter has a new bestselling book. To buy it at a huge discount, pleases click here.
Kevin Kline Reads How to Write and Sell A Hollywood Screenplay
Kevin Kline Reads Dreaming Jokes
Michael Reads His Own Book (audio only)
Michael Interviews Zach Galifianakis
Zach Galifianakis Interviews Michael
My All-Time Favorite Oddball Comedy Videos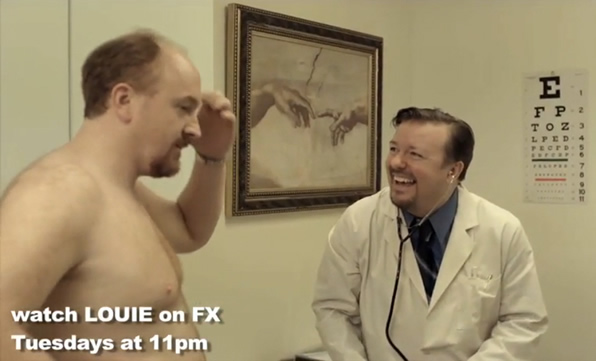 What's better than a video that makes us laugh? A video that simultaneously turns our perceptions of the world upside-down. A great example is Louis C.K.'s new show on FX, which he writes, directs, edits, and stars in—and is one of the most daring, original, and hilarious series to ever grace prime time TV. Check out how Louis messes with our heads; and also explore the strange worlds of other stellar comics, including Zach Galifianakis, Dave Hill, Pete Holmes, and Lenny Bruce in these...
Stand-Up Comic Oddball Shorts
Louis C.K.: Learning About the Catholic Church
Zach Galifianakis: Molesting Michael Cera
Pete Holmes: Ray Romano Sings Christmas Classics
Lenny Bruce: Thank You Masked Man
As demonstrated above, live-action shorts can be awesome. But for thoroughly standing your world on its head, there's nothing as effective as animation—in which anything can happen, creating a state of lucid dreaming. Check out these favorite journeys into the weird and hysterical:
Animated & Children's Oddball Shorts
Betty Boop: Minnie the Moocher
Betty Boop: Bimbo's Initiation
(If you don't happen to know your Betty Boop, please click the links above
to play three 1930s cartoon gems. Each one starts out slowly,
but please be patient and watch all the way through...and then observe
what happens to your mind after experiencing these black & white dreams.)
Rainbow, a 1972-1992 UK version of Sesame Street
(Shot for the show's 1979 Christmas party; and the funniest children's TV episode, ever...)
Jack Nicholson's Heartwarming New Dramedy
(This isn't animated, but its cartoonish quality will soon become apparent...)
A Comedy Talent Ready for Stardom: Pamela Murphy
Don't miss writer/improvisor/character actress Pamela Murphy's new one-woman show The C Word, which was
the best-scripted one-act to grace UCBT in 2010—and performed with wit, grace, and pitch-perfect comedic
timing. Murphy may have what it takes to follow the lead of such other breakout UCBT talents as Lennon Parham,
Aziz Ansari, and Donald Glover, who all became prime time network TV stars. Catch Murphy before LA steals her away.
The C Word Promo 1: Poor Sadie
The C Word Promo 2: Poor, Poor Sadie
How to Make a Situation About You: When Your Friend Needs You
How to Make a Situation About You: At a Funeral
How to Make a Situation About You: At a Party
Lost Icons: Pippy Longstocking
Bill Hicks: The Essential Collection
2-CD/2-DVD set released Nov. 2010; to learn more and/or to order, please click here.
Banned David Letterman Performance
Dr. Ken & Mike O'Connell, and Shayna Ferm & Carolyn Castiglia
Mike O'Connell: What's It Gonna Be?
Shayna Ferm & Carolyn Castiglia: Marriage is for Fags
Alexyss Tylor & Mom: Penis Power
Bad First Dates with Gavin Speiller: Lord of the Rings with Kelly Hudson
Bad First Dates with Gavin Speiller: Picnic with Kate McKinnon
Bad First Dates with Gavin Speiller: Flowers with Molly Lloyd
Pete Holmes and Joselyn Hughes: Wine Date
Pete Holmes and Jenny Slate: Honesty Date
Ellie Kemper and Quiet Library: Blind Date
Kate McKinnon and Serious Lunch: Speed Dating
Charlie Sanders: The Hotter You Get...
Smack the Pony: Saying Goodbye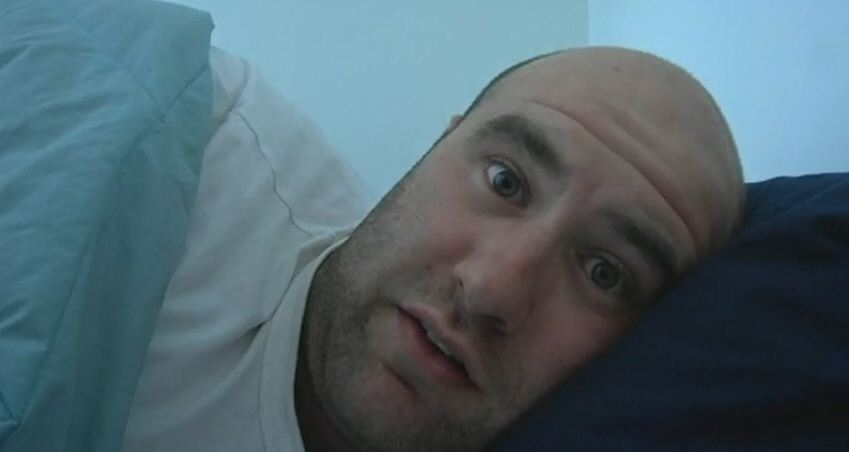 The Many Faces of Genius Comedic Actress Kate McKinnon
Jersey Shore Explains Catcher on the Rye
Jersey Shore Explains Heliocentric Physics
Kate's Voiceover Animation Reel
Brian Posehn's Fart and Wiener Jokes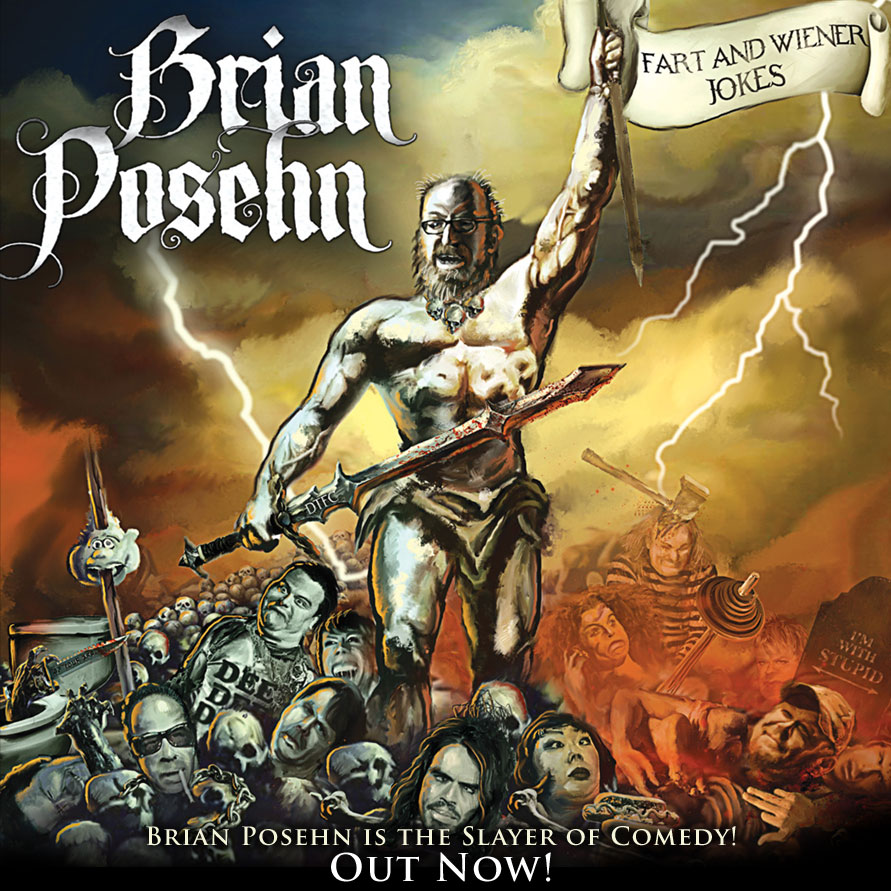 Greatest Sketches of All Time, Part 1
Monty Python: The Funniest Joke in the World
Monty Python: The Spanish Inquisition
Monty Python: The Ministry of Silly Walks
Monty Python: The Job Interview
Monty Python: The Argument Clinic
Your Show of Shows: This Is Your Story #1
Your Show of Shows: This Is Your Story #2
Smack the Pony: Saying Goodbye
John Oliver's New York Stand-Up Show

John Oliver—God bless him—has created a series that represents the top stand-up comedy scene far better than anything else on TV. John is a genius stand-up, but also humble enough to listen and learn...and to appreciate the talents of such peers as Maria Bamford, Marc Maron, Kristen Schaal, Nick Kroll, Pete Holmes, Janeane Garofalo, Eugene Mirman, Brian Posehn, Hannibal Buress, Matt McCarthy, and other brilliant talents. Watching John's show on Comedy Central is highly recommended; and so is checking out the following links to some of its finest bits to date:
John Oliver: Foul-Mouthed Squirrel from Jersey
John Oliver: Falling in Love with America
John Oliver: Great American Heroes
John Oliver: Great American Heroes 2
John Oliver: Voting Upside Down and Drunk
Rob Riggle Interviewing John 2
Maria Bamford: Joy Whack-a-Mole
Marc Maron: Hard Pressed to Explain
Marc Maron: The Future is Chinese
Marc Maron: The Future is Chinese 2
Marc Maron: Confronting the Different
Kristen Schaal: Family Friendly
Kristen Schaal: Inside the Mattress
Pete Holmes: Phantom Vibrations
Janeane Garofalo: Customs Questionnaire
Janeane Garofalo: Save Your Sandals
Janeane Garofalo: Young People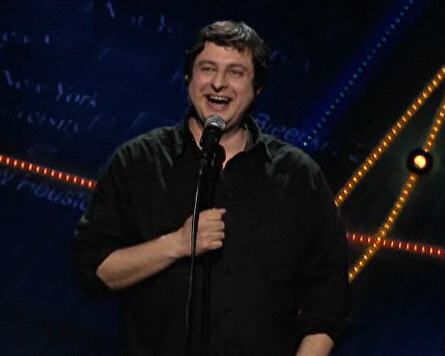 Eugene Mirman: God Is A Twelve-Year-Old Boy With Asperger's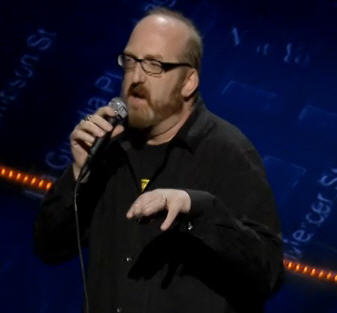 Matt McCarthy: Musicians vs. Comedians
Best Literal Music Videos of 2009
Bonnie Tyler: Total Eclipse of the Heart
Hall & Oates: Jingle Bell Rock
The Monkeys: Daydream Believer
Pat Benatar: Love Is A Battlefield
Eurythmics: Sweet Dreams (Are Made of This)
Bonus: Best Viral Videos of 2009
Tearing It Up on Chelsea Lately
Cherished Moments from David Letterman
Matt Damon Does Matthew McConaughey
Sonny & Cher Reunion, Part 1 Part 2 Part 3
Sam Kinison's First National TV Appearance
Harvey Pekar's Penultimate Appearance Harvey's Final Appearance
Harmony Korine's First Appearance More Harmony Korine
Dave's October Surprise Dave's Follow-Up
HyReviews.com's Book of the Month: Elna Baker's
The New York Regional Mormon Singles Halloween Dance
The radiant, insightful, and hilarious Elna Baker has been one of the brightest lights in the NYC comedy and storytelling scenes for years. This month Elna put her many adventures between covers..and created an instant monster bestseller.
Elna held a wonderful book release party for her memoir The New York Regional Mormon Singles Halloween Dance at The PowerHouse Arena in Brooklyn on October 15, 2009. Here's a portion of the Q&A session:
Q: Do you think there's more desperation for finding a mate in or out of the Mormon circle?
Elna: I think the desperation manifests in different ways. In Mormonism there's a different kind of pressure, because there are a lot more Mormon women than there are Mormon men. And you are taught that to get to the highest level of Mormonism, you need to be married to another Mormon. So it can be pretty cutthroat. (audience laughter)
Q: How do you think the Mormon community is going to react to your book?
Elna: That's the thing I'm most afraid of. It's interesting to do something you haven't seen done before, because you don't know what will happen to you for doing it. People have written books about being Mormon after they have left the Mormon faith. And people have written books about being Mormon within the Mormon faith for other Mormons that are, you know, sold in Utah and present a sort of soft-focus version of love and happiness and family. My book deals with doubt and questioning, and figuring out in your 20s what you want to do on your own, and it does it in a way that I think a lot of Mormons will really appreciate, and a lot of Mormons will really be upset about. So we'll see...
Q: Elna, I've always known you as a storyteller on stage. What was it like to transition from performing live to writing a book?
Elna: I had all these scripts from shows I'd done that I thought I could just cut and paste; but turns out it doesn't work that way at all. (audience laughter) It didn't jump off the page, I needed to do a lot of thinking about my material. And I learned a lot from that.
I was doing a great deal of performing, and then got the opportunity to write. So I stepped out of the limelight, and spent two years mostly alone, writing. I'd experienced a lot of stuff very quickly in my life and had never taken the time to really process it. So in those two years I retired from being alive, and processed it.
I always thought of myself as someone who spoke stories. The great thing about writing all those stories down is that now there's this book, and I can just sort of drop it on someone's desk and say "These are things that I think about." And I don't have to talk anymore. (audience laughter)
To buy Elna's book The New York Regional Mormon Singles Halloween Dance—which sold out every copy in the store less than halfway through her release party, and has been a mega-bestseller on Amazon.com since the day of its publication—please click here.
Jenny Slate, the newest cast member of Saturday Night Live

Jimmy Fallon: Jimmy, I'm Jenny
Jenny Makes History on SNL Debut (A Small Stumble on the Road to Stardom)
See also this article, which nails it
Bill Burr—Comedy Force of Nature
"Is This the Line to Lose Half My Shit? Awesome!"
Solving Overpopulation on David Letterman
HBO Special, Part 1 HBO Special, Part 2
Interview: Origins Interview: Return to Boston Interview: Return to NYC
Best FringeNYC 2009 Promos & Sneak Peeks
It's August—and for me, that meant it was time to start focusing on the New York International Fringe Festival, as one of my claims to small fame is seeing & reviewing more FringeNYC shows than anyone, ever. This year FringeNYC ran August 14th-30th, hosted 201 productions, and attracted over 75,000 audience members. To get a feel for this year's shows, please click the links below; and for the rest of my coverage, which was updated daily through August, please click here.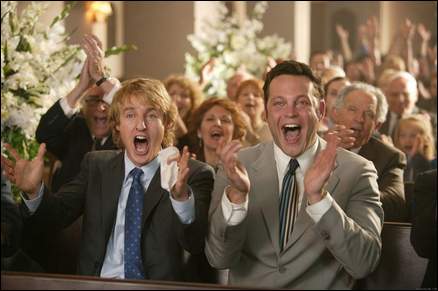 Baby Wants Candy: Highlights Reel
Baby Wants Candy: Perfect Wedding Day (starring Jack McBrayer and Eliza Skinner)
Baby Wants Candy: Alone (starring Eliza Skinner)
The Boxer: A Silent Film on Stage
Stand-up comic Erin Judge, co-writer & co-star of The Meaning of Wife
Comedogenic (long but brilliant comedic film by Paul Thomas)
Comedogenic (another long but hilarious film by Paul Thomas, co-starring Hannibal Buress)
Dolls (shrewd animated trailer by Michael Phillis)
Bitch! (fundraising video by Charlotte Booker)
Allison Case singing "Paper Airplanes" from musical Vote!
Andrew Keenan-Bolger singing "Ambition" from musical Vote!
Abraham Lincoln's Big Gay Dance Party
Hatching and Art's Heart stars Scarlett Duvall and Anthony Johnston
Stand-up W. Kamau Bell, in 2005, tells Comedy Central's first ever Barack Obama joke
Bob Brader: Spitting in the Face of the Devil
Owen Dara: White Horses—An Irish Childhood
Zipperface!!?!: The Hobo Musical
Anthony Fascious Martinez's Penumbra
Flight (audio only, but superb songs; click Music Player in bottom-left)
Graveyard Shift (for song, click The Show link at the top, then The Prologue in bottom-right)
Far Out: The Sci-Fi Musical Comedy (audio only, Act 1 Finale)
Sperm sing "The Star-Spangled Banner" to prep for... Spermalot: The Musical
Unique bathroom theatre from the Japanese company of Romeo and Toilet
Between the Ferns with Zach Galifianakis
Natalie Portman and Her Dog Whiz
Jimmy Kimmel's Views on Bananas
Jon Hamm Triggers an Allergic Reaction
For more Zach videos, please click here.
Casey Wilson Reads Fan Mail from the Net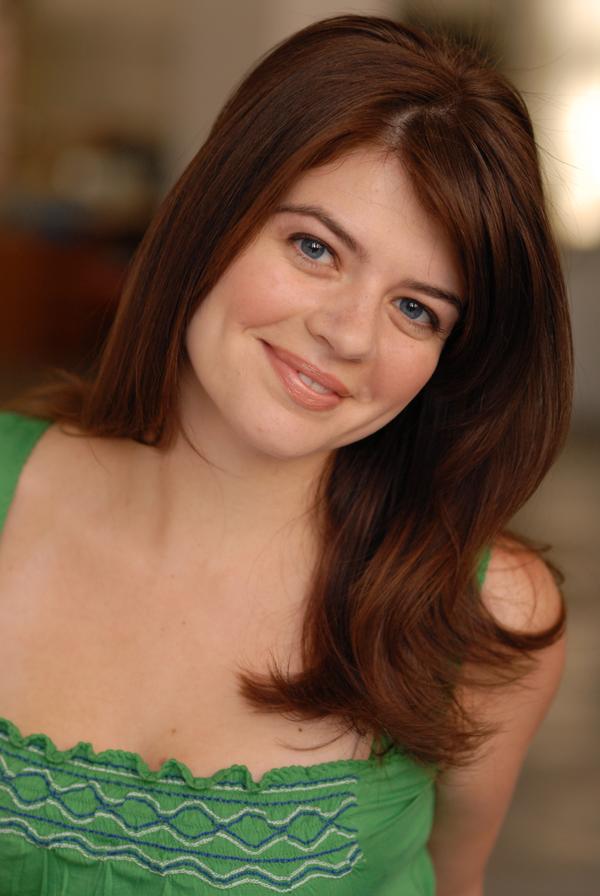 Saturday Night Live cast member Casey Wilson reads viewers' reviews on the Web
in a pitch-perfect video. To experience it, please click here.
Reggie Watts is a musical improv comedy genius—a scary talented vocalist, beatboxer, and musician whose unique skills will likely amaze you. Reggie won the 2009 ECNY Award for Best Musical Comedy Act and the 2007 Andy Kaufman Award; is a cast member of the new Electric Company; and recently delivered a bravura performance on Late Night with Jimmy Fallon. To learn more, please visit ReggieWatts.com; please explore his album Pot Cookies; and please check out these videos of Reggie showing what he can do:
The Worst Thing You Ever Heard
Obama at White House Correspondents' Dinner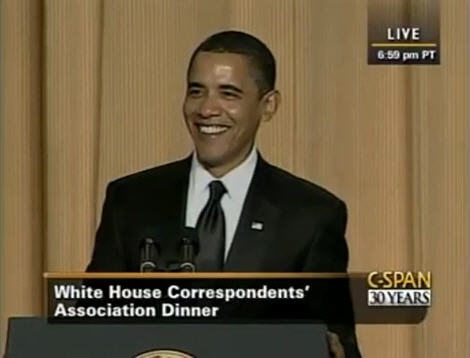 There aren't many times when President Barack Obama jokes around;
but one of them is the annual While House Correspondents' Association Dinner.
To watch the stand-up set Obama delivered on May 9, 2009, please click here.
Susan Boyle on Britain's Got Talent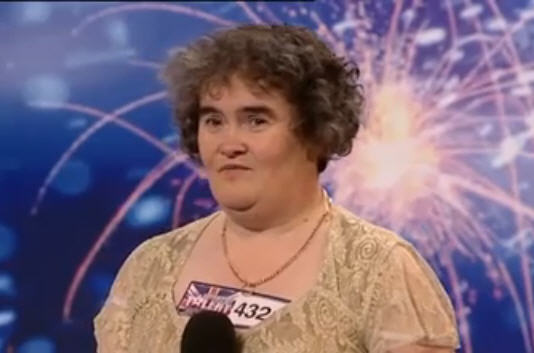 This isn't comedy in the usual sense. But please click the photo above, and enjoy.
Brilliant & Beloved NYC Comics in Prime Time—Amy Poehler,
Aziz Ansari, and Aubrey Plaza in NBC's Parks and Recreation,
and Demetri Martin in Comedy Central's Important Things
Has Amy Poehler Ever Looked More Beautiful?
The Prince and the Pauper—with John Oliver!
Lost Footage of The Prince and the Pauper
Demetri on Things Greater Than or Equal To
Demetri on Walls, Babies, and Earthquakes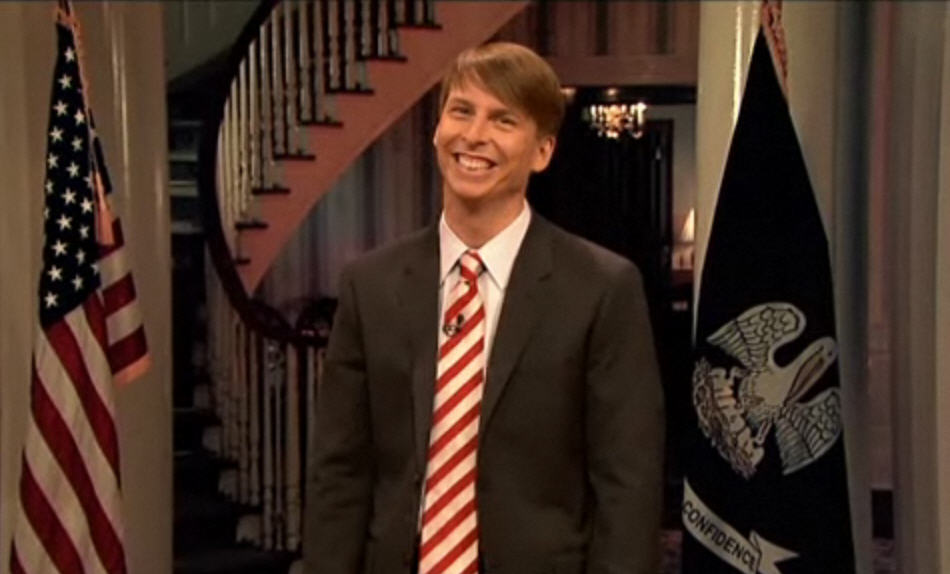 The Brilliant & Thoroughly Loveable Jack McBrayer Proves He's Not Bobby Jindal
SNL Flashback Before Late Night De Niro Interview
Conan O'Brien Interview Before Debut
Jay Leno Tells Jimmy the "Talk Show" is Now Really a Comedy Show, with Guests
Jimmy Gets Last-Minute Advice from Lorne Michaels
Highlight of Week 1: Dance-Off with Cameron Diaz
Conan O'Brien is moving up to NBC's Tonight Show, and so March 3rd, 2009 was the debut of his replacement: Late Night with Jimmy Fallon. Taking over from a comedy genius like Conan is daunting—but the same was true when Conan replaced David Letterman back on September 13, 1993. There were some bumps then, but Conan ultimately more than rose to the occasion; and here's hoping Jimmy does too. His show's writing staff includes genius stand-up & rising star Anthony Jeselnik (HBO, Comedy Central), and creepily hilarious comedic actor AD Miles (Human Giant, Conan O'Brien, Dog Bites Man, Reno 911). Behind the awkwardness, Jimmy is a powerful talent and quick learner—as was demonstrated beautifully by the dance-off with Cameron Diaz. The nerves showed at times during the first week (a low point was Jimmy mock-snoring when Billy Crudup tried to provide a few seconds of information about Watchmen; honestly, it's okay to let people say intelligent things now and then...). But tune in to watch Mr. Fallon grow and, over time, make his own special mark as a Late Night host.
Pete Describes a Problem with His Enormous Balls
Pete Dissects Facebook and Why Being a Kid Sucks
Pete Gets Animated About Being Manly
Pete and Joselyn Hughes Go On a Wine Date
Pete and Jenny Slate Go On an Honest Date
Pete Discusses the South Beach Diet
Dr. Pete: The Conversation No Easy Way Baseball Whooping Cough Down Syndrome
Ray Romano Sings, Christmas Edition
Pete Holmes has one of the most lightning-fast and hilarious comedic minds in the country. Pete combines the organic energy of improv with the precision of a great wordsmith and split-second timing of a world-class performer. Pete's razor-sharp observations have warmed up audiences for The Daily Show, lit up such such series as VH1's Best Week Ever and Comedy Central's Premium Blend, and illuminated the cartoon sections of such magazines as The New Yorker. A 6'6" teddy bear, Pete has the accessibility of a Ray Romano—and is genuinely one of the nicest guys in show biz—but can also be as surreal and silly as a young Steve Martin. Please check out the videos above to enjoy this genius comic's range; and then catch this rising star live on stage as often as possible.
Anthony on ABC's Jimmy Kimmel Live
Anthony on NBC's Late Night with Conan O'Brien
Anthony on Comedy Central's Premium Blend
Anthony on HBO's Down and Dirty with Jim Norton
Anthony Performs a Joke as Dane Cook
Anthony Explains Why His Body is a Temple
Anthony Explains Why a Comedian is Like a Tank
Anthony Jeselnik (being lauded above by Robin Williams) is just starting to became famous, but I believe he'll prove to be one of the sharpest & funniest stand-ups, writers, and overall performers in comedy history. There's nothing better than seeing Anthony live on stage, but in the meantime please enjoy these videos; look for his work as staff writer on NBC's upcoming NYC replacement for Conan O'Brien's show, Late Night with Jimmy Fallon; and keep an eye out for repeats of Anthony's Comedy Central Presents half-hour special, which debuted January 16, 2009.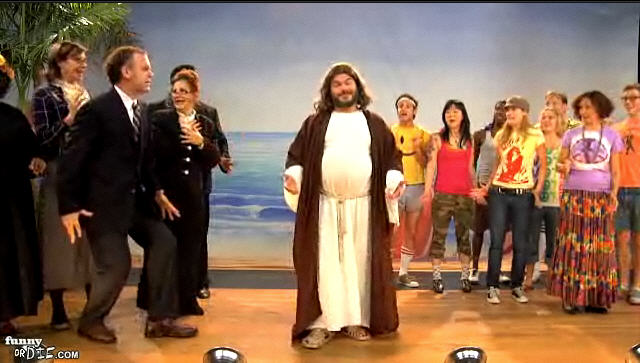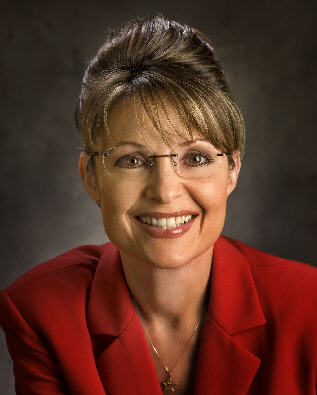 SNL's Tina Fey and Amy Poehler as Sarah Palin and Hillary Clinton
The Actual, Disastrous Katie Couric Interview
Analysis of the Katie Couric Interview, Part 1
Analysis of the Katie Couric Interview, Part 2
SNL's Tina Fey and Amy Poehler Reenacting the Katie Couric Interview
SNL's Tina Fey and Jason Sudeikis Reenacting the VP Debate
SNL's Tina Fey and Sarah Palin Quickly Walking Past Each Other
SNL's Will Ferrell, Tina Fey, and Darrell Hammond as George W. Endorsing Palin & McCain
The New Yorker on Sarah Palin's Proximity to Russia
Comedic Actress Sara Benincasa as Sarah Palin
CNN on Sarah Palin Impersonators
Sarah Palin Celebrates Thanksgiving
On November 20th, following the traditional cute pardoning of a single turkey, Sarah Palin decided to conduct an interview while the other non-pardoned turkeys are being slaughtered directly behind her. The resulting disconnect between her words (about her "values and convictions," the political process being "brutal," etc.) and what's happening mere feet away—not to mention the interviewer asking a question about state programs "being on the chopping block"—is one of the the most surreal and hilarious political interviews, ever.
(Note: After this blew up into a national story, Governor Palin said she didn't know what was going on in the background. Observers find this tough to swallow. My own perspective is that it's hard to say which is funnier: her being oblivious, or being utterly insensitive, to the carnage. Please judge for yourself; and either way, enjoy.)
For a slightly sanitized version, please click here.
For the complete gruesome version, please click here.
For a Twilight Zone version that speculates on what else Governor Palin might miss while conducting an interview (from Slate.com), please click here.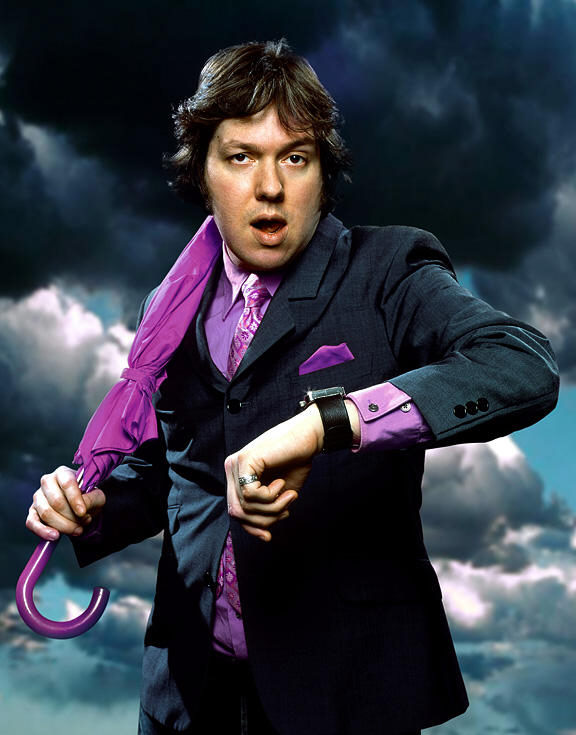 Little Michael Jackson and Me 1: "All Washed Up"
Little Michael Jackson and Me 2: "Game! Set! Match!"
Little Michael Jackson and Me 3: "We Can Work It Out"
HyReviews.com Show Report 9/24/07: Dave Hill Turns Things Around
Best FringeNYC 2008 Show Promos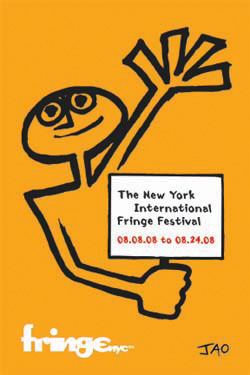 Carl and Shelly, Best Friends Forever
Kansas City or Along the Way: "Lullaby" (audio only)
The Sound of One Hanna Clapping: "Ode to Britney" (audio only)
The Home for Wayward Girls and Fallen Women
Kansas City or Along the Way: "Hammer" (audio only)
Kansas City or Along the Way: "Adelaide Hall" (audio only)
Dreadful Penny's Exquisite Horrors
Usher: "I Might Have Taken You Dancing"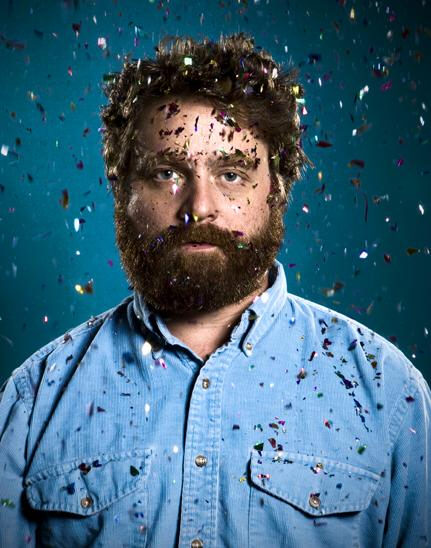 Getting Canceled...and Starting Over
The Unsettling Artistry of Comedy Troupe Quiet Library
Violet Krumbein and Greg Tuculescu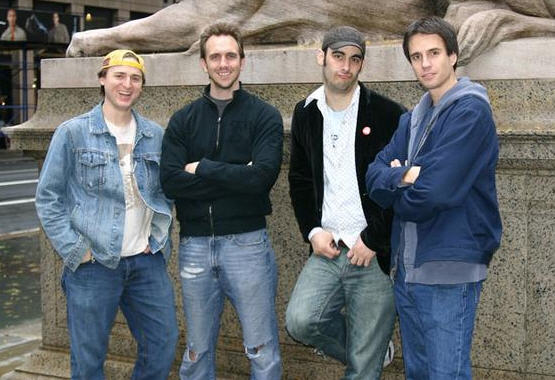 Quiet Library: Chris Cooper, David Hale, Dave Cederquist, & Greg Tuculescu
Parents of Miss Teen South Carolina
Miss Teen South Carolina vs. Bush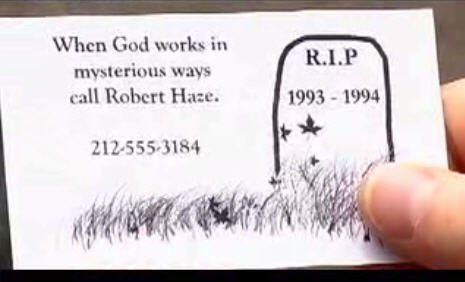 Rob Paravonian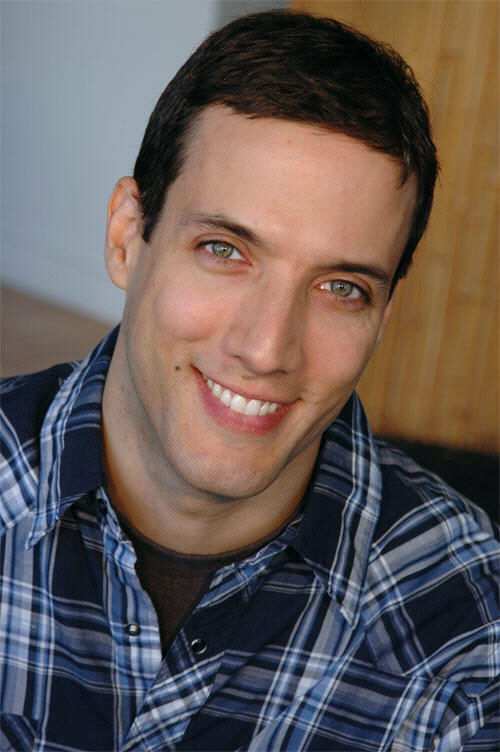 Life as a Comic: College Conventions
Life as a Comic: Downtown Comedy
Life as a Comic: Guitar Comics
Memorable Award Show Moments
Conan O'Brien, Jon Stewart, and Stephen Colbert at the 2006 Emmys
Jon Stewart, Stephen Colbert, and Steve Carell at the 2007 Emmys
Jon Stewart's Opening Monologue at the 2008 Academy Awards
Jon Stewart Presenting a Baby at the 2008 Academy Awards
Sarah Silverman: I'm F*cking Matt Damon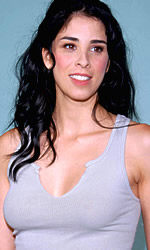 For Jimmy Kimmel's Fifth Anniversary show,
his long-time girlfriend Sarah Silverman
gave him a video gift.
To enjoy it yourself, please click here.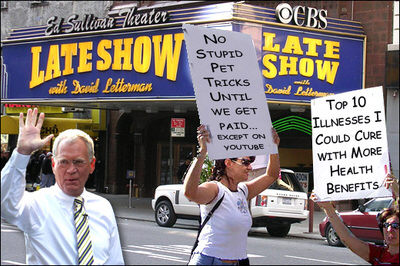 Most Concise & Dead-On Explanation of the Strike
Tim Kazurinsky Succinctly Explains the Strike
Neal Pollack's 5-Year-Old Elijah Explains the Strike
David Letterman Explains the Producers' Side of the Strike
Tim Carvell & Jason Ross of The Daily Show on Viacom Paradox
Yet More Paradox in Voices of Uncertainty
Family Guy's Seth MacFarlane on the Strike
David Letterman—Bless Him—Negotiates Separate Deal with WGA
(news article about why you should tune into new episodes of Late Show with David Letterman starting 1/2/08)
Conan O'Brien, Jay Leno, Jon Stewart, and Stephen Colbert—Bless Them—Facing Tougher Situation
(New York Times article about these comedy genius writer/performers also returning to the air, but sans writing staffs)
A Ninja Offers Advice to the Writers Guild
How Moonlighting Handled the Writers Strike of 1988
For the Best Strike Coverage: Nikki Finke's Deadline Hollywood Daily
Don't Rape Me (played on rape whistle)
Album of the Month: Jessica Delfino's I Wanna Be Famous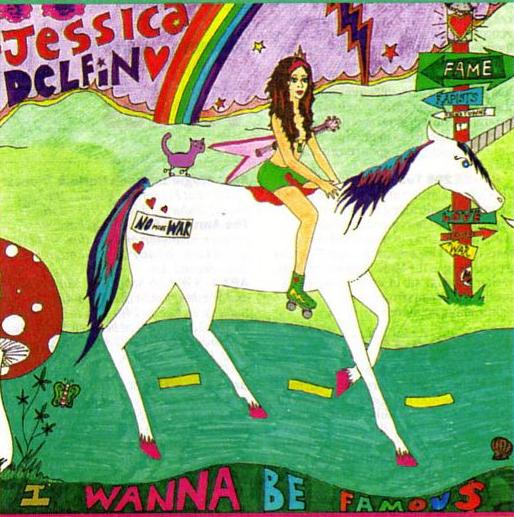 Funny, filthy, graceful, seething, and always artful, Jessica Delfino is a rare treasure:
a stellar comic who employs the voice of an angel to sing lyrics that would make a sailor blush.
At times she tries too hard on the latter, going for shock over substance; but more often Jessica hits the right notes via marvelous songs such as I Wanna Be Famous, Don't Rape Me, and Only a Stranger's C*ck. Not for every taste; but if you're open to a different kind of comedy, this imaginative and beautifully packaged combination CD/DVD is a steal at $10 plus $2.99 shipping. To check out some of its tracks, and to then order multiple copies for yourself and your more unusual friends, please click here. Please also visit Jessica's Myspace page by clicking here; check out her music videos (directly above) by clicking here; and keep an eye on this promising rising star.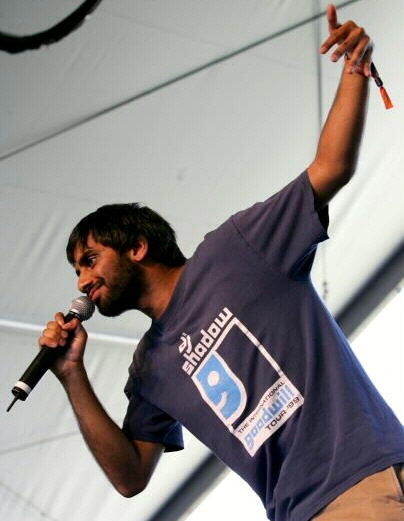 What Shoulda Happened... (co-starring Eugene Mirman)
Aziz Stand-Up #1 (Kanye West & Val Kilmer)
Aziz Stand-Up #2 (Enemies List)
Aziz Stand-Up #3 (Gay Marriage)
Aziz on Amateurish YouTube Editing
Complete Stand-Up Routine (MP3 audio clip)
First four minutes of Sacha Baron Cohen's Borat
Borat interviewed by Jon Stewart
Sacha Baron Cohen torturing supermarket manager
Borat Q&A at Toronto Film Festival
Chad Vader, Day Shift Manager:
Amanda Congdon Bids Farewell to Rocketboom
Amanda Explains Things on MSNBC
(The lovely and super-talented Amanda Congdon's split
with her producer Andrew Baron has been the focus of the
biggest soap opera to hit the Web since Microsoft vs. Google.
If this drama has somehow slipped by you, these clips cover the highlights.)
(comedian Judson Laipply dances through several musical generations—in just six minutes)
(actual deposition conducted in April 2006 by famed Texas attorney Joe Jamail)
(the secret Brokeback trilogy)
(Jewish comic Sacha Baron Cohen—a.k.a. Borat and Ali G—shines a light on anti-semitism)
Hy's Book and Screenplay Services
In addition to this Web site, I run two commercial editorial services:
BookProposal.net: If you need a winning book proposal, world-class editor, or bestselling ghostwriter, hire me. I'm the author of 15 acclaimed books—including five Dummies books, The Sandman Companion, and The Complete Idiot's Guide to Thyroid Disease—that have sold hundreds of thousands of copies. I've also been published by such diverse national newspapers & magazines as The New York Times, American Film, Advertising Age, PC Magazine, Yahoo! Internet Life, Spy, and Mad Magazine. If you have a solid idea for a nonfiction book, I'm a wizard at identifying the best aspects of your book and presenting them in a compelling book proposal to attract agents and convince publishers. To learn more, please click here.


HyOnYourScript.com: I've analyzed and helped fix hundreds of screenplays. I run the respected Manhattan screenwriters workshop NYScreenwriters.org; and you can find testimonials on my HyOnYourScript.com site from clients who are produced Hollywood screenwriters, represented by agencies such as ICM, etc. There's no one better at pointing out script problems, and suggesting ways to improve a screenplay both artistically and commercially. To learn more, please click here.
If you have any other type of writing or editing need, I can probably tackle it as well. To get in touch, please email me at hy@hyreviews.com.
Hy's Other Web Sites:
Copyright © 2014 Hy Bender
Email: hy@hyreviews.com