Hy on the Fringe: Your Personal Guide to the
2014 New York International Fringe Festival
This Reviews Page Was Most Recently Updated: September 20th 2014
I assign all shows seen one to four stars, using the following rating system:
**** = Transcendently Great
*** = Solid & Worth Seeing
** = Unless Your Relatives Are in the Cast, Think Twice
* = "I Wanted to Kill Myself"
This page provides reviews of FringeNYC 2014 shows I've seen from beginning to end.
Each review includes a show's website address and a representative photo. Clicking the address opens a new window taking you to the show's official site. Clicking the photo opens a new window taking you to the show's listing on the FringeNYC site. You can use the latter to read the official description of the show, see when and where it's playing at the festival, and order tickets.
Please keep in mind these reviews have to be written in a hurry. If you spot any factual errors, please don't hesitate to let me know by emailing hy@hyreviews.com. I'm always happy to make corrections and updates.
The following are the 26 FringeNYC 2014 shows I've reviewed to date:
| | |
| --- | --- |
| Rating: **** | |
It's easy to take for granted something as small and disposable as a comic strip. But every now and then a work appears that demonstrates the true power of this humble medium. There's no better example than Charles M. Schulz's Peanuts, a 50-year tale about children, and a special dog, that gently and brilliantly spoke to us about our frustrations, joys, neuroses, and hopes.
To create an unauthorized parody of Peanuts is risky, because the strips—and their subsequent TV shows and movies—are deservedly beloved; and because Schulz was such an uncommonly honest writer and artist that there's little to deride. At the same time, a send-up that fails to be biting would be instantly forgettable.
These problems were cleverly solved at the 2004 FringeNYC by playwright Bert V. Royal, who moved Peanuts forward a decade and showed how Charlie Brown and the gang turned out as teenagers. Royal happily accepted that Peanuts is part of our psyche; and he used those collective memories as a springboard to examine the gap between childhood innocence and what happens to us as we get older. With wit and compassion, Royal reminded us of how our characters emerge through the choices we make, and of the lies we tell until we feel ready to face our true selves. The result was so successful that it went on to a star-studded commercial run off-Broadway.

Ten years later, playwright/actor/director Brendan Hunt has taken on the same challenge. And in virtually all ways, Hunt has pushed the envelope much further, creating a play that's thoroughly brilliant and utterly merciless.
For example, Dog Sees God began with a funeral for Snoopy. Of all the Peanuts inhabitants, this beagle who dances, writes novels, and flies a WWI doghouse most embodies the power of childish imagination to transcend everyday mundanity. His death—from a rabies infection that made him insane enough to eat Woodstock—signaled that we should prepare ourselves for a world of harsh realities that can't be readily escaped.
In Hunt's play, however, the Peanuts gang have progressed past high school. They're now adults—and mostly not likeable ones. Further, Snoopy is long dead; and we begin with a funeral for Charlie Brown! (Later on there's speculation the cause of death was the repeated brain trauma Charlie suffered from all those footballs Lucy pulled away at the last second...)
Filling the central role in Charlie's place is perpetual loser Pig-Pen—who's penniless, homeless, hopeless, and utterly alone. The approach is reminiscent of Tom Stoppard's post-modern masterpiece Rosencrantz and Guildenstern Are Dead, which focused on peripheral characters to shed new light on a classic.
And indeed, this two-hour comedy explores such themes as being the outsider, being accepting of those less fortunate, and what it means to be a friend, in ways that are ultimately deeply moving.
The direction and cast are also superb. But the clear standout is Brendan Hunt, who goes all in by not only writing the show but playing Pig-Pen—in a stupendous performance full of nuance, compassion, and quiet hilarity. And he does all this while continuously twirling a hula hoop around his waist (representing the cloud of dirt that always surrounds Pig-Pen...).
For what it delivers, this show should be charging $60 and up. (And when its inevitable commercial run happens, it probably will.) Grab your $18 tickets here ASAP for by far the best parody/takeoff of Peanuts ever created.
Comedic actor David Carl has created one of the funniest shows in New York, period (in or out of the festival).

The premise is so simple that it's almost fully described by the show's clever title. Carl, who was born in Texas and has a larger-than-life quality, bears a physical resemblance to Gary Busey. Carl uses this as a springboard for transforming into the legendary Hollywood whackadoodle. And then Gary Busey tells the audience that he'll be performing a one man version of Hamlet, adding "Some of you might be asking...why? To prove to you that I still have the chops."

The comedic idea of having the childlike and impulsive Busey tackle Shakespeare's most psychologically complex play is by itself a stroke of genius. But what makes this show so special is the many layered and inventive ways Carl does the concept justice.
As Busey, he makes scenes come to life using paper puppets, film stills, flashlights, different voices accompanied by varied manic facial expressions, and interactive video (in one memorable sequence, he turns his back to the audience and repeatedly trades punches with a character on the screen..who, of course, is also played by him).

And showing his movie roots, Busey doesn't stick strictly to Shakespeare's script. Mixed in with the dialogue from Hamlet are lines from A Few Good Men, Top Gun, Independence Day, and other action blockbusters.
The result of this melange is nonstop laughs.

This is a complex show to pull off, involving scores of comedic bits. Once in a while something goes slightly awry. It's a testament to Carl's greatness as a lightning-quick comic that he not only floats past these moments smoothly but manages to milk them as sources for additional humor. For example, at one point he has trouble finding the King of Denmark amidst a dozen other puppets. An audience member helpfully points out the right one, and Carl/Busey replies, "Thank you. You are an angel in human skin." This got one of the biggest laughs of the show.

This isn't just among the very finest shows of the festival. It may lead you to reconsider what it's possible to do in a one-person show.

It may well also be a career maker for the extraordinary David Carl. His laugh-till-it-hurts performance leaves no doubt that a powerhouse new talent has come onto the scene—one that, with any luck, will end up a star.
This show has been honored with The opening night sold out. Grab tickets for the rest of the run here.
| | |
| --- | --- |
| Rating: **** | |
Back in 2006, the top FringeNYC show was Tuesdays & Sundays. Beautifully written and sensitively performed, the two-hander portrayed a young love that starts out sweet, funny, and tender...and then goes terribly wrong. Employing a simple set and spare, carefully chosen words that carried the impact of great poetry, by the end it was virtually impossible to not be moved by this Canadian production. To this day, FringeNYC staffers still talk about it with fondness and a certain amount of awe.

Eight years later, the festival has been graced with a comparable small, perfect gem, this time written by Australian Vivienne Walshe. This Is Where We Live uses short, staccato sentences that convey the dramatic stakes a teenage girl attaches to even the most ordinary of situations...and then reveals why that teen views every moment with the wariness of a soldier at war. The words are delivered with electric perfection by Shaelee Rooke, who keeps you at the edge of your seat throughout, and provides the finest dramatic performance at this year's FringeNYC; and by Oliver de Rohan, who has a magical chemistry with Rooke. (These two extraordinary performers co-founded the Australian Paperbark Theatre Company in 2013.) The result is a play that's lyric, real, sexy, and dangerous.
This Is Where We Live has been honored with an extension as part of FringeNYC's Encore Series. Grab this opportunity to experience what's by far the best dramatic play of the fest by buying tickets here.
| | |
| --- | --- |
| Rating: **** | |
Marvelous deadpan comedic actress Tanya O'Debra starts by telling us the lecture she'll be giving is a rejected TED Talk. She also mentions that her attorney has instructed her to not take any questions.
What follows, from writer Felipe Ossa and director Sara Wolkowitz, is the most hilarious satire on the theory of trickle down economics you're ever likely to experience.
O'Debra starts by pointing out the gap between the wealthy and everyone else in the US is so vast that the richest 20% pull in 51% of the national income (see chart below); and that the 0.1% richest Americans own almost 25% of our country's wealth.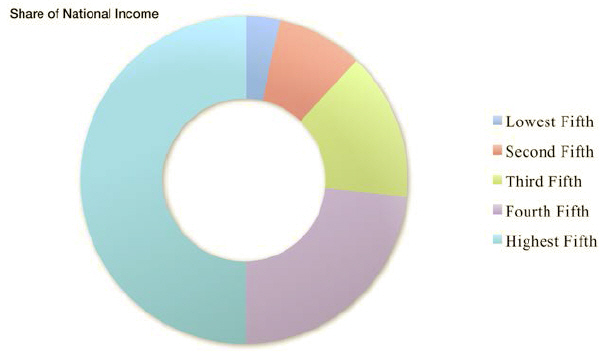 O'Debra continues that this growing gulf between rich and poor is so vast that it already rivals our age of excess in the 1920s (which presaged the Great Depression) and France right before the French Revolution. Hoping to stave off a similar crisis in our time, O'Debra offers a solution I'd place it in the same category as the classic 1729 essay "A Modest Proposal"—in which Jonathan Swift suggested poor Irish could improve their lot by selling their babies as tasty treats to the rich.
Without giving away surprises, suffice to say O'Debra's solution is equally inventive; and she spends an hour piling on detail after detail to make it all sound almost plausible—or, at minimum, an apt metaphor for the status of most of us living under a system that's in many ways rigged for those already in power. O'Debra's presentation is enhanced by incredibly funny illustrative images to bring her points home.
I could say a lot more but, again, don't want to spoil any surprises.
If you're open to a comedic lecture about our country's economic divide, grab tickets to one of the sharpest and funniest shows at the festival.
5. The Imbible: A Spirited History of Drinking


Rating: ***½
Anthony Caporale isn't merely okay with drinking. In this clever and insightful show, he argues that humanity's uses of alcohol have been the foundation of our civilization and what's saved us from destruction.
Bolstering Caporale's fun arguments are no less than three rounds of booze for each audience member (included in the $18 ticket price—though you must bring ID); and frequent visits from three other charming performers who join Caporale to form a superb barbershop quartet. Ruthellen Cheney and Ariel Estrada are quite fine, but the standout is Nicole DiMattei (extreme left in the photo above), whose endlessly expressive face and body language add enormously to the comedy. DiMattei is an accomplished sketch performer who's trained at the Upright Citizens Brigade, and well worth checking out if you're a casting director seeking a stellar multitalented comedic actress.
Education, booze, songs, laughs, and mind expansion—what more can one ask of any show?
For a video clip (that doesn't really do the live experience justice), please click here. For my brief analysis of this show's title, please click here.
William Kunstler (1919-1995) was a civil rights activist and board member of the American Civil Liberties Union. He was also an attorney famed for helping those the government wanted out of the picture for political reasons, especially during the Richard Nixon era. Kunstler became controversial for taking on clients who were despised by most people, such as mobster John Gotti, for the sake of upholding principles of due process.
Kunstler is performed convincingly and brilliantly by Nick Wyman, a veteran actor who's been in such Broadway shows as Catch Me If You Can, A Tale of Two Cities, Sly Fox, The Phantom of the Opera, My Fair Lady, and On the Twentieth Century. Wyman's also intimately familiar with fighting for the rights of the little guy against a massive power structure, as he's the current President of the Actors' Equity Association.
Enormously aiding Wyman's effectiveness is superb playwright Jeffrey Sweet (who performed his own one-man show at FringeNYC in 2011, You Only Shoot the Ones You Love). Sweet's script goes into heavily researched detail about Kunstler's defense of the Chicago Seven, the Black Panther Party, segregation cases, the rioting prisoners at Attica, and much more.
Also wonderful is the direction from Meagen Fay—who Sweet approached simply because of her talent. Fay then informed him that her family was close friends with Kunstler for decades. (That's the kind of coincidence that can happen when a show is "right...")
This is technically a two-person show, but the other performer is essentially a prop so Wyman has somebody to talk to. And that's fine, as—thanks to the able work of Sweet—Wyman has a great deal to say that illuminates our understanding of the civil rights era...and what it means to not simply accept the status quo or the law when in pursuit of genuine justice.
| | |
| --- | --- |
| Rating: ***½ | |
This unusual play is so twisty at blending autobiography with wish-fulfillment fantasy that some reviewers have been fooled into describing it as a romantic comedy with a happy ending.
While it has lots of humor—it's written and co-stars an NYC stand-up, Gianmarco Soresi—the truth is it's ultimately a drama about relationships and risk-taking that's poignant and quite moving.
Soresi is dynamic and skilled at landing laughs. But the bigger discovery of this production is the luminous Kristin Parker, who delivers a transcendent performance as his girlfriend rich in nuance, making every moment of love, compassion, faith, and pain believable. Parker's dramatic acting ranks among the top three I've seen at this year's fest (out of over 60 shows and hundreds of cast members). If you're in the industry, check out this rising star, whose website is KristinParker.com.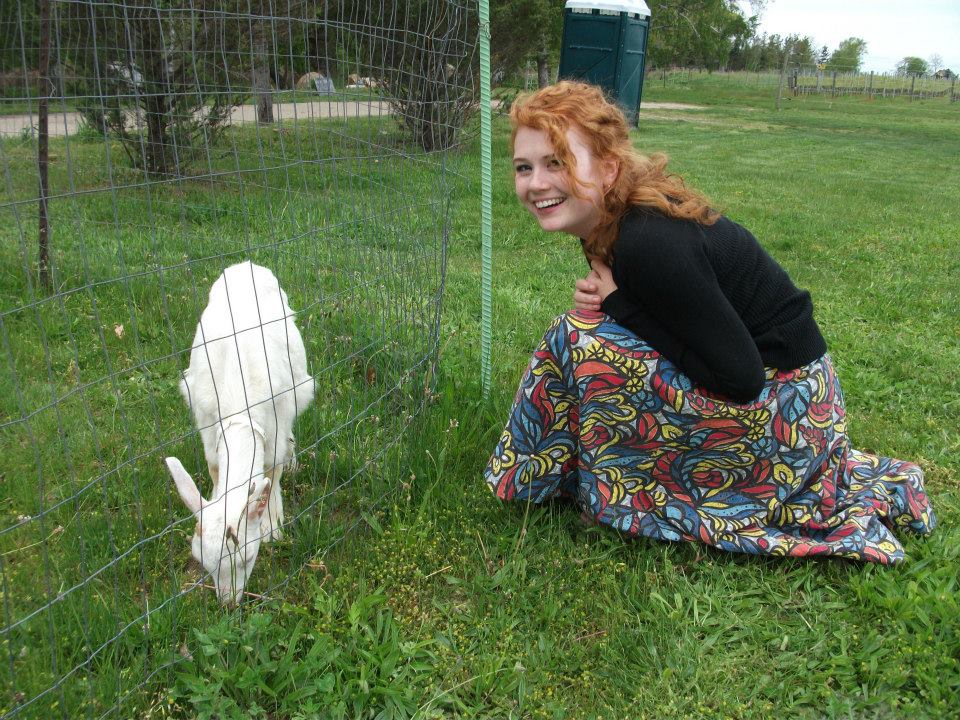 And if you're a comic, consider seeing this example of how to build a stand-up routine into a complex story that by the end hits all emotional buttons with surprising success.
Huge kudos also go to director Max Freedman, both for his inventive staging, and his creating an environment that simultaneously lets Soresi go for comedy while Parker mines hearts.
| | |
| --- | --- |
| Rating: ***½ | |
This lovely production, written and directed by Teresa Ann Virginia Bayer, is loosely based on Henrik Ibsen's A Doll's House. It's been updated to 1950s suburbia, in which a housewife named Nora must deal with the oppressiveness of an unfeeling husband, a blackmailing pimp, and a barrage of TV commercials for JELL-O and Folgers Coffee.
The latter are actually as important as the human characters in this production. Vintage TV sets on the stage (see above) continually display black and white 1950s ads and TV programs (kudos to Douglas Clarke for the scenic design and Jeff Wood for the video choices). The 1950s clothing (designed by Alexandra Rozansky) adds additional layers to the visuals.
But in case all that's not enough, we also get puppets! In fact, every major character except Nora is played by a puppet. This sends the visual message that everyone is being constrained by artificial societal norms and no one is living authentically as a fully rounded human being.
Nora is also far from free. While seemingly a person, she periodically struggles against tightly held strings tied around her waist; and she sometimes moves in the stiff, regimented manner of a doll or automaton.
All this tells the audience volumes without the need for verbal exposition. As writer/director Bayer explains in her bio, "I intend in each piece to create a unique visual world for the audience to enter, and an experience in which the familiar becomes strange and the strange melds into the familiar." This production fully achieves that goal.
Even with all its wonderful production values, though, the true jewel of the show, and what gives it a beating heart, is lead actress Zoe Farmingdale. Nora is made achingly real by Farmingdale's endless range of facial expressions, dancer-like movements and poses, and perfect tonal choices. The visuals provide an invaluable foundation, but it's Farmingdale who makes us feel every layered emotion that Nora does. After catching over 60 FringeNYC shows this year, Farmingdale's work holds up as one of the three finest dramatic performances I've seen at the festival. (The others are from Shaelee Rooke in the award-winning and Encore-winning Australian play This Is Where We Live, and Kristin Parker in the award-winning and Encore-winning NYC play <50%.)
I spoke to Farmingdale after the show, and she's one of the rare performers who "gets" the advantages of ignoring the boundaries between different forms of entertainment. As this production amply demonstrates, Farmingdale's a superb actress and dancer. She's also an accomplished comic who embraces the NYC and LA comedy scenes; for example, she's in sketch group THEM, is a member of acclaimed comedic theatrical group The Story Pirates, and hosts her own comedy/music event called The Zoeshow. In addition, Farmingdale's co-written Wicked Frozen (subtitled A Musical Parody of Wicked and Frozen by Two People Who Have Never Seen Wicked or Frozen). And she's a singer/songwriter planning to release a music album later this year via her website zoefarmingdale.com.
By opening herself up to so many possibilities, Farmingdale increases her chances of doing something that becomes a career breakthrough. Here's hoping she's achieved precisely that by starring in this production, which is her very first FringeNYC show. If you're a casting director, snap up this brilliant multitalented performer ASAP.
In this one-man show, Jamil Ellis uses monologues, songs, and videos to explore the Hollywood phenomenon of "The Magical Negro"—that is, a two-dimensional African-American character whose only goal in life is to steer a white character to happiness and fulfillment while asking for nothing in return. (Sound familiar...?)
Along similar lines, the show covers the lack of substantial roles for African-Americans in TV and film; what a black version of Quantum Leap would look like; and the lack of hobbits of color in Lord of the Rings.
Ellis is a sharp and enormously likeable comic; and what he has to say is not only entertaining, but worth hearing and pondering.
Frankly, I wanted a stronger and more thoughtful ending. Right now it's a mix of anger and schmaltz, with no clear call for action.
But beyond that nit-pick, this a terrific show. Go see it.
10 Stone Cold Fox: The Best From 75 Years of SCF


Rating: ***½
Stone Cold Fox may well be the best comedic ensemble in the festival. The performers of this world-class sketch group consist of Brandon Scott Jones, Leslie Meisel, John Murray, Molly Lloyd, Connor Ratliff, Brandon Gulya (also a senior writer and director), Silvija Ozols (also a senior writer), and Johnathan Fernandez. Each of these comics is an exceptional talent who, under the right circumstances, could successfully star in his or her own series.
The team has been going for around 7 years, not 75, but has nonetheless accumulated a massive amount of funny material. Included in this hour-long show are bits about running out on a check, interracial dating, elevator farts, sassy gals yelling at the audience, commercial jingles, the origin of Abbott and Costello's "Who's On First?" routine, and much more.
Perhaps it's inevitable that many of my personal favorites were missing—such as this and this, and the sketch from which the photo above was shot. The latter take greater risks by being darker and more fantasy-like then the general crowd-pleasing fare the group chose for FringeNYC, but they also tend to generate greater laughs and stay with you longer as cherished memories. While I understand the desire to not risk turning off a mass mainstream audience, I would've preferred SCF more fully demonstrating its impressive range.
That noted, this is a highly polished and professional show from one of the greatest sketch troupes on the planet. Go and be entertained.
And if you're a casting director, hire all of them. (Or at minimum hire Leslie Meisel, who's arguably the greatest trooper at this year's festival: a pregnant comic who's giving her all at every show while on the verge of giving birth...)
| | |
| --- | --- |
| Rating: ***½ | |
This troupe's name, 20/400, is a metaphor for those who think they're normal but are actually way over the top. Similarly, the show's title Sketchy as F*ck is a clever way of saying this is a sketch show about messed-up people and their messed-up relationships.

Lauren Olson, Jana Schmieding, and Christian Paluck are highly talented chameleons in this production, transforming into a 70s rock band, US Senators using farting as power moves, the most needy women you might ever see, and much more. The fact they've been performing together for years at The Magnet (a prominent NYC comedy theatre & school) is evident in their impressive performance skills and easy chemistry with each other on stage.
The first 30 minutes are filled with laugh-out-loud sketches that are smartly written and superbly executed.
After that, the show becomes less consistent for a while, with some bits great and others missing the mark. (Since dud sketches are easily swapped out with more proven ones, though, the latter might have been fixed by the time you read this...)
But it's also during this less stable section that the show achieves its finest moment: Lauren Olson luminously and brilliantly playing a homeless woman starved equally for food and affection. This sequence transcends everything else in the show...and is worth the price of admission all by itself.
It also addresses one other issue: The show is so relentlessly dark and over the top that it becomes too one note, and so a bit desensitizing. I'd love to see the group add a number of bits along the lines of Olson's hobo that provide layers of emotional variety, nuance, and life-affirming compassion to the overall experience.
That said, if you're cool with a barrage of extreme and rude bits artfully designed to make you laugh frequently and loudly, come see this.
And if you're a casting director, all three performers are worthy of your attention—-especially Lauren Olson, whose work I've been following for years, and who has a deep and rich range well beyond the exaggerations of sketch.
There's nothing else like Don't Panic... at the festival.
First, every performance is different. That's not because it's improvised; all aspects of the show are highly scripted and rehearsed. Instead, it's due to Adam Harvey not being able to limit himself to just one segment of James Joyce's Finnegan's Wake. Harvey's therefore opted to cover different elements of the sprawling tome across his five festival performances. I actually attended two of them: on 8/14, which covered all of Chapter 7, and on 8/15, which covered Joyce's handling of children's tales.
Another unique aspect is that Harvey spends the vast majority of each show performing passages from Finnegan's Wake, aided by his painstakingly well-designed PowerPoint presentation that shows us Joyce's text via lively typographic tricks such as periodically animated letters. Where else are you going to see a show in which someone reads to you from a book? (Although technically he's not reading; Harvey's got the whole thing memorized, word for word...)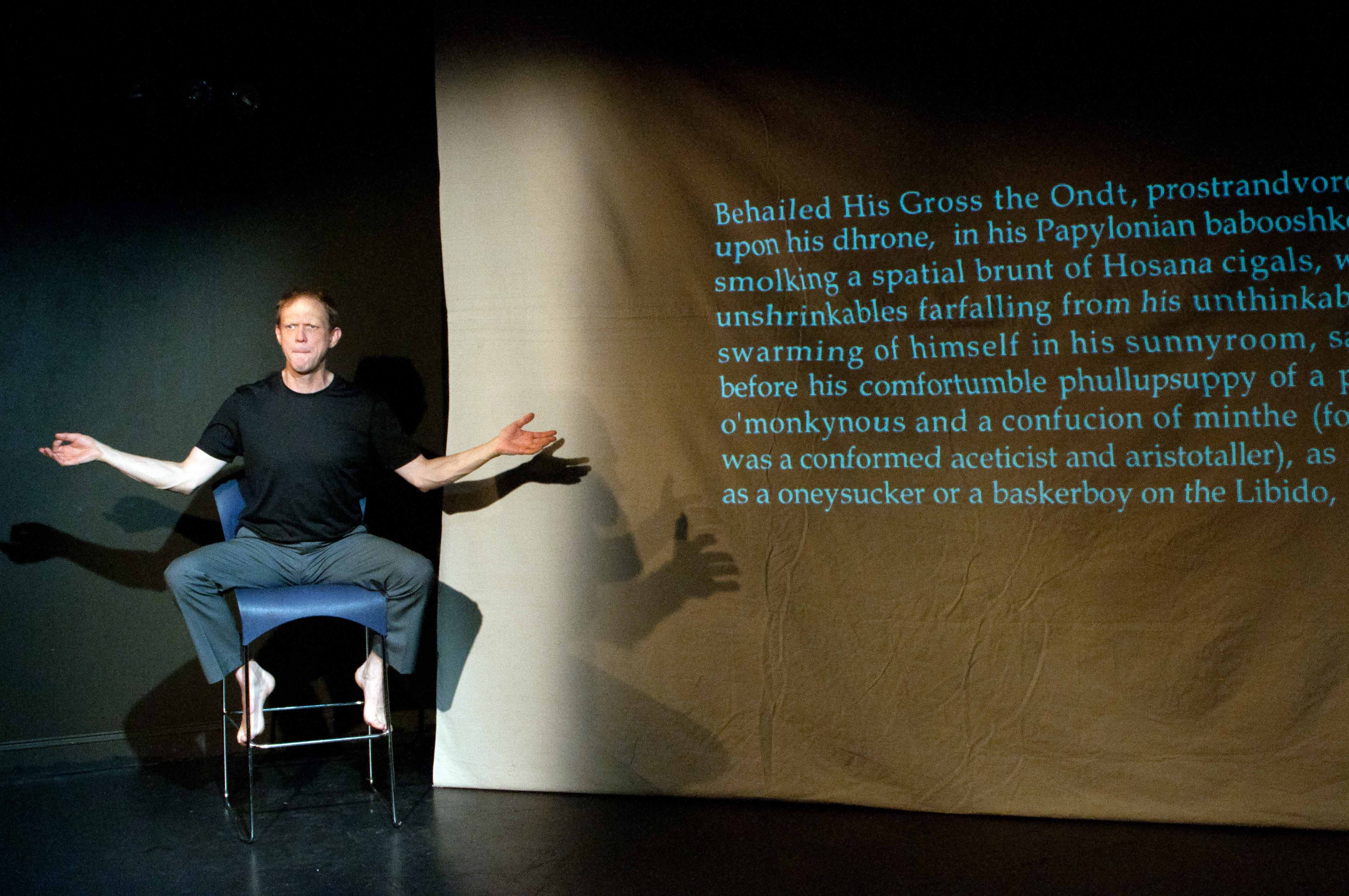 Harvey mostly lets Joyce's words speak for themselves. I assume that's out of respect for the language; but it's also a mistake. I would've preferred that Harvey perform a bit less and share his thoughts about what he's just read more. The few times he does so, his comments are highly thought-provoking. For example, regarding Joyce's frequent making up of words that appear to be off-kilter or impenetrable nonsense:
Young children listen to language they don't understand most of the time, and they're okay with it. Put yourself in the same mindset when you're getting all these convoluted polysyllables. Like a child, don't gnash your teeth and curse the adults towering above you with their lofty language. Instead, be grateful to be taken back to a child-like state of being open to the possibilities of what language can be and what language can do. That will allow you to submerge yourself into the extraordinarily multivalent, elastic, liquid language Joyce champions in Finnegan's Wake—and that has yet to be duplicated by any other author. Indeed, this is the only book that will give you such an opportunity to experience language in ways you've never considered before.

So like a child, simply say, "Yes, I can comprehend this eventually." If you do that, over time you will.
You can further get a feel for whether this is a show for you via videos here and here. If you're open to the word-adventure Joyce wants to take you on, Adam Harvey is eager to give you the keys that will get you started.
Sharp, taut, ever-surprising dialogue between an acting coach and his student makes this intelligent and well-acted drama riveting. So do the insights provided about both acting in general and Shakespearean acting in particular.
There are some issues. The fact the female character is supposed to age from 18 to 35 over the course of the play, yet never looks different from scene to scene—and never looks 18—damages suspension of disbelief. Further, while each of the actors is excellent, I never believed there was genuine romantic chemistry between them as characters. And I found the ending—which, with all that comes before it, needs to be a blockbuster—to be emotionally unsatisfying.
But there's a precious diamond in this drama. I hope the playwright continues developing the material until that jewel shines like the sun.
Meanwhile, this is well worth catching as is.
| | |
| --- | --- |
| Rating: *** | |
Joel Creasey is a gay stand-up comic from Australia. In this production he blends storytelling with stand-up, creating a one-man show that has a lot more laughs than are normally associated with one-man shows.
In New York, the stand-up capital of the world, Creasey's material doesn't stand out as exceptional. That said, given our super-high standards, the fact he never bombs for an instant is itself a notable accomplishment. Creasey is charming and fun, and provides an enjoyable hour. If you'd get a kick out of experiencing stand-up from an Aussie perspective, this is a great way to do it...with no drink minimums.
| | |
| --- | --- |
| Rating: **½ | |
Not many people remember this, but the Marx Brothers used to test out various comedy bits via a stage show they toured around the country for a full year before taking it to Broadway...and then shooting the movie version.
This musical, I'll Say She Is, is the only Broadway show of The Marx Brothers that was never turned into a movie.

In fact, it was their very first, marking their transition from vaudeville to the "legitimate" stage. They didn't write the book and music; those were penned by brothers Will B. Johnstone & Tom Johnstone. And, frankly, it's not really a musical as much as a hodgepodge. The Johnstones created a mostly dull tale of a rich young woman seeking stimulation, and periodically bring in the Marx Brothers to perform some of their best vaudeville bits.
While I respect wanting to maintain the integrity of the source material, my feeling is that if the original is boring, cut it. I would've vastly preferred a show that consisted almost entirely of Marx Brothers routines—either as a pure revue, or a newly written show that served to frame the bits in an updated manner.
As is, I was impatiently tapping my fingers whenever the actors taking on the roles of the Marx Brothers weren't on stage—which was a whole lot of the time.
That said, the impersonators of Groucho and Harpo are solid and a lot of fun to watch. (Not so much Chico; don't know what happened there...) Harpo actually provides most of the highlights, such as when he has various characters hold his leg; flips a hat with his foot onto his head; and lets drop about five kitchens' worth of silverware from his sleeve.
Whether it's worth sitting through the boring parts of the show for the sake of enjoying revived Marx Brothers antics is a personal choice. I'm happy to have caught this, if only to satisfy curiosity. But you might have more fun simply rewatching Animal Crackers on Netflix.
17. King of Kong: A Musical Parody


Rating: **½
This two-woman musical is a parody of the 2007 cult hit documentary The King of Kong: A Fistful of Quarters, about two very different people vying for the official top score in the video game Donkey Kong. It's from comedy veterans Amber Ruffin and Lauren Van Kurin, who have tremendous credentials: Ruffin is a staff writer on Seth Meyers, and previously wrote for Comedy Central's Key & Peele, while Van Kurin has trained and performed at venerated comedy institutions Second City, iO, The Annoyance, and UCB.
The duo play eight characters, and do a fine job of it. Ruffin as Billy Mitchell and Van Kurin as Mitchell's wife (see photo above) are especially hilarious and memorable.
Plus this show is directed by Brendan Hunt, the writer/star of my favorite show of the festival, Absolutely Filthy (please see my review here).
But despite all these positives, and as much as I wanted to, I never managed to like this musical.
While Hunt's Absolutely Filthy is about championing the outsider and having compassion for people society views as losers, King of Kong essentially bashes its characters for being different, and labels them as losers for being passionate about something outside the mainstream. I can't imagine Ruffin and Van Kurin writing similar assaults on people practicing for years to, say, become a piano virtuoso or run the 100-meter dash at an Olympic level; but they fail to clearly explain how spending time to master a video game is fundamentally different. I also thought it telling that the script never digs into the details of what it takes to become extraordinary at a video game beyond rote practice—as if it was too dismissive of video games to even consider there might be some level of artistry at play.
Because I could never locate the heart in this musical or the compassion for its characters, I could never lose myself to it. Put another way, the reasons that I love the laugh-filled but also deeply moving Absolutely Filthy are essentially the reasons I couldn't embrace King of Kong.
I should say that I never saw, or even heard of, the documentary this musical is based on. Perhaps if I had, it would've made a difference.
At any rate, the performances are smart and funny, and the material provides flashes of comedic brilliance throughout. In the wise words of the show: "A failure is just a success that you failed to succeed at."
| | |
| --- | --- |
| Rating: **½ | |
Frankly, I expected this show to be one of the top highlights of the festival. Its website's videos (such as this one) promised a tight, polished, professional musical that incorporated Japanese drama and martial arts action.
And that may well be an accurate description.
The thing is, I can't tell...because to my utter shock, and I'm guessing to the shock of nearly all of my audience, this all-Japanese show was performed without any subtitles or supertitles.
All the writer/producer had to do was include a large monitor to the side of the stage that displayed English dialogue when the actors spoke.
But for reasons that utterly escape me, he chose not to.
I actually questioned him about it post-show. His explanation was that the musical "communicates" without language. The irony of his needing a translator to express even that simple concept to me while assuming an entire hour and 20 minute musical requires no translation at all didn't appear to register on him.
The huge and vibrant cast is terrific. But if you like to understand what you're watching, and you don't know Japanese, consider yourself warned.
| | |
| --- | --- |
| Rating: **½ | |
Soga Shohaku was an 18th century Japanese painter who rejected the standard of realism at the time and instead sought to paint from emotion and inner vision—or, as this play puts it, to "paint from his soul."
It's a compelling foundation for a story, and the all-Japanese cast is appealing. I simply wish the script (projected in English behind the performers, and very easy to read) was wiser and dug deeper. Instead, what we get is a mix of slow-moving drama and juvenile humor that fails to be emotionally satisfying.
This production has real potential, but the script needs more work. Of course, the same is true for many FringeNYC shows, regardless of country of origin. So if you're open to patiently watching a work in progress from a deliciously different culture than America's, go catch this before the talented troupe returns home.
| | |
| --- | --- |
| Rating: **½ | |
This dramedy is about two women, Kay and Ginny, who try to figure out their marriages, and America, while driving through the desert in 1952 Las Vegas to experience the testing of an atomic bomb.
It's a bit short on story, but rich in details. For example, it opens with Kay's daughter making sugar sandwiches with Wonder Bread—which we now know is essentially a recipe for poison—and being scolded by Kay only for putting way too much sugar in. And in another scene, Kay advises Ginny on how to save her marriage by practicing the forcing of increasingly large bananas into her mouth.
But by far the best part of the show are the performances of Amanda Huxtable (Ginny) and Sienna Mauve (Kay), who create believable, juicy female characters with a lovely chemistry between them.
Career criminals, crooked cops, and other nasty people interact until bad things happen.

All the performances are compelling, as is the dialogue. The plot takes a bit too long to roll forward, though, and the twists aren't as satisfying as they really ought to be. But if you crave a crime drama at the Fringe, this one is sufficiently entertaining to be worth considering.
22. Clive Barker's History of the Devil


No website for this show

Rating: *½
Clive Barker is one of the greatest writers in the history of fantasy horror. While he's primarily known for novels and screenplays, this prolific author has also churned out 29 plays—including this one, which is among his most acclaimed, and is about Satan on trial. In the words of the judge:
We're gathered here to try the Devil. Why? Because for reasons the Counsels will undoubtedly make clear, he was thrown from Heaven by God Almighty some several thousand years ago. Now he's up for parole, and by the terms of his exile his appeal for a return to the City of God is to be judged by us, the humanity whose world he's shared. If it's found that his ministry tended more to evil than to good, he'll be condemned to Earth indefinitely. If, however, his Advocate can prove his time on Earth hasn't adversely affected mankind, he must be judged innocent and returned to Heaven.
It's a highly compelling foundation for a drama. And my guess is that, in capable hands, this would be a fantastic play.
Unfortunately, none of that potential is brought out in this production, which has the feel of a heartfelt but amateurish show slapped together by fans.
As can be seen above, the production company has provided no website and no promotional imagery. Along the same lines, the acting, direction, pacing, sound, sets, and other fundamentals are all sorely lacking.
As for the casting, the key role of the Devil—who in Barker's play is a man—is filled by a redheaded woman who conveys none of the intelligence, menace, wit, angst, or charisma one would expect from the Prince of Darkness.
As a result, what should be a gripping experience is instead an increasingly boring one...that runs for two hours, with no intermission.
Clive Barker's play is available for purchase on Amazon.com here. I recommend reading it and imagining a much better production in your head than this one.

23. The Death of Thomas Edison


Rating: **
I was eager to see this show because its website includes some of the most striking images of the festival (see above). And, in fact, the production features a fair amount of inventive imagery, including umbrella skeletons sporting lamp decor, and two characters who physically might remind you of George and Lennie from Of Mice and Men.
Unfortunately, the show falls flat when it comes to content. What little dialogue and action are provided beyond the mood poem of the visuals too often come across as nerdy pompousness or sophomoric humor. (One low point involves a hand puppet that's eventually decapitated and dismembered...)
The program booklet explains the production company's approach this way: "Sometimes provocative, sometimes introspective, we pose questions that make audiences talk. At times it's 'I don't know what the hell that was, but I want to see it again.'"
I might go along with the latter if this show ran for five minutes. But it's a full hour.

If this visual-oriented company teamed with a strong writer, though, something quite special might eventually result.
| | |
| --- | --- |
| Rating: *½ | |
While Clive Barker's History of the Devil (reviewed here) is literally about the Lucifer of legend, this production is more metaphorical. It's a one-woman show about how we create the Devil through our own thoughts and actions—which means Satan is always nearby, because we're always capable of giving into the darkest aspects of our nature.
It's a very worthy premise to build a show around. Unfortunately, it's not executed compellingly.
The acting—focused on a woman who may or may not be going mad—is so-so. The writing takes way longer to make any point than necessary (this 90-minute show would probably work way better at around 30 minutes); and you can pretty much guess the ending early on, so there's a lack of suspense. (And even so, the ultimate payoff is emotionally unsatisfying...)
This isn't bad. But it's too long and delivers too little.

A two-person show in which one character is interrogating the other should crackle with tension throughout.

This production, from Iran, is instead mostly tedious.
It doesn't help that one of the actors—who also directed—doesn't speak English clearly. And his performance as a prisoner who isn't very bright was, frankly, painful.
The show is well-intentioned, but it's simply not up to NYC theatrical standards. See it if you're curious, but set your expectations low.
26. The Internet!: A Complete History (Abridged)


Rating: *
The Internet is so enormous and varied that it's virtually impossible to wrap one's head around it. I figured that any production on the subject was bound to be interesting, if only because of the richness of the source material.
But no.
It was evident I was in a bad place in the first minute when an actor doing a terrible and annoying Al Gore imitation came on stage and repeatedly harangued the audience to cheer (the sign of a hack comic...). He then let us know that—to my horror—he'd be hosting the entire 80 minute show.
He was soon joined by two other male actors who were very nearly as annoying.
And their "history" of the Internet was stunningly vacuous. As just one example, early on we're told a system of 1s and 0s was adopted for computers "because it's so simple." The notion that it's simpler for us to use binary than the decimal system we grew up with is utterly absurd. The real reason is that it's definitive: if there's electricity in a hardware cell it's a 1, while if there's no electricity it's a 0. This eliminates the need to measure minute variations of charges—the electricity is either there or it's not. How difficult would it have been to get this fundamental bit of information right?
What was most irritating, however, were the numerous attempts at jokes and sketch comedy to lighten the "information." Suffice to say, I didn't laugh once during the entire (seemingly endless) production.
The sole bright spot was an actress, Callie Rose Hanau, who was charming and dynamic.

But to be fair, the real problem wasn't the actors. It was the shallow script, which took a scattershot approach that—at least for me—provided no genuine insights or entertainment.
This show was written by the same team that created I Can Has Cheezburger: The Musical—which I saw when it debuted at the 2009 FringeNYC, and greatly enjoyed.
I don't know how the creation of this show went so wrong. But if I hadn't foolishly placed myself up front, where leaving would've meant crossing the stage, I would've fled after five minutes. Instead, I sat trapped and prayed it would get better.
It never did.
Spare yourself a similar experience.
Other Cool Places to Visit
Hy on Theatre Discounts Hy's Comedy Club Discounts
Best New York Comedy Become a HyReviews.com Insider
BookProposal.net HyOnYourScript.com
Hy's Previous FringeNYC Coverage
FringeNYC 2013 FringeNYC 2012 FringeNYC 2011 FringeNYC 2010 FringeNYC 2009
FringeNYC 2008 FringeNYC 2007 FringeNYC 2006 FringeNYC 2005
Copyright © 2014 Hy Bender
Email: hy@hyreviews.com