Hy on the Fringe: Your Personal Guide to the
2014 New York International Fringe Festival
This Comedy Page Was Most Recently Updated: August 7th 2014
Notable FringeNYC 2014 Comedy Shows
If you visit this site during the rest of the year, you're probably a comedy fan. You should therefore be aware that there are a number of funny shows at the Fringe. They include the following by stellar New York CIty-based comics: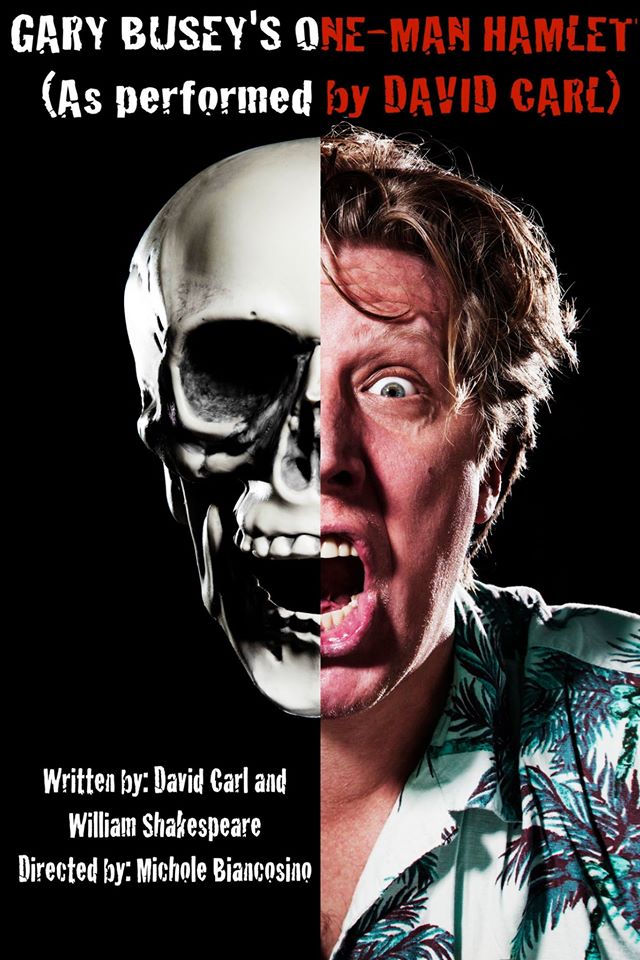 • Gary Busey's One Man Hamlet (as performed by David Carl): Rising star comic David Carl transforms into Gary Busey to act out Shakespeare's greatest play using puppets, video, oddball pop culture references, and an endearing childlike sense of wonder. I saw this production when it was first workshopped at NYC's Peoples Improv Theatre (The PIT) and expect it to be one of the highlights of the festival. For a trailer, please click here. For a brain-damaged fundraiser video, please click here.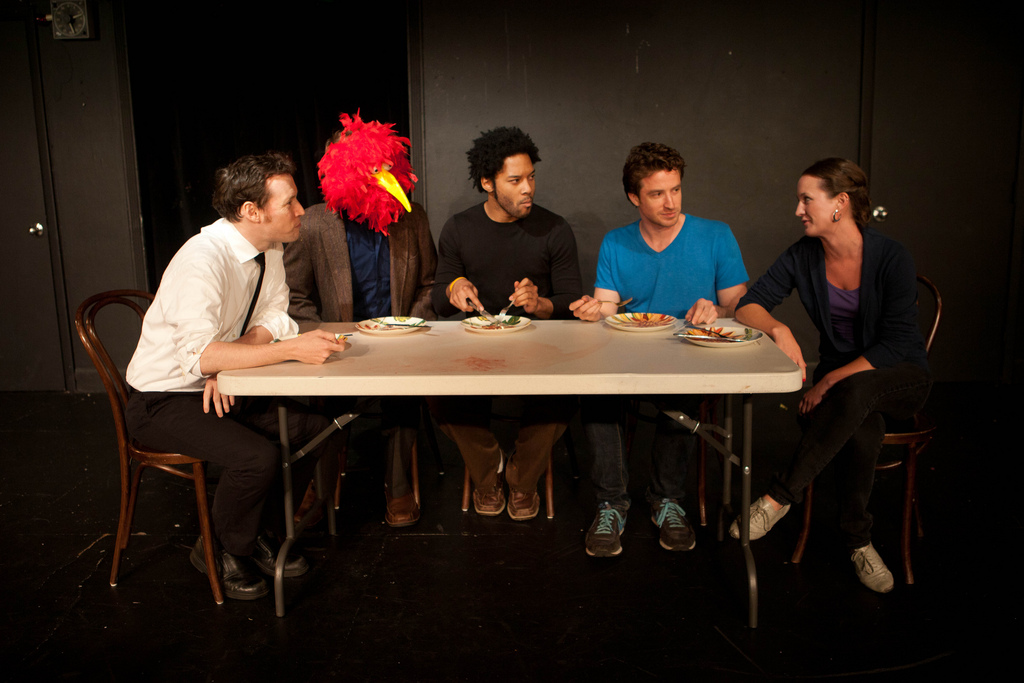 • Stone Cold Fox: The Best from 75 Years of SCF: One of the very best sketch comedy groups in the country, Stone Cold Fox is blessed with both razor-sharp writers, who include Silvija Ozols and Brandon Gulya, and a stellar cast: Brandon Scott Jones, Leslie Meisel, John Murray, Molly Lloyd, Connor Ratliff, and Johnathan Fernandez. In fact, it's the only sketch group (vs. improv group) to ever be honored with an ongoing spot on the prestigious Upright Citizens Brigade Theatre-Chelsea weekend schedule. The team has been going for around 7 years, not 75, but has nonetheless accumulated a massive amount of superb material. If these comics really chose their best bits for this show, expect to be dazzled. For a taste of SFC's concept-driven comedy, please click here, here, and here.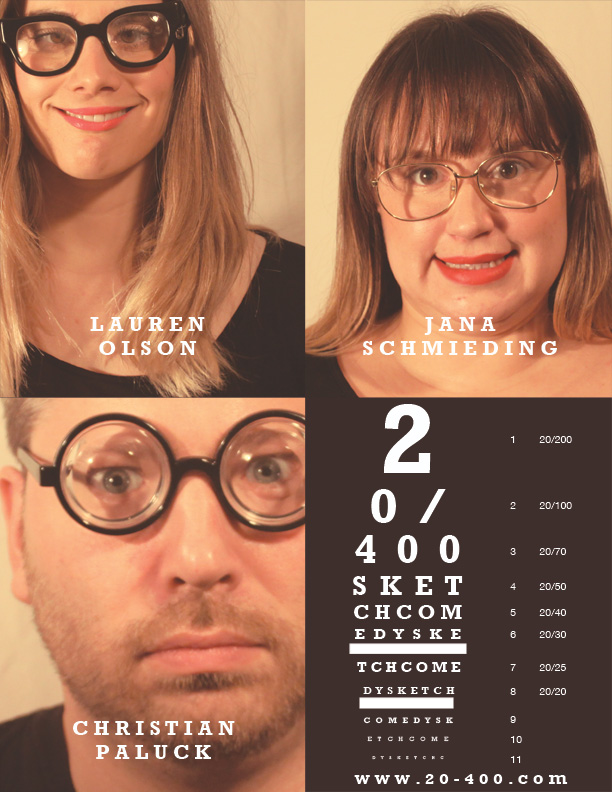 • 20/400: Sketchy as F*ck: Lauren Olson previously performed a brilliant one-woman show for FringeNYC 2010 titled Our Condolences about dealing with the death of her mom. Olson has become much edgier in her comedy since then. As indicated by the title, this sketch show focuses on over-the-top characters who are likely to make you laugh and cringe at the same time. Teaming with the stellar Olson are Jana Schmieding and Christian Paluck, who've spent years performing together at NYC's Magnet Theatre developing an easy comedy chemistry. Expect their extreme character-driven bits to be funny as f*ck. For video samples, please click here and here.
• Awkward Romance: The Third Evening: One of the highlights of last year's Fringe was a charming and hilarious series of sketches about relationships written and co-starring NYC-based Wendy Herlich. A follow-up show with the same theme graces this year's festival. Assuming it's at least as fine as its predecessor, bring a date and expect to have a blast.
• La Donna Improvvisata: It's gutsy to perform any kind of improv, which puts you on stage wtih no prepared material and the possibility of shattering failure. But even among the brave souls who practice this comedic art, almost none attempt to make up an opera on the spot; and almost none attempt to do it alone. Lisa Flanagan is choosing to do all of these things—and in an enormously public way, via a highly-covered festival that charges audiences $18 per ticket. Will Flanagan rise to the challenge? I honestly have no idea... But some factors on her side are superstar improv pianist Frank Spitznagel, and a genuinely impressive operatic voice (for a sample, please click here). Every show will be entirely different, so if you like what you see, come back for additional evenings.
Some Comedy Advice for FringeNYC Performers
Here's some advice for FringeNYC performers who've never experienced an NYC comedy stage before.
Even if you're the top comic in your area, please be aware that humor often doesn't translate smoothly across long distances.
For example, John Oliver is now one of the greatest stand-ups in comedy history. (That's not hype, by the way; am simply stating a fact.) But when John first moved to NYC, his timing was too slow—he was used to UK audiences, who are more laid-back than Americans in general and New Yorkers in particular.
John was a quick learner. But even so, he had the luxury of retooling his craft by playing small Manhattan & Brooklyn venues night after night.
You, on the other hand, will mostly be judged by your very first FringeNYC performance.
The single biggest mistake Fringe productions make is treating the first performance as a kind of rehearsal. It's actually the "make or break" show for the whole run, because the majority of both reviews and word-of-mouth buzz will come from that initial audience.
And New York audiences are different from any others. We're quicker to "get" the joke, and less patient with the obvious, the unoriginal, and the cheap laugh. (I've seen way too many LA comics who were shocked that they fatally bombed within 60 seconds of doing an anemic, plastic routine before a sharp NYC crowd...) We especially value bravery, honesty, and reacting organically in the moment (e.g., being quick-witted).
If you're available Monday nights, come watch Whiplash at 11:00 pm at UCBT. (You can make reservations by clicking here.) It's often the best stand-up show in NYC and will provide a feel for pacing; plus it's free.
You can also find free comedy open mics for testing out bits of material literally every night via my daily-updated comedy sites HyReviews.com and BestNewYorkComedy.com.
New Yorkers are among the toughest comedy audiences in the world. But if you can make us laugh, we'll love you for it...because you'll have really earned it.
Other Cool Places to Visit
Hy on Theatre Discounts Hy's Comedy Club Discounts
Best New York Comedy Become a HyReviews.com Insider
BookProposal.net HyOnYourScript.com
Hy's Previous FringeNYC Coverage
FringeNYC 2013 FringeNYC 2012 FringeNYC 2011 FringeNYC 2010 FringeNYC 2009
FringeNYC 2008 FringeNYC 2007 FringeNYC 2006 FringeNYC 2005
Copyright © 2014 Hy Bender
Email: hy@hyreviews.com