Hy on Human Giant
Reviews & Info About the Brilliant MTV Comedy Series Created by
Aziz Ansari, Rob Huebel, Paul Scheer, and Jason Woliner
Page 2 of 2
This Page Was Most Recently Updated: Saturday, June 16th 2007
Copyright © 2007 Hy Bender
Email: hy@hyreviews.com
Notable Human Giant Video & Audio Clips
Reviews of Human Giant's First Season: Episodes #1, #2, #3, #4, #5, #6, #7, and #8
Review of Human Giant 24: Live From Times Square
Other Review Sections on This Site:
Home Page
Comedy in the Moment: Del Close Improv Marathon
Hy's Other Sites:
Human Giant 24: Live From Times Square
(photos by Brian Appio, via MTV's HG 24 site)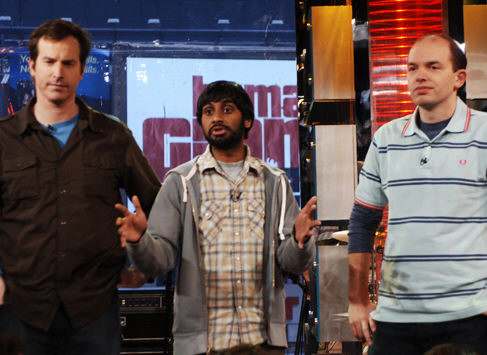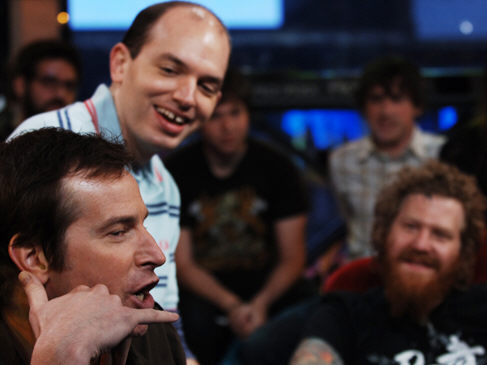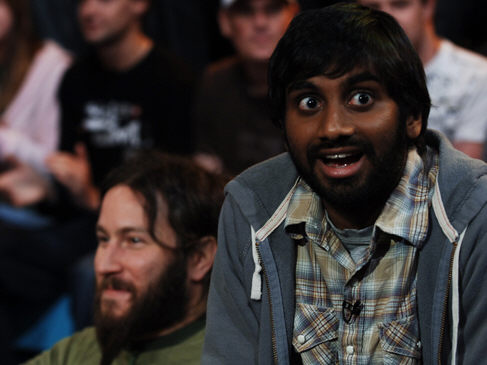 Before the season finale, the gang took over MTV's programming for 24 hours live, from Friday May 18th at noon until Saturday May 19th at noon. The official reason was to convince MTV to greenlight a second season of Human Giant by spurring viewers to provide 1 million hits to the show's site at humangiant.mtv.com. But was there really any doubt about MTV sticking with one of the best comedy series to appear on any network in years?
The actual goal of the marathon was to make MTV viewers numbed by Parental Control and Next aware that a breathtakingly fresh and inventive alternative has joined the network's schedule. And that goal was met...by noon on 5/19, the guys had garnered 1,212,651 hits.
Highlights of the Human Giant: 24 noon-to-noon party included:
Repeats of the seven previous HG episodes...and, in the final hour, the premiere of episode #8.

Ted Leo's equipment failing during the middle of a live set and his quickly improvising the lyrics, "Can someone bang that pedal on my amp/So I can keep singing this song please/To sell some records and not be dropped by my label?"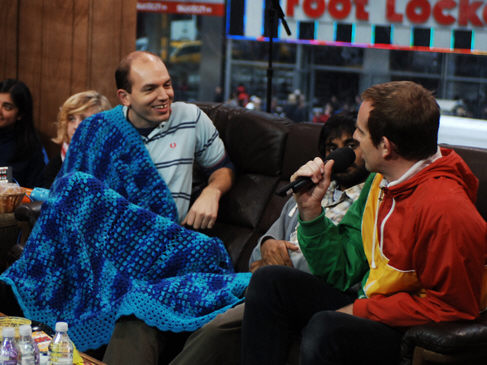 Paul Scheer being entertained by Ted Leo
The hilarious Nick Kroll playing Kraft services coordinator Fabrice Fabrice who "provides all the snacks and tiny waters," alternately flirting with Huebel, squabbling with Scheer, and feeding Ansari because he's "a little man who needs sustenance and hydration."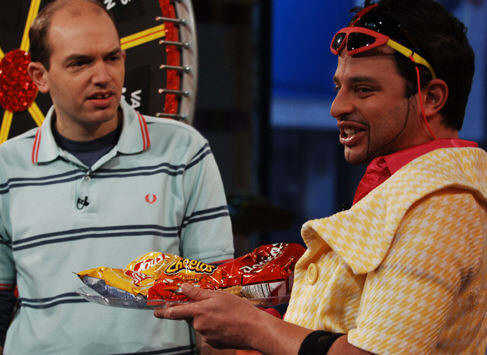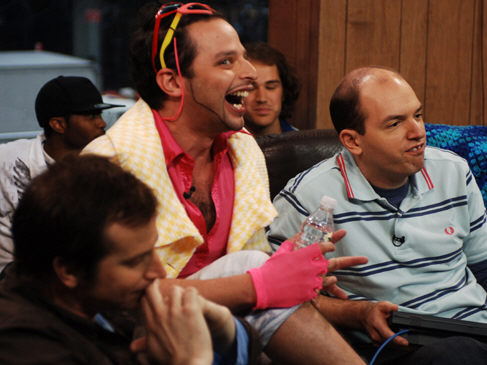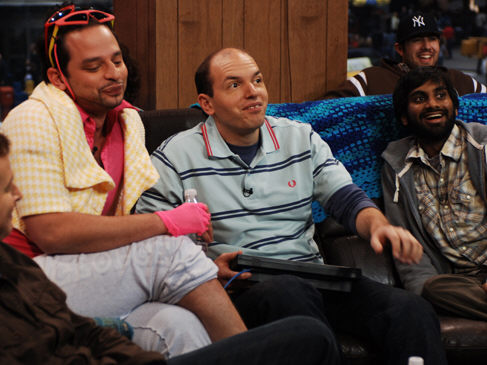 The many faces of Nick Kroll
A sweet caller named Margot asking Ansari out on a date and, while Aziz was blushing, Huebel telling her what to expect: "You're going to go to a bar in the East Village, you're both going to drink a crazy amount of Jack & Coke, and then Aziz is going to take you back to his apartment and fall asleep." After which Ansari told Margot "yes."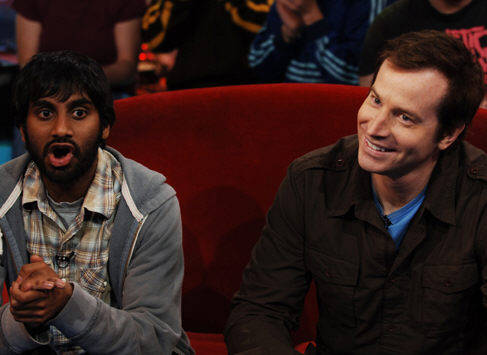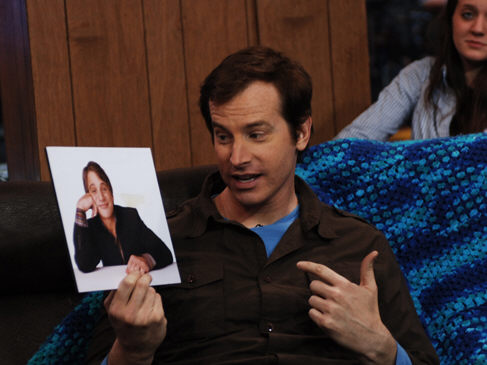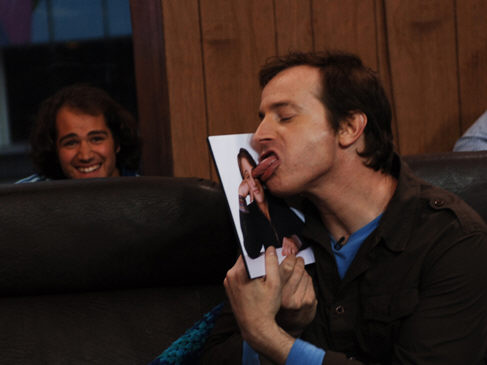 Huebel, acceding to viewer votes, walking around Times Square in a mermaid outfit and hitting on men. (You might perceive a theme here...)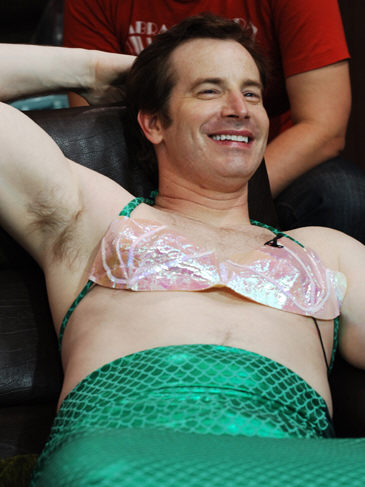 A documentary clip of fish enjoying orgasms.

UCBT superstar Jackie Clarke, playing the MTV standards lady, displaying a hard-on for Huebel by repeatedly reminding him it's okay to say penis on the air.

UCBT superstar Jason Mantzoukas, wild-eyed behind nerd glasses and a creepy passive-aggressive smile, playing Human Giant's #1 stalker/fan.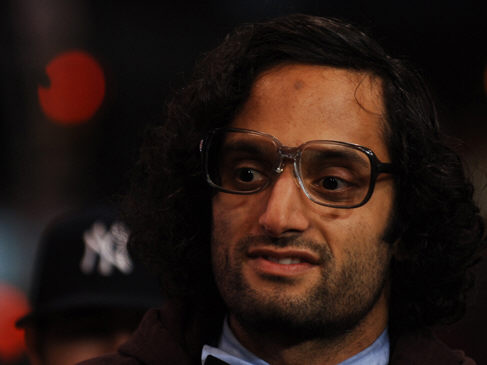 Brilliantly funny (and normally very handsome) Jason Mantzoukas
Matt Besser, co-founder of the Upright Citizens Brigade, caricaturing MySpace co-creator Tom Anderson as a screechy-voiced horror whose only hope of making friends is via the Web.

The wry Todd Barry reading loving, exuberant viewer emails and crafting nasty responses. For example, to someone who called a Human Giant joke "priceless," Barry replied "Actually, you can put a price on that joke. And you can probably afford it."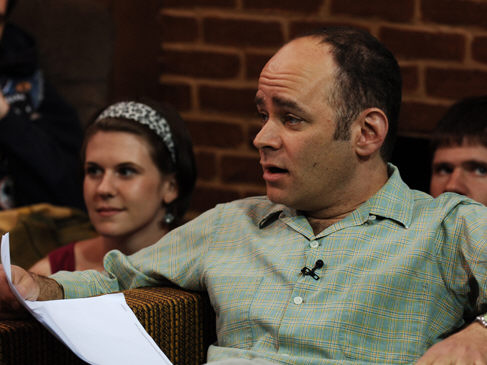 Todd Barry wittily dissing Human Giant fans
A caller slipping by the MTV screeners with a mildly racist poem, and the usually razor-sharp Paul Scheer compounding the mess by responding "Maya Angelou is spinning in her grave...oh wait, she's not dead?" (Ms. Angelou is indeed still with us...)

Bill Hader of SNL doing a surprisingly solid impersonation of Ansari.

Scheer's "uncles" —played by Kroll and Hader—reenacting the TV series Monk ("This is the dirty krim scene."/"But I can't go near the dirty krim scene, I have OCD complex."/"Emmy!") and demonstrating how to make a drink called the M. Night Shyamalan ("Nothing, with a twist.").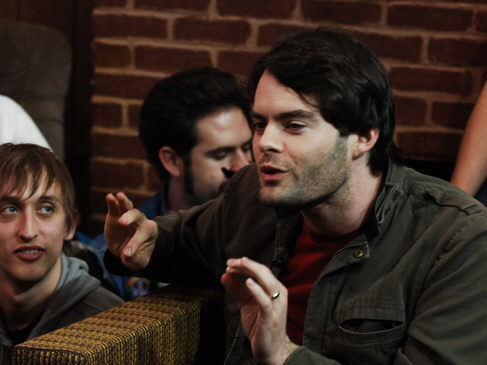 Bill Hader of Saturday Night Live
Kristen Schaal—featured on this site's home page, and one of the writers for Human Giant—pretending to crack her head and, as the blood gushed forth, insisting she do her act anyway because "performing is the only time I ever really feel alive."

Rob "Quick Lips" Lathan swearing to America that within 60 seconds he'd consume a huge table's worth of food (including beef jerky, packs of Twinkies & Ding Dongs, raw eggs, and an entire melon)—and managing little more than three handfuls of popcorn and some Cheez Whiz.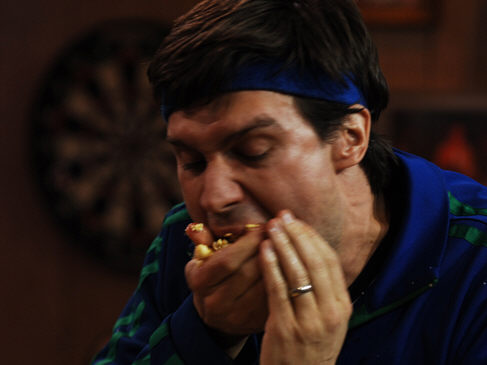 Rob Lathan, a.k.a. "Quick Lips," disappointing the nation

The debut of the overseas version of the gang, Human Giant: Euro, explaining they have only two members because "one of us was killed in a racial profiling incident." (Huebel's response, between giggles: "Oh no. Oh no.")

With inspirational music in the background, Ansari reading excerpts from the literary classic E.A.R.L.: The Autobiography of DMX. Two examples:

When I was younger, my mother's friend Thelma used to come over to my apartment all the time. I remember Thelma because she always cheered my mother on when she was giving me a beating: "Yeah, you better go ahead and teach him a lesson, Net!"

"F---- you, you f----ing b----! Why don't you just s--- my d---?!" I danced in front of him, laughing. The old man came up to me and lifted the bat up to swing it at my head. I let him get close, but as soon as I saw his arms start to move forward, I went to run to dodge his swing. And then, I slipped. The gravel didn't give me any traction. That first step I took almost put me on my knees. Whoosh!!

Scheer's mom calling during hour 19 to extol the gang to drink orange juice because "you need some energy;" and to match-make Huebel with friends of hers and, when he began politely saying no, interjecting, "Don't worry, Rob! They're young. Young!!"

Scheer, in hour 23, demonstrating he still had energy to spare by granting a viewer request and bursting into dance.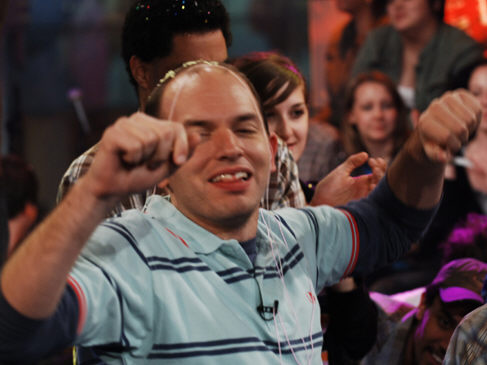 Vintage clips from other MTV shows, including The State (MTV's 1993-1995 sketch show, exploring such issues as satisfying sex and not wearing pants); Wonder Showzen (1995 parody of 1970s PBS kid shows—e.g., a hand puppet roams a neighborhood trying to instigate violent reactions from innocent bystanders); and Hangin' With MTV (an awesome 1992 clip of a pre-famous Marilyn Manson explaining to John Norris that he's shown up to propose marriage to co-host Gale Mayron).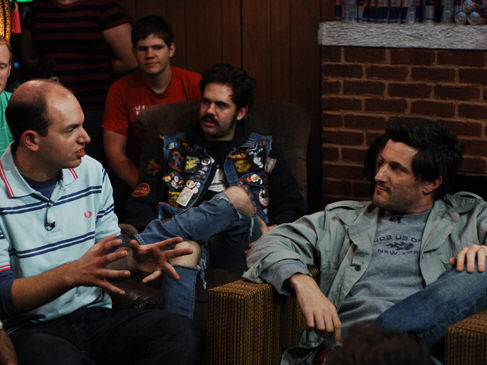 Paul Scheer interviewing Michael Showalter, co-star of The State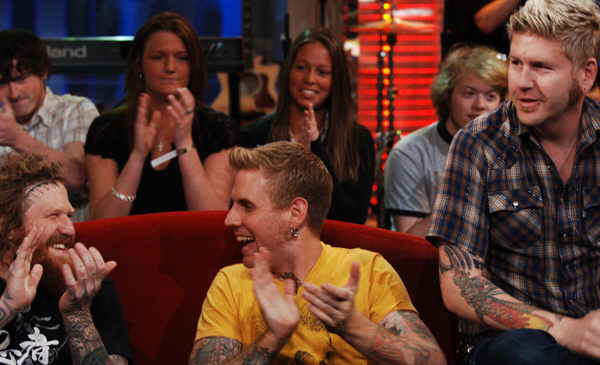 Musical group Mastodon
As any professional comic will tell you, even three minutes on national television can seem like an eternity. That Ansari, Huebel and Scheer managed to be inventive, energetic, and funny for a continuous 24 hours is an incredible achievement. They also deserve kudos for sharing their air time with some of the most talented comics in New York—most of whom haven't yet achieved national fame—which added enormously to the party atmosphere.
The pressure on the HG guys to pace themselves, deal with technical challenges, communicate effectively with a mass audience, and generally not screw up during the live telecast must have been enormous—at one point, Scheer said it felt like "pressing your face against a hot radiator."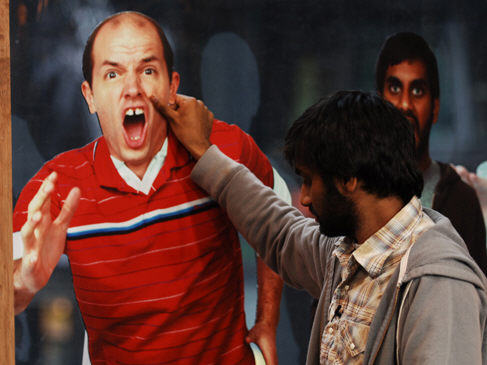 And indeed, there were a number of segments that lagged and gags that flopped. But considering the gang had only eight days notice from MTV to slap this lengthy production together, Human Giant: 24 was a great deal of fun...and, at times, pure magic.
MTV has previously provided 24-hour one-shots to The Foo Fighters and Courtney Love. But given Human Giant's expertise in improv—amply demonstrated this weekend on live TV—the network should start thinking about HG: 24 as more than just a one-time marketing gimmick for the Human Giant show but a viable series itself (running, say, every three months as a special event). It could be a great showcase for up-and-coming comedic talent, with Aziz, Paul, and Rob as the ringleaders.
And speaking of talent, below is a list of those who played roles on the show—including folks not mentioned above—in alphabetical name order. (Paul Scheer's HG 24 FAQ at www.TheHumanGiant.com was a huge help in putting this together.) Please note that while parts of the show were scripted, the following are exceptionally sharp improv comics who all wrote and/or improvised their own material:
Leo Allen: Beard of Bees comic (and one of the writers for the show).

Matt Besser: MySpace Tom, who has millions of Net friends but apparently remains a lonely screechy-voiced nerd. Besser's parody was delivered via Web cam.


Andy Blitz: Osama Bin Diesel (and one of the writers of the show).

Jackie Clarke: Elaine Meyer Ortiz, the MTV Standards lady who enjoys saying "penis."


Jon Daly: Drunken British pine tree, and half of the hip-hop group Cracked Out (with Brett Gelman).

Jake Fogelnest: Howard Stern fan who was upset when he couldn't get a rise out of the guys over the phone by repeatedly saying "Baba-Booie."

Brett Gelman: Billy Crystal, and half of the hip-hop group Cracked Out (with Jon Daly).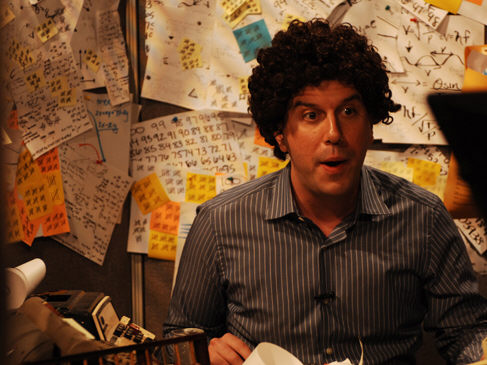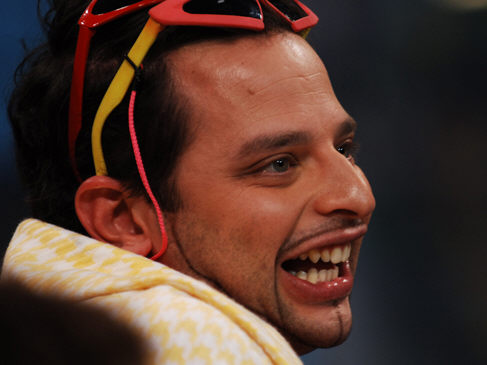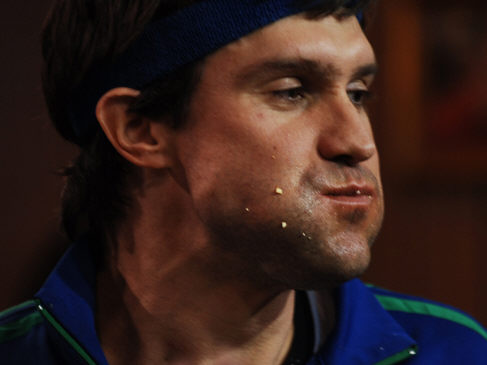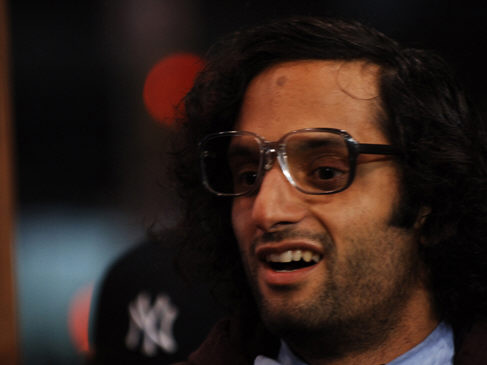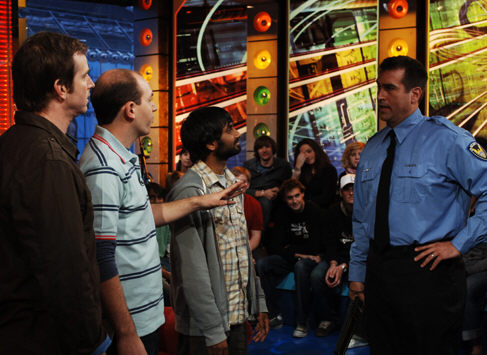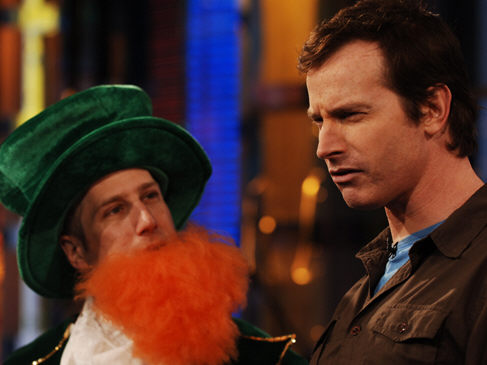 Eric Slovin perplexing Rob Huebel
Writers who scripted portions of the show beyond their own characters included Slovin & Allen, Andy Blitz, and Jon Glaser—and, of course, Scheer, Ansari, and Huebel. The latter were also massively improvising throughout the 24 hours; in his FAQ on the HG site, Paul Scheer wrote "many of the bits we pre-planned were thrown out at the last minute to do something we just thought of in the moment. It was one of the best experiences ever."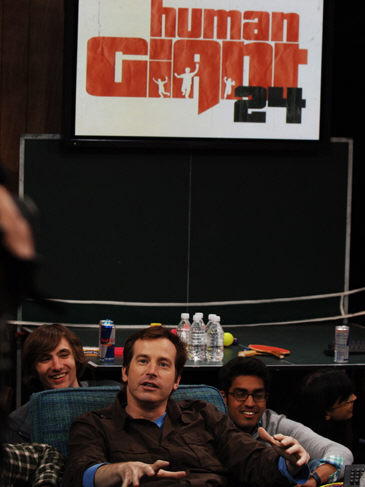 Aziz Ansari—sometimes accompanied by Rob Huebel and Paul Scheer—periodically previews clips from Human Giant at the Upright Citizens Brigade Theatre in NYC (307 West 26th Street, off 8th Avenue) on Mondays at 11:00 pm via his ongoing stand-up comedy show Crash Test (so named because it's a venue for comics to test out new material). The show is entirely free; to make reservations, please click here.
For more info, please visit Human Giant's official Web site (which includes behind-the-scenes commentary from the gang) by clicking here; the MySpace page by clicking here; and the MTV pages by clicking here and here.
If you missed any of the episodes, you can find a near-comprehensive collection of the series' short films on MTV's site by clicking here. (There's also a DVD in the works that'll contain the entire first season, plus lots of extras.)
In addition, if you missed any portion of Human Giant 24, or simply want to relive some of its best moments via selected video clips, please visit the MTV page devoted to the marathon by clicking here.
You can also find a wide assortment of Human Giant clips on YouTube by clicking here.
Finally, current guesses are that the second season will go into production this summer and air in early 2008.
The initial run was only eight episodes...but the show is already on its way to becoming a TV classic.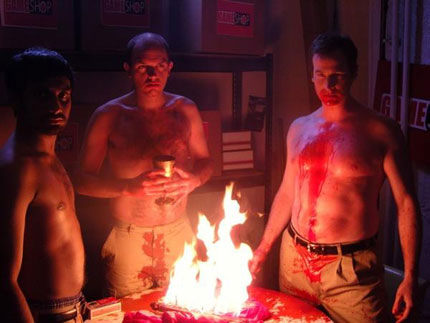 Aziz Ansari, Paul Scheer, and Rob Huebel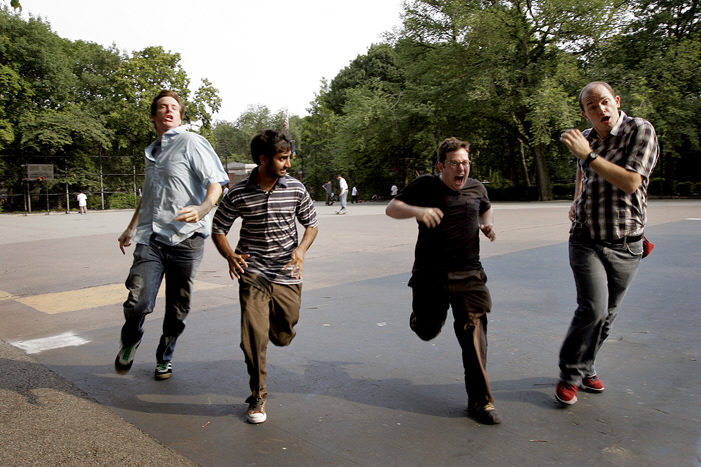 Rob Huebel, Aziz Ansari, Jason Woliner, and Paul Scheer
Notable Human Giant Video & Audio Clips
Reviews of Human Giant's First Season: Episodes #1, #2, #3, #4, #5, #6, #7, and #8
Review of Human Giant 24: Live From Times Square
Other Review Sections on This Site:
Home Page
Comedy in the Moment: Del Close Improv Marathon
Hy's Other Sites:
Copyright © 2007 Hy Bender
Email: hy@hyreviews.com