NYC Comedy Picks for Week of July 24, 2017
NYC Comedy Picks for Monday 7/24/17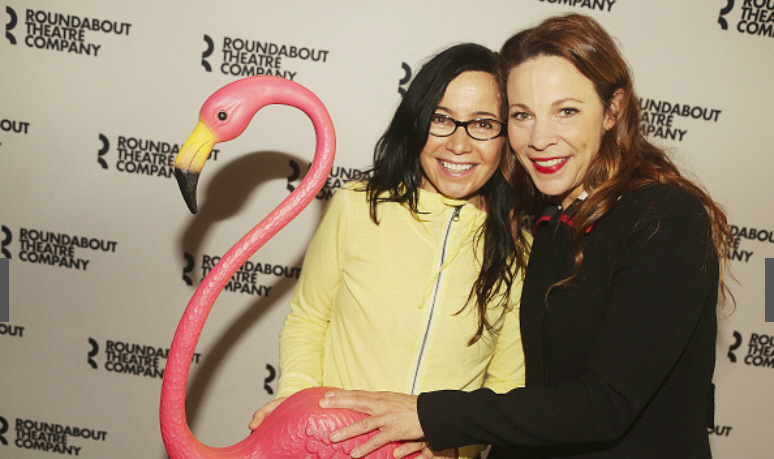 Stars Janeane Garofalo and Lili Taylor—who play sisters in the Broadway revival of Marvin's Room, running through August 27th at the American Airlines Theatre—are the guests of this NPR weekly comedy trivia show taped live in Brooklyn and hosted by the wonderful Ophira Eisenberg (NBC's The Today Show, CBS' The Late Late Show, Comedy Central, VH1, Showtime, bestselling book Screw Everyone, comedy album Bangs!): Ask Me Another (7:30 pm, $25, The Bell House at 149 7th Street; take R subway to 9th Street or F/G to Fourth Avenue)...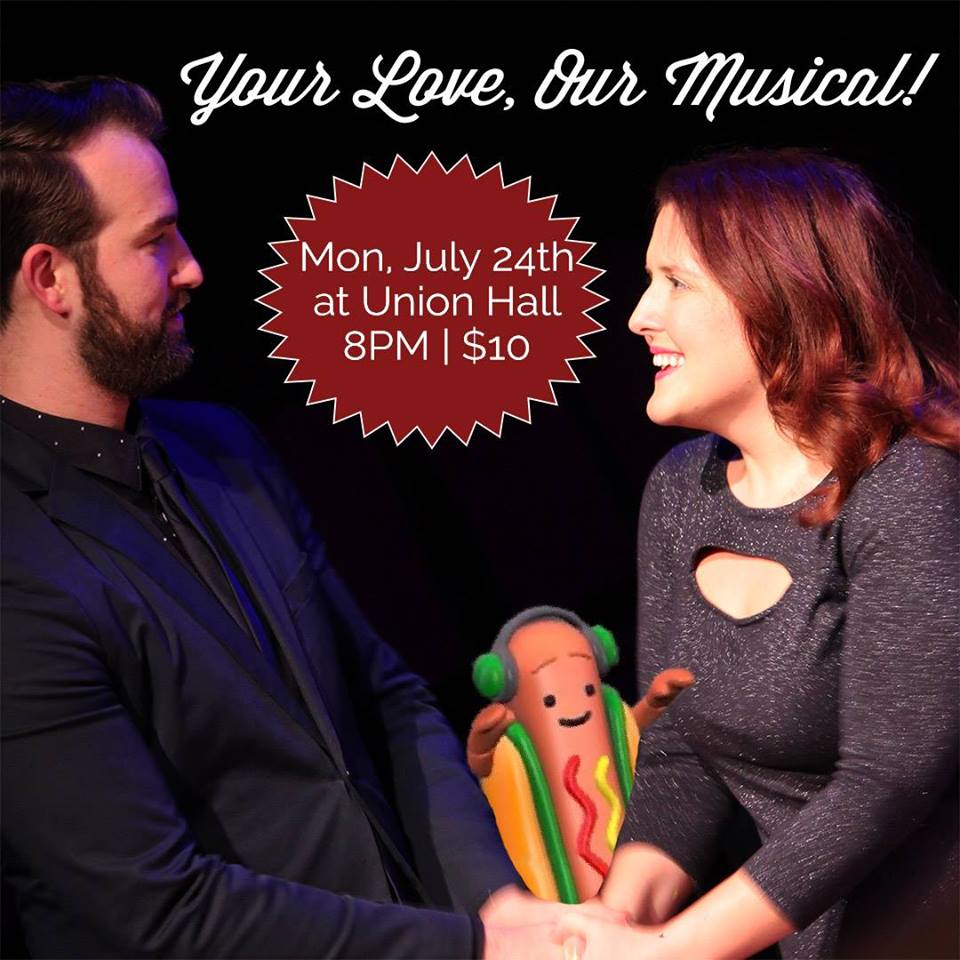 ...or marvel at world-class singing improvisors Evan Kaufman & Rebecca Vigil interviewing an audience couple about their love life and then turning it into a musical—with breathtaking skill (see my review of their award-winning FringeNYC 2015 shows here). Plus tonight offers the extra treat of music from a hot dog DJ. I highly recommend the phenomenal Your Love, Our Musical (8:00 pm; $10, which is super cheap—;this show has regularly sold out at $18 at other venues; Brooklyn's Union Hall at 702 Union Street; take R subway to Union Street)...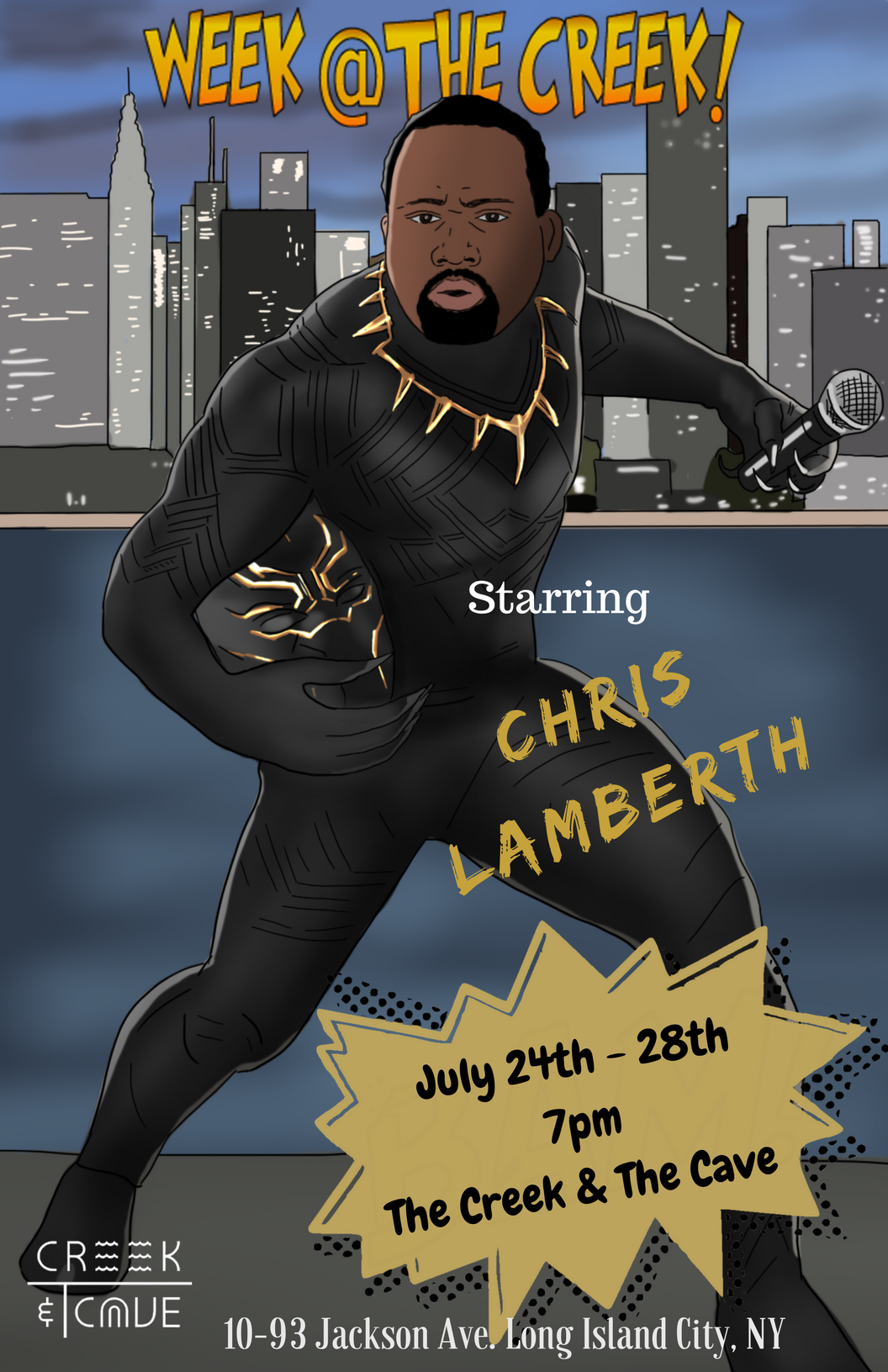 ...or check out Chris Lamberth (HBO's High Maintenance; film Can You Ever Forgive Me? with Melissa McCarthy; host of The Mundane Festival podcast) tonight, or any night this week through Friday, at a free show that's letting him hone a long stand-set set: Week at the Creek: Chris Lamberth (7:00 pm, Free!, Queens LIC's The Creek at 10-93 Jackson Avenue)
NYC Comedy Picks for Tuesday 7/25/17
Former Saturday Night Live cast members Taran Killam, Vanessa Bayer, and Jon Rudnitsky, plus Brett Davis (HBO; creator/host of weekly Manhattan cable TV show The Special Without Brett Davis; co-host of The Macaulay Culkin Show; winner of the 2015 Andy Kaufman Award), Patt Dunn (Broadway actor who'll be playing Elvis), and more perform for Seth Herzog's Sweet (9:00 pm, $10, The Slipper Room at 167 Orchard Street)...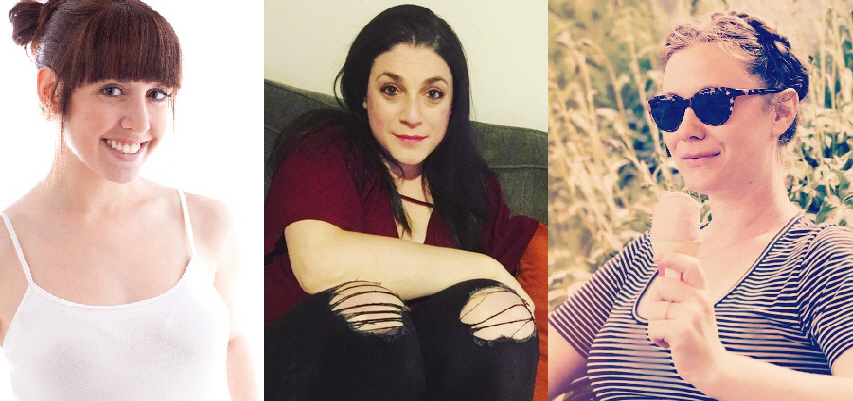 ...Chelsea White (above left; writer/producer for MTV's Girl Code) and Erin Leafe (writer) bring their podcast about ghosting and other scary dating stories to the stage, with tonight's guests Jessie Jolles (above middle; MTV; half of sketch duo Soren & Jolles) and EA Hanks (above right; Huffington Post): Ghosted Stories Live (7:00 pm, $7, The PIT Underground at 123 East 24th Street)...

...and every Tuesday, eight singing & dancing improv groups—who tonight are Captains, Warm Blooded, Kittyhawk, Pyros, Squash, Public Pool, Honeymoon, and Wonderland, all typically led by the best improv pianist in the biz, Frank Spitznagel (above)—make up musicals on the spot based on audience suggestions: Magnet Musical Megawatt (6:00 pm for free musical jam that gives you the chance to get on stage with veteran performers; 7:00 pm-11:00 pm for paid shows—which are a mere $10 for the entire evening; The Magnet at 254 West 29th Street)
NYC Comedy Picks for Wednesday 7/26/17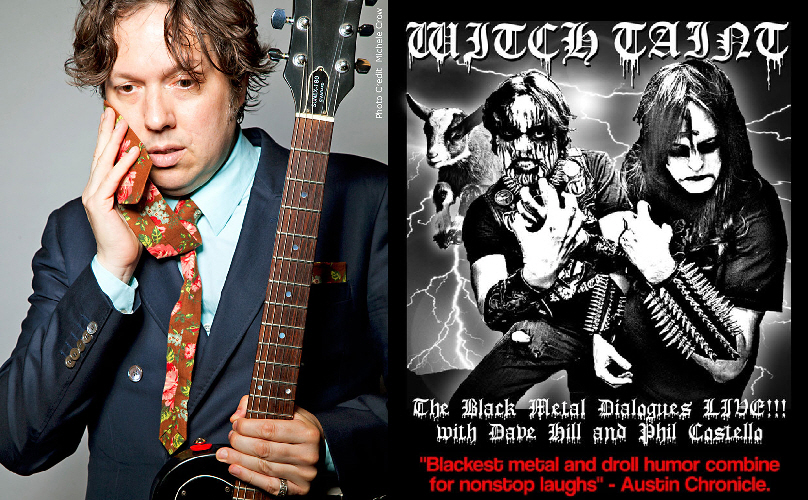 Dave Hill (one of the most original and hilariously sharp alternative comics in the country; @midnight, Inside Amy Schumer, Full Frontal with Samantha Bee, The Unbreakable Kimmy Schmidt, This American Life; host for HBO and Cinemax; host of WFMU's The Goddamn Dave Hill Show; books Tasteful Nudes and Dave Hill Doesn't Live Here Anymore; comedy album Let Me Turn You On), Phil Costello (Dave's bandmate in groups Valley Lodge and—with Moby—Diamondsnake), and Greg Barris (MTV's All That Rocks, host of Heart of Darkness) perform Dave's epic email exchange with a Norwegian black metal record label while pretending to be "Lance, a teenager living with his parents in Gary, Indiana who also just so happens to be the lead singer and sole member of the most extreme, brutal, and Satanic black metal band of all-time, WitchTaint, and hopes to get signed on the strength of one excruciatingly bad song called Necrodreamraper." To get a feel, visit Dave's website devoted to these emails, The Black Metal Dialogues, and then come enjoy the stage version: Witch Taint Live (8:00 pm; $10, Brooklyn's Union Hall at 702 Union Street; take R subway to Union Street)...

...storytellers Adam Wade (two-time Moth GrandSlam Storytelling Champion (2006 & 2009) and record-breaking 20-time StorySlam Champion; for a sampling of Adam's award-winning tales, please click here), Ashley Brooke Roberts (energetic, enormously likeable stand-up; writer for Nat Geo and MTV's Guy Code, co-host of Fresh Out), Mike Kelton (MTV), and Sean O'Brien (stand-up) tell comedic tales on this month's theme Coming Clean at David Martin's The Nights of Our Lives (8:00 pm, $7, UCB Chelsea at 307 West 26th Street)...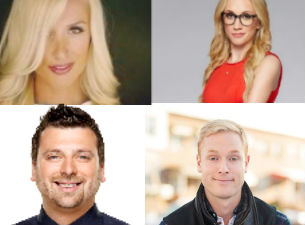 ...or see Sophie Julia, Kat Timpf, Chris Manzo, Francis Ellis, and Carolyn Gitomer tell stories and jokes about dating at Carolines: The Red Flag: A Comedy Dating Show (7:30 pm, $11 cover using discount code REDFLAG online (otherwise $22) plus 2-drink min., Carolines Comedy Club at 1626 Broadway)
NYC Comedy Picks for Thursday 7/27/17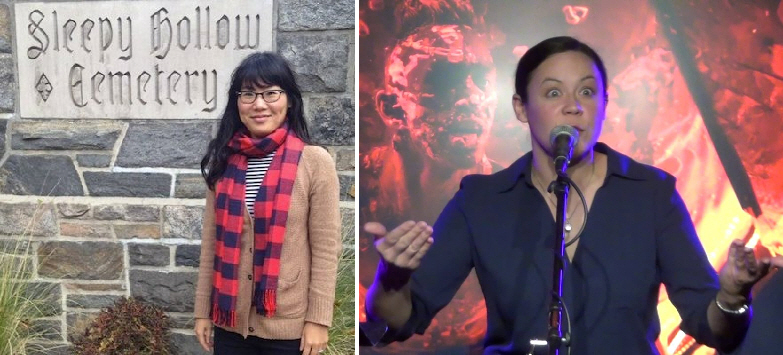 Oddball and/or terrifying tales from Jiji Lee (above left; Reductress, Above Average), Drew Prochaska (author of Where We Were When We Were Werewolves; two-time Moth StorySlam winner), Thomas Pryor (author of I Hate the Dallas Cowboys; The New York Times), and Mark Pagan (Risk!, The Moth) at this free monthly storytelling show in the East Village featuring such treats as a trivia contest with alcoholic prizes, hosted by the wonderful Leslie Goshko (above right; delightful & razor-sharp storyteller/comic/pianist; WNYC, Sirius XM, Huffington Post, Internet Action Force, star of The Real Housewives of Columbo): Sideshow Goshko (7:00 pm, Free!, KGB Bar at 85 East 4th Street off Second Avenue)...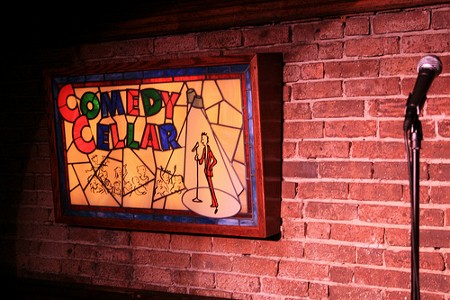 ...and among the best stand-up in the country is delivered every night at Comedy Cellar, whose six events tonight include an 9:30 pm showcase featuring Judah Friedlander, Greer Barnes, Pete Lee, Adrienne Iapalucci, and host Sean Donnelly (9:30 pm; $14 cover plus 2-item min.; Comedy Cellar at 117 MacDougal Street)
NYC Comedy Picks for Friday 7/28/17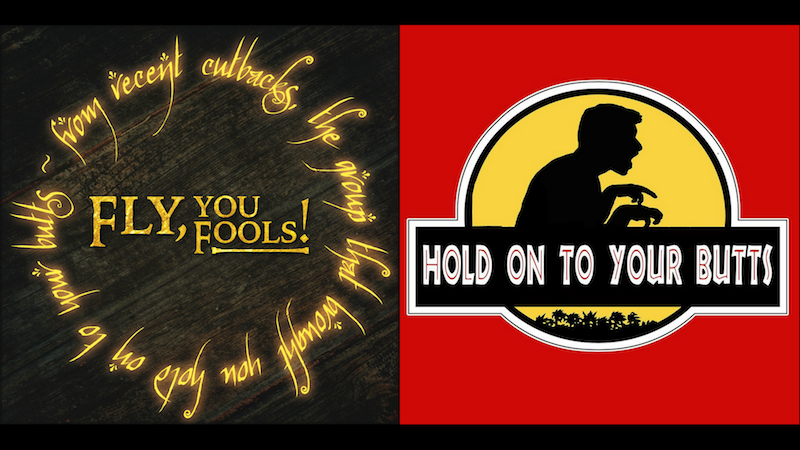 Two of the finest productions to ever grace The Peoples Improv Theater are from the Recent Cutbacks company, which includes superbly inventive director Kristin McCarthy Parker, amazing shape-shifting performers Kyle Schaefer, Nick Abeel, and Matt Zambrano, and stellar foley artists Blair Busbee & Kelsey Didion—and tonight you can see both magical shows back to back. Kicking off the evening is a live-on-stage 'shot for shot' parody of the first chapter in "the most epic fantasy trilogy of all time"—i.e., Lord of the Rings: Fly, You Fools!; and then an unforgettable live shot for shot stage version of Jurassic Park: Hold On To Your Butts...Jurassik Parc (7:00 pm, $30 for the entire double-bill (a great deal, as these shows are normally $20 each), The PIT Mainstage at 123 East 24th Street; NOTE: If this performance sells out, nab tickets for an upcoming show on Friday 9/1 or 10/13)...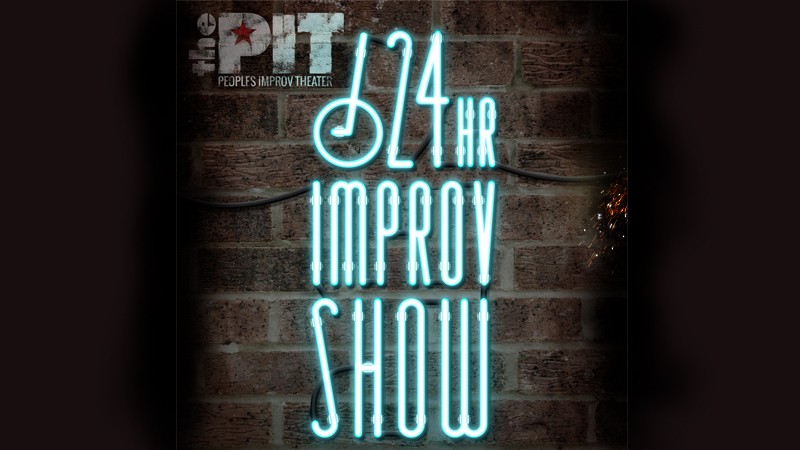 ...and while you're at The PIT, check out tonight's 24 uninterrupted hours of improv, featuring some of the best improvisors in NYC (details TBA). A mere $10 buys you admission to the entire event for as long as you care to stay and experience the 24 Hour Improv Show (7:30 pm tonight through 7:30 pm Saturday, $10, The PIT Underground at 123 East 24th Street)...

...or if you're in Brooklyn, see comics each perform an argument for why he or she should receive a Pulitzer Prize—with tonight's candidates John Reynolds (above middle; Netflix's Stranger Things and The Characters, TBS' Search Party), Jason O. Gilbert (written for The New York Times, Esquire, GQ, McSweeney's), Ziwe Fumudoh (The Onion, Reductress), Cassidy Routh (visual artist), and hosts Caroline Schaper (above left; writer for Full Frontal with Samantha Bee, former writer for David Letterman) & Eliza Cossio (above right; Senior Latina Correspondent for The Daily Show): Pulitzer Surprises (7:30 pm, $8, Brooklyn's Union Hall at 702 Union Street; take R subway to Union Street)
NYC Comedy Picks for Saturday 7/29/17
David Carl (hilarious, charismatic co-star of Point Break Live) is best known for his solo show Gary Busey's One Man Hamlet (As Performed by David Carl), which nabbed raves and awards during its debut in the 2014 FringeNYC Festival and subsequent international tour (for my review, please click here).
Three years later, Carl has created this second solo show as a weird sort of meta-sequel. Titled Trump Lear, you might at first think it's Donald Trump's One Man King Lear (As Performed by David Carl); but it's actually more complicated.
In this play, a character named "Carl David" has achieved acclaim performing Lear as Trump—and it's attracted The Donald's attention. Trump has Carl David kidnapped to perform the play in front of him...and also his social media audience. If Trump decides he doesn't like what he sees, or if the show fails to maintain the interest of POTUS' Internet followers, he'll have the actor executed.
What follows is a complex blend of Carl's impersonation of Trump, unusual performances of scenes from King Lear (involving toys, paper puppets, and impersonations of a host of characters ranging from Ronald Reagan to Miss Piggy), and frequent conversations between Carl David as struggling artist and Trump as supremely successful showman.
The key power of this production is actually in the latter. Carl David is played as a poor, bumbling artist who makes most of his living from Trump impersonations, yet has devoted his life to achieving and conveying truth. In contrast, Trump has won the greatest power in the world—President of the United States—by embracing and perpetually dispensing lies. The tension between those two extremes is sometimes electric. Plus there are moments when Carl makes himself so vulnerable that this play achieves a feeling of realness managed by few productions, be they comedy or drama.
And on top of all that, where else are you going to see a Shakespearean actor eat a McDonald's burger and fries in under 60 seconds? (About halfway through, Carl rolls the fries into a giant greasy white ball he then stuffs whole into his mouth, which is nearly worth the price of admission by itself...)
One extra spin to this meta-show is knowing that, in real life, it's rumored there was some sort of blowback from Gary Busey's people about Carl's first show—because the original brilliant title Gary Busey's One Man Hamlet (As Performed by David Carl) was changed about a year ago to David Carl's Celebrity One-Man Hamlet. But even if a brush with Busey's reps was the seed that led to the creation of this second show, Trump is both far more and far less than a stand-in for Busey.
A major difference is that Carl appears to loathe Trump, but I believe he continues to adore Busey. For example, after the production I asked Carl why Busey isn't among any of the dozens of impersonations he performs in Trump Lear. "Oh, I couldn't let him in," Carl replied. "I'd love to, but then I wouldn't be able to keep myself from making his role bigger and bigger until he took over."
David Carl is a special comic, and this is a show worth experiencing. Trump Lear is currently running 2:00 pm every Saturday through August 12th at Under St. Marks at 94 St. Marks Place, off First Avenue. Tickets are an extremely reasonable $20...and typically include free brownies baked by the multi-talented Carl himself.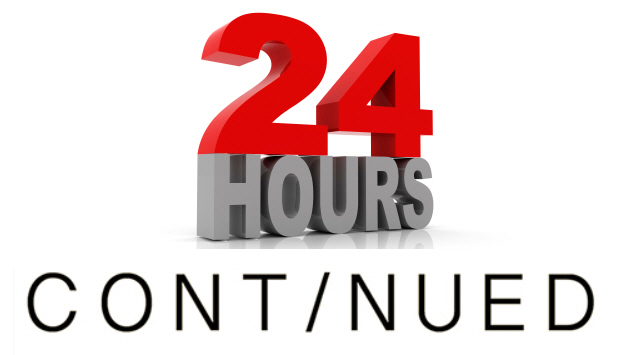 The PIT's 24-hour improv marathon began last night at 7:30 pm, and it's running continuously through tonight at 7:30 pm. A mere $10 buys you admission to the entire event for as long as you care to stay and experience the 24 Hour Improv Show (today from 12:00 am through 7:30 pm, $10, The PIT Underground at 123 East 24th Street)...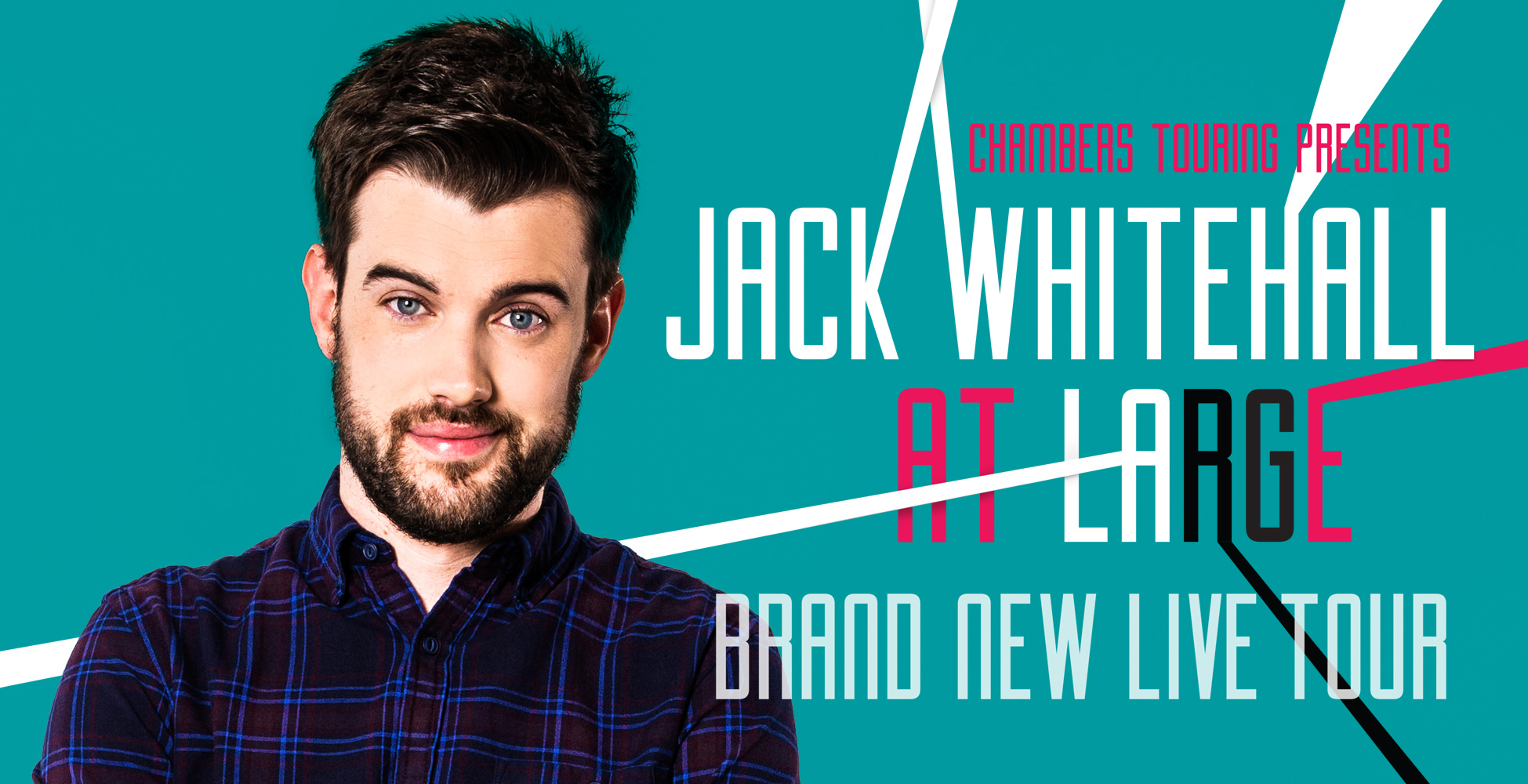 ...or if you prefer jokes, a major UK stand-up & TV star (for his April 2016 set on Jimmy Fallon, please click here) performs for one night only in Brooklyn as part of an international tour: Jack Whitehall (8:00 pm, $15, Music Hall of Williamsburg at 66 North 6th Street; take the L subway to Bedford Avenue)...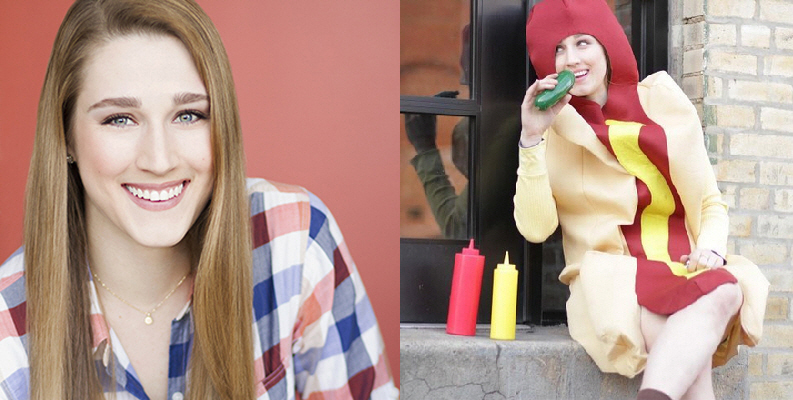 ...or enjoy beloved NYC comic Morgan Miller (Above Average, UCB improv group Mermaids; sometimes does a duo improv show with her brother T.J. Miller) perform a half hour stand-up set...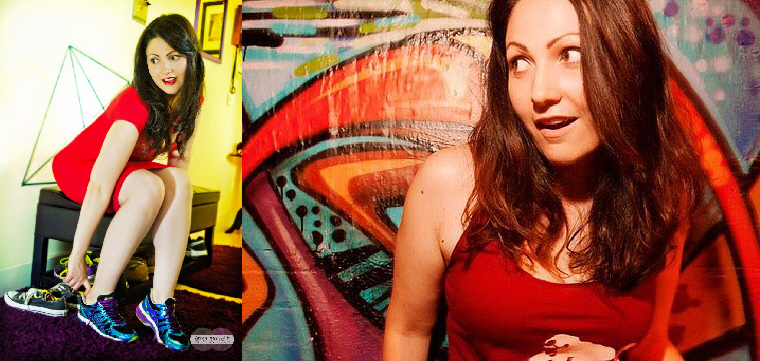 ...followed by a half hour stand-up set by Jaqi Furback (VH1, Funny or Die), both hosted by Ryan Crawford & Lawson Leong: The Double Feature (7:30 pm, $10, Astoria Queens' QED: A Place to Show & Tell at 27-16 23rd Avenue)
NYC Comedy Picks for Sunday 7/30/17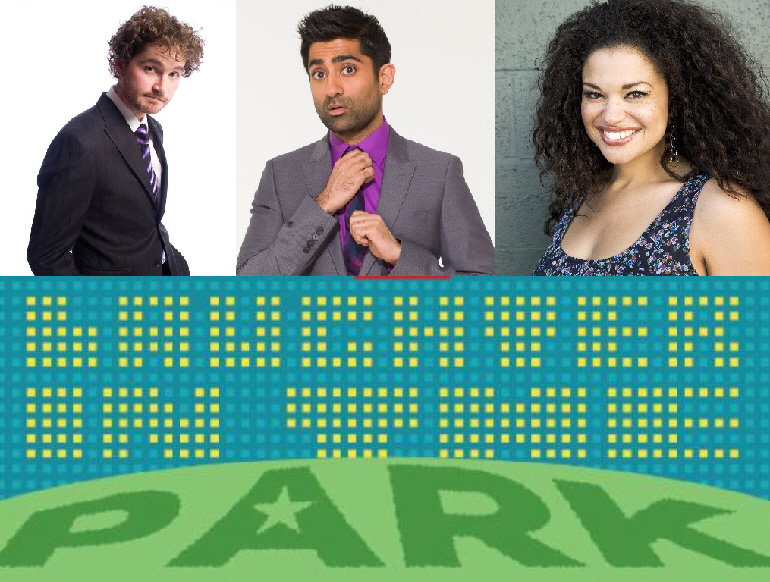 This final installment of a a 4-Sunday series of free outdoor comedy shows in July at NYC parks features Michelle Buteau (above right; VH1's Morning Buzz and Best Week Ever, Comedy Central's Key & Peele, FOX's Enlisted, Craig Ferguson, Last Comic Standing, @midnight, comedy album Shut Up), Charlie Pickering (above left; Australian comedy star; host of ABC's The Weekly), Saurin Choksi (above middle; host of Fuse's White Guy Talk Show), and Anthony DeVito (Stephen Colbert, Comedy Central Half Hour, This American Life): Laughter in the Park (2:00 pm-4:00 pm, Free!, Central Park by the West 67th Street entrance at Mineral Springs)...
...plus SNL's Melissa Villaseñor (above right), Brandon Scott Wolf (above left; contributor to SNL's Weekend Update; Best Time Ever with Neil Patrick Harris), Noah Findling (Funny or Die), Lucy Randall, and sketch group The Postmen (Carmen Christopher, Anthony Oberbeck, and Matt Barats) perform stand-up or sketch in Brooklyn hosted by Harris Mayersohn & Jessy Morner-Ritt: Just a Show (6:00 pm, $6, Brooklyn's Sunnyvale at 1031 Grand Street)
Copyright © 2017 Hy Bender
Email: hy@hyreviews.com