Hy on the Fringe: Your Personal Guide to the
2015 New York International Fringe Festival
This Reviews Page Was Most Recently Updated: August 31st 2015
Your Love, Our Musical, Beware The Chupacabra!, and Divine/Intervention
I assign all shows seen one to four stars, using the following rating system:
**** = Transcendently Great
*** = Solid & Worth Seeing
** = Unless Your Relatives Are in the Cast, Think Twice
* = "I Wanted to Kill Myself"
This page provides reviews of select FringeNYC 2015 shows I've seen from beginning to end. Because of time constraints I won't be able to review every FringeNYC show I see, but hopefully what follows will give you a sense of what I'm considering when rating & ranking any show.
You can learn more about any show by clicking the photo I include to the right of its review, which will take you to the production's website. You can also read the official description of the show, see when and where it's playing at the festival, and order tickets by clicking here.
Please keep in mind these reviews have to be written in a hurry. If you spot any factual errors, please don't hesitate to let me know by emailing hy@hyreviews.com. I'm always happy to make corrections and updates.
The following are the 20 FringeNYC 2015 shows I've reviewed to date:
Beware the Chupacabra! had a rocky start. It was scheduled to premiere on August 19th, but that first performance had to be canceled due to an air conditioning breakdown at its Venue #13, The Lynn Redgrave Theater. Beware didn't reach the stage until August 26th, becoming the very last of the 185 festival productions to open.
As it turns out, fate saved the best for last.
This oddball tale starts by exploring poverty and politics in 1920s New York, and then veers off to the jungles of Mexico in pursuit of a legendary beast. As even that brief description indicates, the storytelling choices are unconventional. In fact, they sometimes break the rules so far as to hinder a fully satisfying emotional experience. But such problems are offset by the show's freshness, brashness, and insistence on doing the unexpected.
And anyway, story isn't the main reason to see this. Thanks to genius Christian De Gré, it's the composition and orchestration.
This production provides, as far as I can determine, the finest music at this year's FringeNYC. Indeed, De Gré's exquisite music is in a galaxy all its own. It's brought to life by a four-person band consisting of Aaron Butler on piano, Aaron Patterson on flute and alto sax, Sarah Cohen on clarinet, and Jeffrey Hodes on bass clarinet; and by a group of fine performers who include operatic singers. Especially notable is the show-stopping title song, which is both hilarious and likely to keep you humming it for weeks.
De Gré broke new ground last year with his operatic dark children's tale Fatty Fatty No Friends. Beware the Chupacabra! continues to push boundaries via quirky productions no one else would even dare attempt.
If you missed this during its too-short run at the festival, grab tickets for its FringeNYC Encores extension at Soho Playhouse.

| | |
| --- | --- |
| Rating: **** | |
I once watched a dessert expert explain, "I'm about to rate these chocolates from 1 to 10. But the first thing you need to understand is that they all start out with a 5 just for being chocolate."

Similarly, comics performing musical improv start off with a 5 just for having developed the awe-inspiring skill of being able to make up on the spot rhyming lyrics, music, and a series of songs that add up to a cohesive story.

Even so, Rebecca Vigil & Evan Kaufman are such an extraordinarily strong 10 that they're virtually in a musical improv category all their own.

The format for their show Your Love, Our Musical is beautifully simple. They quickly, and almost randomly, select a couple from the audience, and then spend 30 minutes interviewing the couple about how they met and fell in love. Vigil & Kaufman somehow consistently fill this interview process with charm and laughs, which is a damn impressive feat by itself.
But then they allow the couple to return to their seats—and spend the remaining 30 minutes making up an entire musical about the couple on the spot, integrating everything they learned into a delightful tale of love while musically aided by a three-man improv band. This is the heart of the show...and is pure magic.

I've been following Vigil's career for years as a top solo musical improvisor with a lightning-quick mind and powerhouse voice. But when she teamed with Kaufman, the game of both of them reached wonderful new dimensions. At times it's almost like the duo are reading each other's mind. And yet they clearly delight in surprising each other, trying to top each other, and making each other laugh—all while you get to watch and marvel at their special kind of genius.


In case you're wondering, Vigil & Kaufman are not romantically involved. That said, they're two of the very best musical improvisors alive who happened to find each other and bring out the very best in each other...and what more can one ask of any couple?

Although I'm writing this on Day 1 of the festival, I can say with confidence this is one of the very best shows of FringeNYC 2015. Further, every performance will be utterly unique, so you can enjoy seeing this show over and over again.

Two caveats. First, the current venue for the show, called the Spectrum, is more of a den than a theatre, so there's no raised seating. That means to fully enjoy this show, you should get on line early and nab seats up front.

And second, the show sold out its entire run before the festival even began.

That said, I'll be shocked if Your Love, Our Musical isn't picked up for extended performances via the FringeNYC Encore series—and hopefully in a venue that allows a clear view from any seat in the house.

Whether you were wise enough to grab tickets for this current run or keep a lookout for subsequent runs, definitely see this unique production that raises the state of improv to breathtaking theatrical heights.

| | |
| --- | --- |
| Rating: **** | |
The most nonstop laughs at FringeNYC this year were provided by a show about theatre.
In Being Seen, an actress is auditioned by a director to join his company. She's put through a series of challenges that range from tap dancing to playing a trapped fly to being asked to reveal a secret she swore to never tell.
Her willingness to plunge headlong into each request for the sake of being accepted, coupled with her lack of understanding of what's really being asked of her, is a generator of endless comedy.
At the same time, serious questions are raised. You may find yourself wondering, What would I put up with to win a dream assignment?; If I was the director, would I choose that actress?; and Is the director insane, or is there method to his madness?
This is exhilarating theatre, brilliantly scripted by Richard Gustin and directed by Mindy Cooper to be simultaneously comedic and thought-provoking.
And it's beautifully acted by Broadway veteran William Youmans as the enigmatic director, and by Allison Minick—who has the challenging task of playing an actress less talented than she is, blending comedy and pathos, and getting tons of laughs through her facial expressions and body language as she reacts to each absurd directorial suggestion. Minick somehow pulls it all off, and the result is magic.

Being Seen was the very last show I saw at the festival (the 65th, not counting the productions I left mid-stream...), and I couldn't have asked for a better way to bid adieu to this year's FringeNYC. If you're a producer, fund this wonderfully layered comedy about achieving dreams, which absolutely merits a long commercial life beyond the fest.

| | |
| --- | --- |
| Rating: **** | |
Who expected a bio-play about cult icon Divine, who was most famous for eating dog poop on screen, would be among the best-written and smartly directed shows of the festival?

Certainly not me. But the electric dialogue of playwright E. Dale Smith, riveting performances evoked by director Braden Chapman, and superb cast of Divine/Intervention are undeniable.
The show grabs you right away with commentary following Divine's death in 1988 due to an overworked heart (at age 42, he was 370 pounds...). John Waters, whose movies catapulted Harris Glenn Milstead to fame, explained, "Divine had a look. He'd wear cut-up miniskirts when he weighed 300 pounds. And that was exactly what I needed. My audience had always been minorities who couldn't even fit into their own minority, so they could identify with her."
We're then presented with a fascinating conceit: The same person appearing on stage as two people. On the left is Milstead as his friends and family knew him, an actor pursuing a wide range of great roles (played by Ryan Walter); and on the right is his character Divine, who People Magazine once described as the "Drag Queen of the Century" (played by Bobby Goodrich), The two of them interact in a variety of ways over the course of the play—sometimes old friends, sometimes fierce rivals, each striving to control the other and become the primary identity. And along the way we meet a few other memorable characters, including John Waters (played deliciously by Nicholas Scheppard).
The play is great, both for the portrait it paints of Milstead/Divine, and for the metaphor if offers for anyone who's torn between two or more personas—which is likely to have special resonance for LGBTQ audiences.
I fully expect this show to go on to a commercial run...and to be a hit.
Morality is in flux in 1970s California, where young teen Emily's parents pursue an open marriage—each of them is seeing a boyfriend on the side—while neglecting Emily and her siblings. That's the foundation for this coming of age dramedy, which is based on the real-life adolescence of writer/actress Katie Atcheson...and which does virtually everything perfectly.
For starters, Atchson's wonderful script never strikes a false note. And it's brought to life beautifully by Josh Hecht (Drama Desk Award winner), whose highly intelligent direction sets a consistently crisp pace.
Chet Siegel (a comic/improvisor at UCB and The Magnet) plays Emily with such organic openness and commitment that you can't help but emotionally bond with her right away—at which point she carries you to anywhere the story needs you to go. It's precisely this quality directors seek in stars for major feature films, and Siegel delivers it with seeming effortlessness.
Also especially notable is Bradford Cover (A Thousand Clowns on Broadway), who as the dad runs a hilarious gamut of emotional instabilities.
That said, the rest of the cast is also fine; as are the costumes, the stage design, and pretty much any other element you can think of.
This production is actually more mainstream than Fringe. At core, it's about Emily's loss of innocence, as she learns that trust is a precious gift that shouldn't be lightly given or taken; and also learns that people are both worse and better than expected.
In other words, it's simply great theatre.
6. The Portable Dorothy Parker


Rating: ****
Dorothy Parker is renowned as a sharp-tongued wit. Her wealth of concise and hilarious observations are perfect for a "best of" collection, which is what leads an editor from Viking Press to visit her residential Manhattan hotel room in 1943 to select what will appear in a book titled The Portable Dorothy Parker.
Of course, the scenario also provides a perfect excuse for this one-woman show to share Parker's finest bon mots.
This is actually the second time a FringeNYC show has focused on Dottie. The first was in 2008 and titled That Dorothy Parker (for my review, please click here). In fact, I almost didn't see this new production because I was worried about being bored.
Happily, it turns out I was an idiot to have any such doubts. Not only does Parker's material hold up brilliantly to repetition, writer Annie Lux breathes new life into it by surrounding Parker's words with copious anecdotes about the luminaries of her day—Ernest Hemingway, F. Scott Fitzgerald, Lillian Hellman, and many more—based on in-depth research. For example, this story is told about Parker foe Clare Boothe Luce:
One afternoon Clare and I arrive at the Algonquin Hotel at the same time...She gestured to me, oh so graciously. As I started towards the door, she said, "Age before beauty."
Well, I sailed past her and said, "Pearls before swine."
Someone once defended Clare to me, saying "She's kind to her inferiors."

"Kind to her inferiors?" I said. "Tell me, where does she find them?"
I hate the rich. You want to know what God thinks of money, just look at the people He gave it to.
Even when an old chestnut is included, Lux takes care to give it a new spin by adding information you probably never knew:
"Men seldom make passes at girls who wear glasses."
Isn't that the worst goddamn drivel? I hate it. I hate that people love it. It's not a poem, it's barely a ditty. And I certainly don't want it to be the thing I'm best remembered for after I'm dead.
On the other hand, it might get the spectacle manufacturers all riled up again. Oh yes, those nine little words made sales of eyeglasses drop twenty percent!
All this is delivered with a relentlessly straight face and impeccable timing by actress Margot Avery, who is as fine a Dorothy Parker as anyone might hope for.
The work of artists such as Lux & Avery will help ensure that Dorothy Parker is remembered for far more than a joke about glasses.
This is the finest one-person show I've had the pleasure of discovering at the festival. Don't miss it.
| | |
| --- | --- |
| Rating: ***½ | |
In 1943, the deadliest civilian disaster of WWII happens in a London tube station. This drama explores the event, the investigation, and the repercussions.
While most Fringe shows tend to emphasize extremes, this play is all about shades of gray. The nuanced writing
by Martin Casella, based on the novel by Jessica Francis Kane, is strong; Alan Muraoka provides smart and inventive direction (e.g., the cramped crowding in the tube is conveyed by cast members lining up in the space between the audience and a large pillar in the Lynn Redgrave Theatre); and lead actor Michael Countryman (whose Broadway credits include Wit, Mary Stuart, Night Must Fall, Holiday, and A Few Good Men) is mesmerizing.

There's nothing really "Fringe" about this; it's a serious, superb production that will likely go on to a commercial run. If you'd enjoy an exceptionally well done dramatic play, take a break from the cake and ice cream of most Fringe shows and partake of this steak dinner.
A general rule of autobiographical theatre is, "Don't do a disease show." Getting a serious illness evokes such intense emotions that it's natural to want to share your experiences. But the danger is that the result will be akin to making friends watch your vacation slides—i.e., no one will care nearly as much as you do.
Which makes Jessie Bear's achievement extra special. She dares to violate this rule—her show is all about learning she has diabetes in December 2013, and what follows from that discovery. And yet every moment is highly compelling and entertaining, because Bear manages to make her show about much more.
Bear begins by sharing the feelings she used to have about her once-overweight body:
I hate my thighs. When it gets really hot out I can't wear a dress or a skirt, because my legs will rub against each other and get really red and irritated, creating a rash that super hurts. I walk around hurting with every step—as if my body's saying, "You are so disgusting, you don't even deserve to walk without pain..."

My legs are too big. My butt isn't smooth enough. My eyes are too small. My stomach is enormous. My arms are enormous. My chest is enormous...but not my boobs, which are actually the most modest thing about me. I am enormous. And I hate, I hate, I hate that I am enormous.
But a few minutes later, Bear makes an extraordinary promise:
This play is going to end at 10:15—when I look you in the eyes and tell you that you're beautiful.

I would do it now. Because it is as true now as it will be at 10:15.
But I'm afraid that if I do it now, some or all of you will just dismiss me outright.
I'm hoping that when I do it at 10:15, a few—even one—of you who would dismiss me outright now will actually hear me.
Then I think this play will have been a success.


Spoiler alert: Bear's show is a huge success. Because Bear wisely springboards her disease into a learning opportunity about what it means to be human on a fundamental level, you might well leave her show permanently changed for the better.
Kudos also goes to Anne Flowers, who enhances what's mostly a one-woman show by playing every character Bear mentions—idiot doctors, unfeeling nurses, her boyfriend, the Internet, and more; and to Sebastian Moya for pitch-perfect panel cartoons illustrating Bear's medical points.
Type What Now is very highly recommended. You absolutely don't have to care about diabetes to appreciate it; all you need is a body and a sense of humor.
9. Sunrise(from the Crazy Angel Company in Japan)


Rating: ***½
This show from Japan is high energy brass-filled joy.

A crack team of Japanese musicians play such wind instruments as trumpets, trombones, tubas, saxophones, flutes, and piccolos—and yet more musicians work keyboard, bass, guitar, standard drums, and Taiko drums.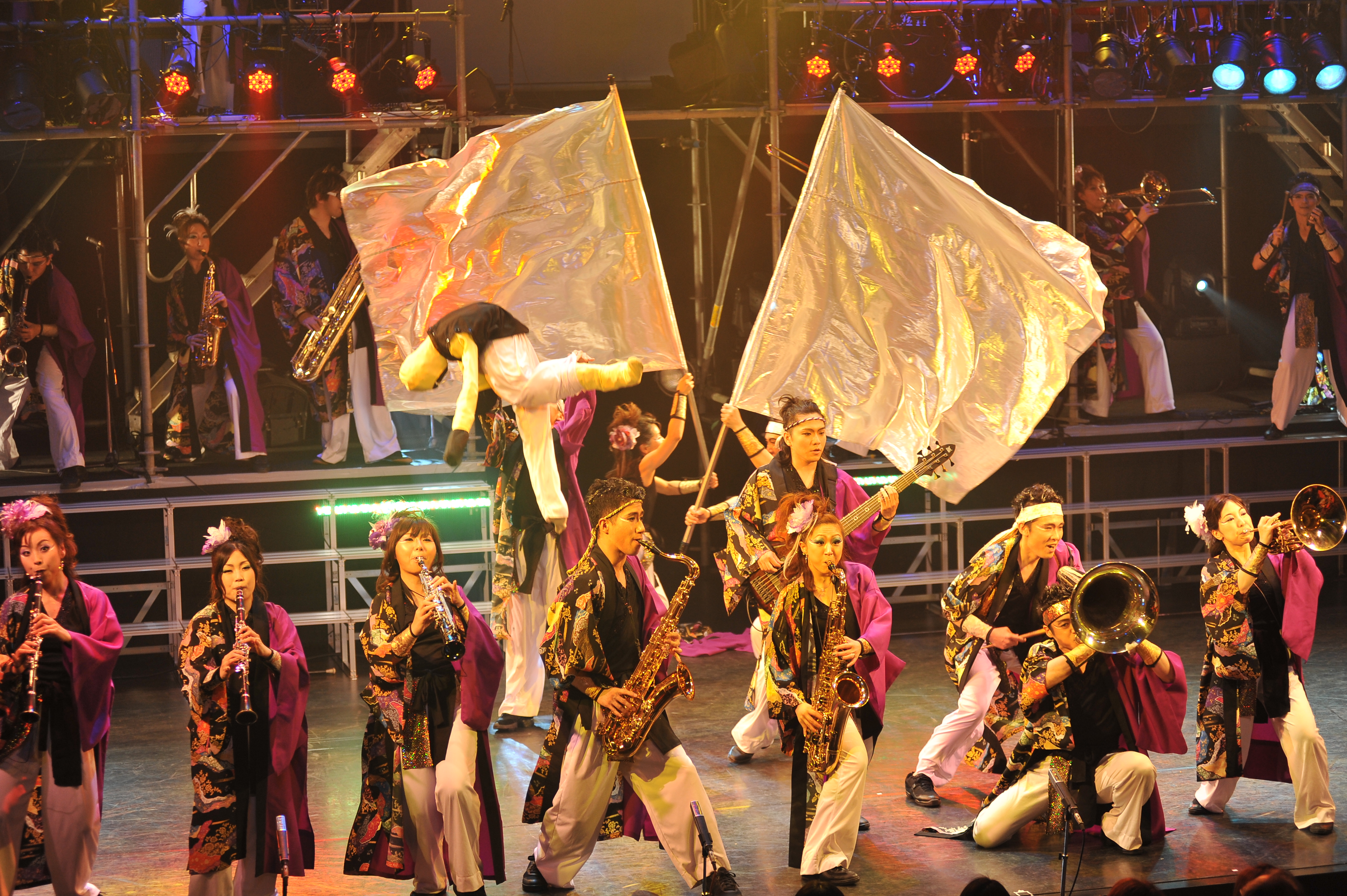 The music comes from Japanese folk songs, but are given modern arrangements—and accompanied by colorful costumes, dance, and theatrical Katana combat that often involve spinning flags or swords.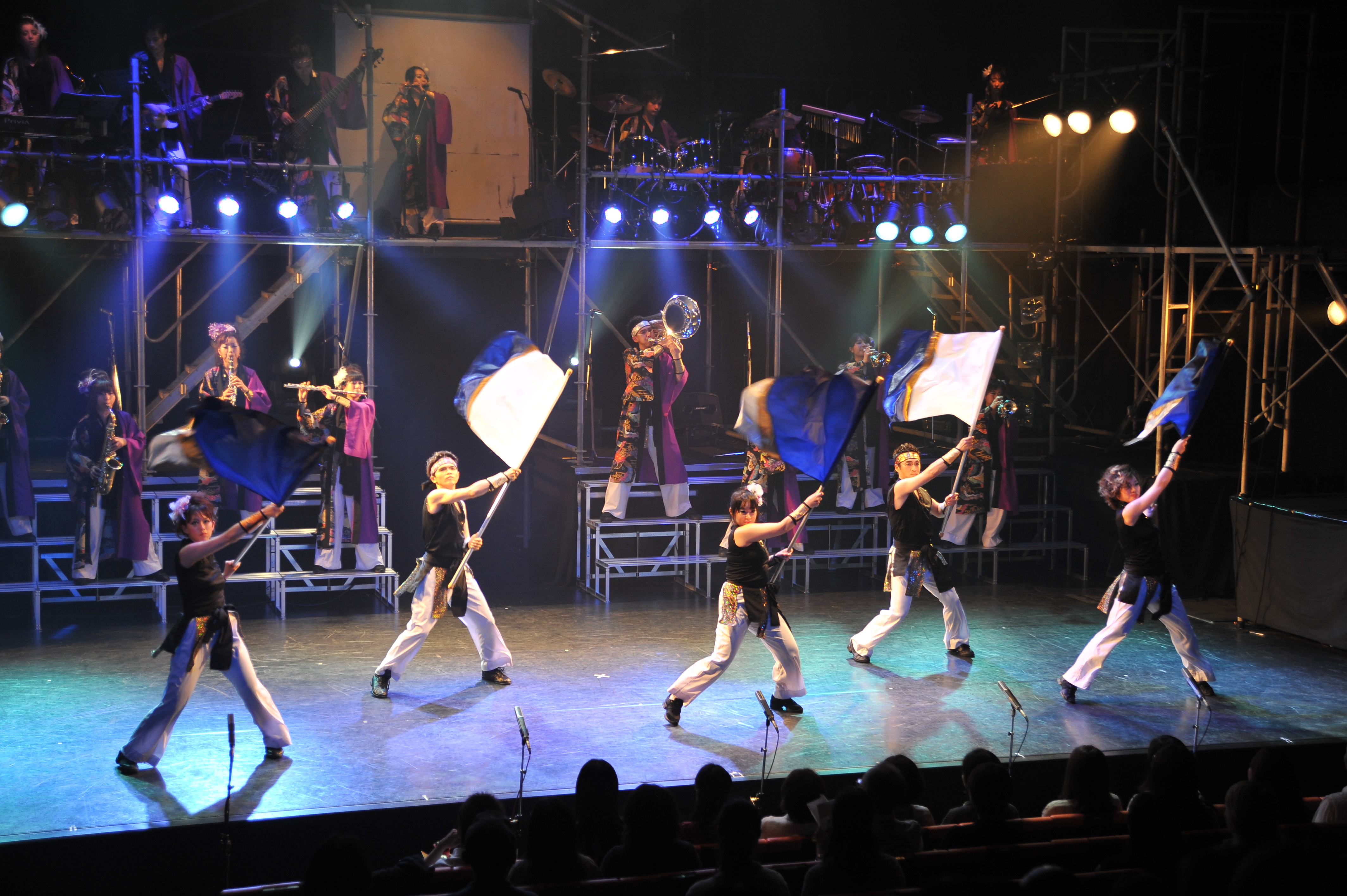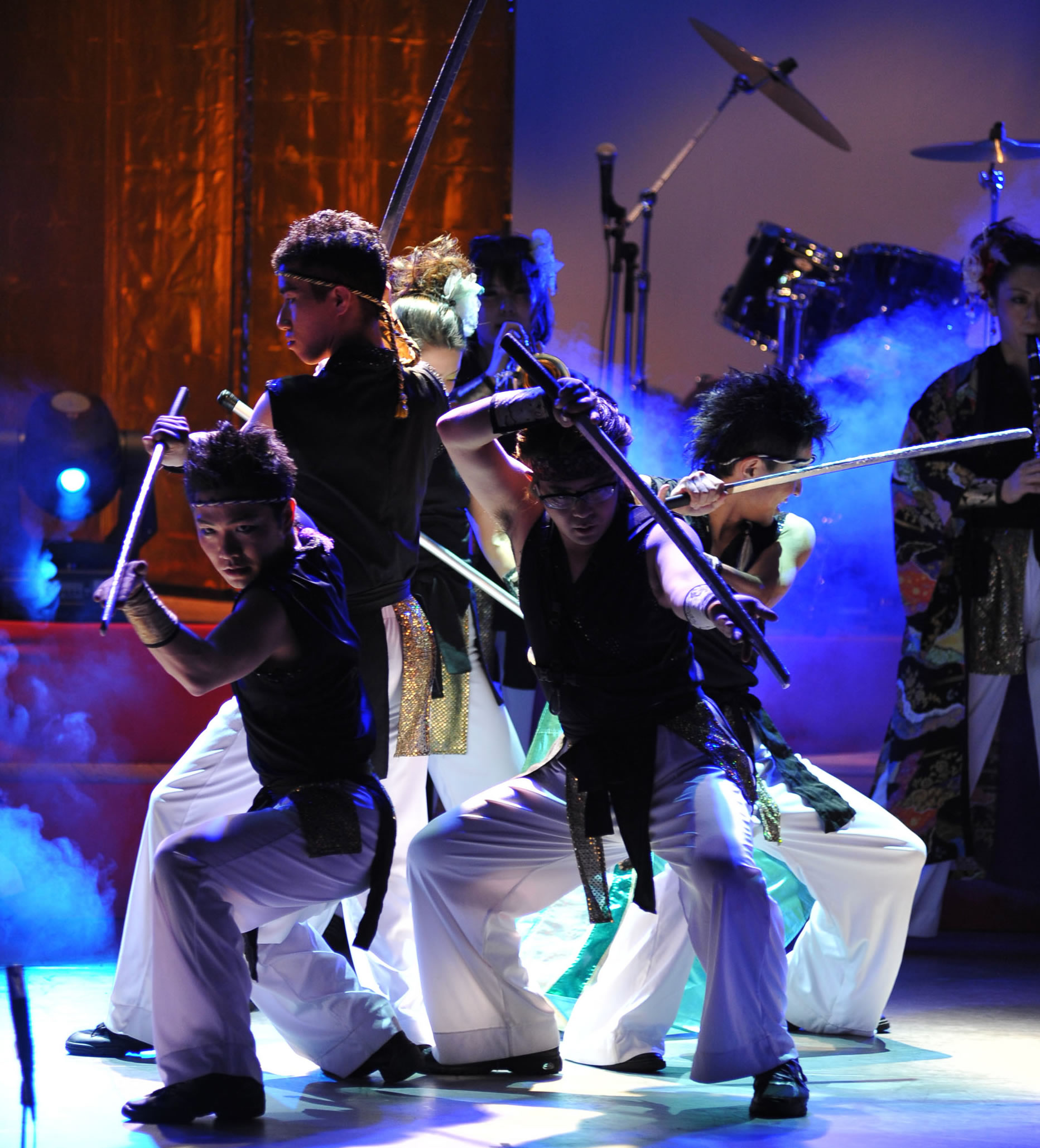 In fact, the word "Gahou" in the show title means both "beautiful motion" and "roaring/wildness," and this production delivers on both meanings. Adding to the latter are Japanese wooden clappers, called Naruko, that are distributed to everyone in the audience, allowing you to actually participate in keeping the beat.
If you need a story, this isn't for you. And ditto if you're turned off by a smidgeon of schmaltz, an element common for Japanese productions. But if you enjoy music performed with tremendous skill and style, don't miss the opportunity to see this special show, which is in NYC for only the first three days of the festival—after which the company is immediately flying back to Japan.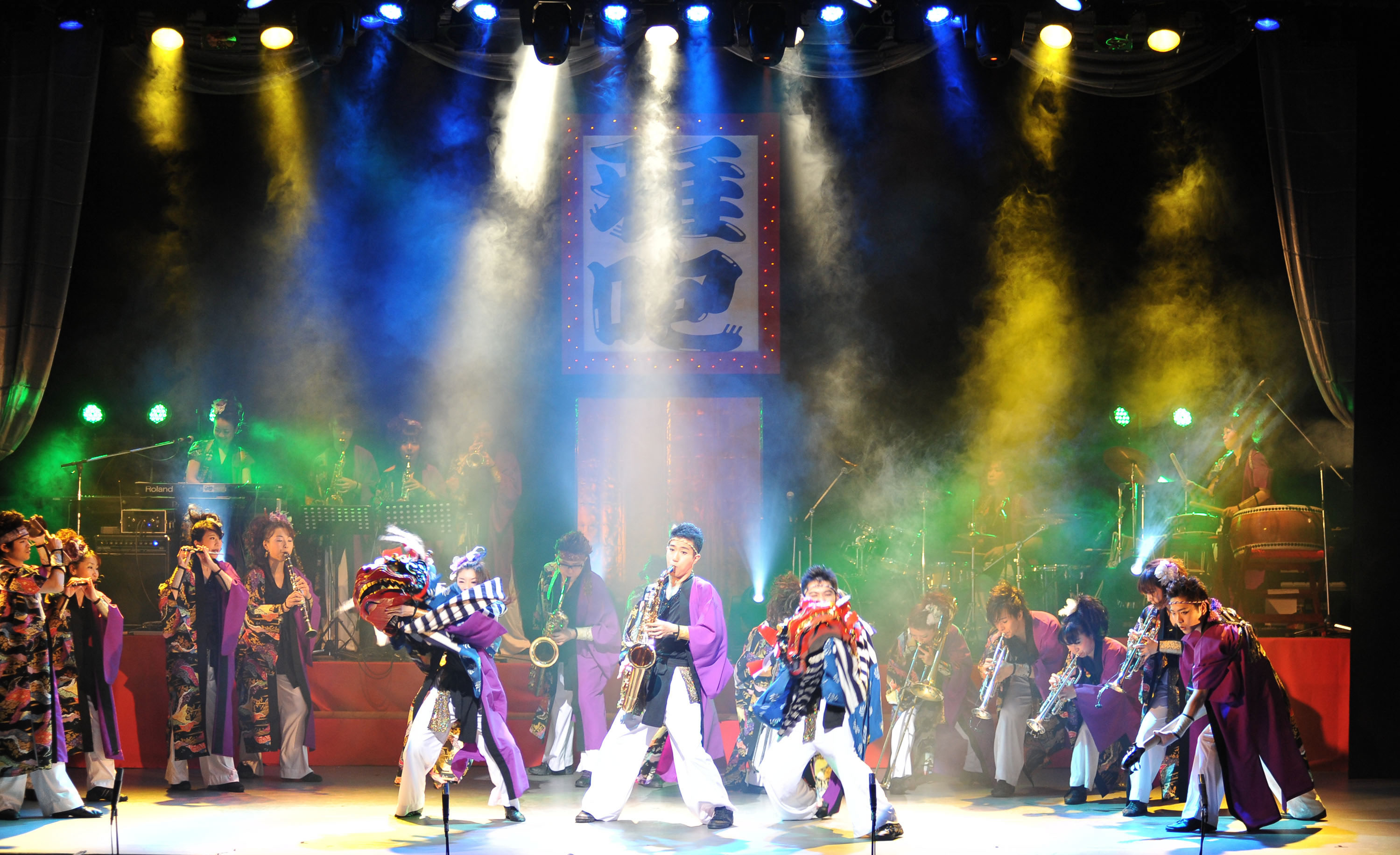 10. She-Rantulas From Outer Space...In 3D!


Rating: ***½
When you attend a show titled She-Rantulas From Outer Space...in 3D! (and whose program guide advises, "To avoid fainting, keep telling yourself it's only a play..."), you know you aren't getting Shakespeare.
But you might not realize that you're also not getting science fiction.

The genre of this show is best described as "alienation in drag." It's a sly campy parody of the manners & social conventions of 1950s suburbia...with its "anytown" slowly destroyed by a little girl who's different from everyone else.

Not very far beneath the surface, this play is a comment on how people used to—and in many places, still do—perceive gays and other minorities as threatening to their way of life, just by existing. (As stand-up Mark Normand once put it, "'How do you feel about gays getting married?' is the only political issue for which 'I don't care, doesn't affect my life' is exactly the right answer.")

In that context, it's telling that the freakish She-Rantula doesn't actually have any special powers. She commits her murders using candle holders, letter openers, and other items commonly found around the home. (The only difference is that after she does the deed, she sucks her victims off—err, I mean sucks them dry...)

Standard elements such as plot, action, and character development are virtually irrelevant to co-writers Phil Johnson and Ruff Yeager (who also directed). This play instead focuses on telling its joke over and over in endless variations. As a result, the comedy is subtle and delicate—a performer-in-drag's turn of eye, vocal tone, or swish of a particularly absurd outfit is often all the punchline delivered...or needed.

The five actors—Phil Johnson (super hilarious as the creature's mom), Tony Houck (pigtailed 11-year-old Suzie She-Rantuntula), Fred Harlow (a larger-than-life comic who provides continual visual and volume laughs), Andy Collins, and Samantha Ginn—are all wonderful at balancing over-the-top performances with nuanced comedy.

This show definitely isn't for everyone. But if you can "get" the joke, you'll find it performed with deliciously wicked skill that will keep you entertained throughout.


| | |
| --- | --- |
| Rating: *** | |
To Dance: A Musical reenacts the true story of Valery Panov, a Russian Jew who became a ballet star in the Cold War era despite being heavily oppressed by his country's anti-semitism and anti-individualism.
As you might expect, in addition to the usual musical numbers this production features some fine dance moves—especially from Kathryn Morgan, a former stellar member of the New York City Ballet, who plays Panov's future wife; and from Jesse Carrey as a dynamic, athletic, headstrong Valery.
Other notables among the dozen performers are Rick Roemer as a despicable KGB agent; Joey Ama Dio, who plays relatively small roles but shines in them, especially when singing and dancing; and Andrew DiTusa as a young Valery. Special kudos to the production for taking the time and effort to cast a highly talented and appealing actual boy to play a boy character (please take note, Hell is For Real...).
This show isn't exceptional, but it's compelling throughout. If you're interested in either dance or cold war politics, you'll probably find it worthwhile.


| | |
| --- | --- |
| Rating: *** | |
Andrea Alton is best known for playing Molly "Equality" Dykeman, a security guard at PS 339 who writes poetry while popping Cheetos and anti-depressants, and who hits on all the women attending her readings. (If you're curious to get a feel for Molly, please click here and here.)
Alton goes in a very different direction for Possum Creek, playing a woman named Beth Ann during the US Civil War. While Molly works as a guard, is headstrong, and doesn't hesitate to grab whoever or whatever she wants, Beth Ann is a virgin who sits in her room wearing an impossibly large dress (see photo above), writes letters to a soldier who keeps failing to write back, plants sunflowers instead of much-needed crops, and simply has faith that everything will turn out all right—even as people around her drop like flies from disease, combat, famine, accidents, and other dangers in the harsh environment of Possum Creek, Ohio.
Through gentle humor, Alton evokes both an era and a unique character championing hope who you're likely to long remember.
Alton is a sharp writer and highly skilled comedic actress, and she's created another winner with Beth Ann. Come see this show...and then plant some sunflowers of your own.


| | |
| --- | --- |
| Rating: *** | |
This popular comedy showcase from Los Angeles features a mix of superb and pretty good professional stand-ups. In that respect, it's no different from a number of shows you can see any night of the week in New York City, which is the stand-up capital of the world (for links to top NYC comedy venues, please visit my blog at BestNewYorkComedy.com).

But host Nicole Blaine (photo above) sets her show apart by ending with a performance from someone who's never done stand-up on stage before—hence the show's title, Virgin Sacrifice. The anticipation regarding this novice headliner is not unlike that of NASCAR fans waiting for a car to crash and burst into flames.
Blaine builds on this tension by interviewing each professional stand-up after his or her set to ask for a brief story about the comic's first time with something—e.g., her first kiss, his first professional joke. And then Blaine asks for one piece of advice the pro can offer the "virgin." These interviews provide some of the best moments of the show.
Blaine has never done comedy In New York before...and at times it shows. For example, she closed her first night with, "Drive home safely." No NYC comedy host would even think of saying that. (More accurate would be, "Take the subway home safely...") But am confident she'll pick up our town's vibe over time.

Blaine is bringing on an entirely different group of comics for each performance, so if you like Virgin Sacrifice, feel encouraged to come enjoy it multiple times. You can find the scheduled lineups—which include such greats as Myq Kaplan, Michelle Wolf, Joe Pera, Carmen Lynch, Keith Alberstadt, and Seaton Smith—posted here.
14. Hell Is For Real: A Musical Comedy


Rating: **½
Hell Is For Real is a musical with an identity crisis.

On the one hand, its humor is a bit too sophomoric, characters too flat, and logic holes too wide to appeal to a mass adult audience.
On the other hand, it's about a 6-year-old boy who is accidentally sent to Hell and is later pursued by Satan, which is too nightmare-inducing to work as a children's tale.
This "What am I?" confusion is exemplified by the casting of the boy...who is played by an adult actress. There are some great precedents, such as Mary Martin in Peter Pan—but this ain't that. The actress is given the daunting task of portraying a boy who is both adorable and suffering from Hell-induced PTSD, and ends up alternating between overly cute and sociopathic brat. Even worse, there's zero chemistry between the "boy" and his dad. It's hard enough to suspend our disbelief over the fantasy elements; we shouldn't have to strain even harder to pretend the father and son have any love for each other...
Another damaging choice is telling most of the story in flashback. A fantasy about Hell must strive extra hard to immerse the audience in its internal reality, so setting the bulk of the scenes in the past—and worse yet, reminding us of it by periodically returning to scenes of "the present" in which the dad says little beyond, "See? I told you that you wouldn't believe me!" to a thematically irrelevant detective—keeps pulling us out of the story and reminding us we're watching artifice.
Yet another issue is a slow pace that uses song in place of action. Many songs happen for no apparent reason, failing to advance the plot or provide notable insights into those doing the singing, which makes the show feel padded.
On top of all these missteps, I'm told one of the central actors of the performance I saw on 8/16 arrived in a, shall we say, state unsuitable for work, resulting in the memorable flub of his referring to the boy character as "little girl." His calling attention to the gender of the actress playing the lad created considerable awkwardness on stage (though it also garnered the audience's biggest laugh...). The actor has since been replaced, and the production contends what's left of the run will be substantially stronger for it—and it may well be right about that.
One other positive worth mentioning is the ending is much better than any other part of the story. So if you see this, you're likely to feel some emotional satisfaction by the climax.
While I can't recommend this show, it's not dreadful either. If various poor choices are fixed, along with gaping logic holes—such as why in the world Satan would be interested in the boy in the first place, or why God would ever accept a clearly insincere repentance—it might have some chance at an afterlife post-Fringe.
| | |
| --- | --- |
| Rating: **½ | |
There are essentially two kinds of plays about gaming: Those that celebrate it throughout, and those that revel in it for the bulk of the show and then apologize for having a good time.
To my enormous disappointment, this otherwise promising show about four gamers determined to win a major prize falls squarely in the latter category. The first hour is great fun...and then is followed by a series of appalling mea culpas.

Just in case it's not obvious how awful the latter is, imagine a romantic comedy ending with the man and woman apologizing for being interested in romance; or more to the point, a sports movie that concludes with the star declaring that his life's passion was a stupid and juvenile way to spend time, and he'll devote his remaining years to a real job...like flipping burgers.

If you'd feel as I would about Field of Dreams ending with Kevin Costner being committed to a mental institution for seeing baseball players who couldn't rationally exist, then you'll understand why I'm infuriated by shows that don't have the guts to joyously and unreservedly revere their subject.

If you want to enjoy this 80-minute play, my advice is stay for the first hour, which is terrific...and then exit before the start of the jarring, relentlessly depressing, and highly inappropriate aftermath.
Show Rating: **½


Taylor Kate Manns Rating: ****
Love is Like Mud is a so-so production.

Fortunately, there's a brilliant diamond to be found in that mud—a redhead named Taylor Kate Manns (photo above). Manns is relatively new to NYC stages. She graduated only a year ago from AMDA, and her primary current credit is singing, dancing, and waitressing four nights a week at Sushi Roxx, a new restaurant managed by former Pussycat Doll Asia Nitollano.
But despite her freshness, Taylor Kate Manns already has the chops of a veteran Broadway musical performer. Manns' superb singing voice is vibrant and pure, and her acting has the playfulness and charisma of a young rock star. A generous team player, Manns tries to blend in, but her talent is so bright that she effortlessly stands far above everything else in Love is Like Mud.
The latter is especially impressive when you consider Manns was cast only two weeks before the show opened! The actress originally hired for the role suffered a family tragedy that led her to abruptly drop out. The producer remembered Manns from a reading she did last year, and brought her in to learn and rehearse the entire 75-minute musical in a mere 14 days. So not only is Manns a rare jewel of an actress/singer, she's also an incredibly quick study. (If you're a casting director, producer, or agent, Manns is based in NYC, and her webpage is at Backstage.com/taylorkatemanns. Snap her up...)
As for the rest of Love is Like Mud: Frankly, I was expecting puppets—because that's what's promised in this video on the production's website, as well as this video. Both scenes are in the show...but played by people.
There are only two notable puppets—and they're of an enormous penis and gigantic vagina, representing the climax of the two main characters' first date. Am not at all sure who the target audience for that is...
A couple of pleasant touches worth mentioning are that instead of costumes, the actors wear cartoonish cardboard cutouts in front of their clothes; and cartoon-like images occasionally play in the background to indicate characters moving to different locations. While I appreciated these additions, they're minor compared to the magic of true puppetry.
And the story—a couple falls in love, gets bored with each other, then tries to decide whether they want to settle for each other—is a rather pedestrian one.
As for the music, for some reason I can't begin to guess at, the three-man band turned its volume way too high. As a result, many musical numbers sounded as if the musicians were in a war with the singers for the audience's eardrums. About half the time the band so drowned out the singers that you couldn't make out the lyrics (which means you coudn't fully follow the story). The latter were like scenes out of The Producers, i.e., a show appearing to deliberately sabotage itself.
Here's hoping that for the remainder of the run the band has the sense to turn its volume down to the level used by every other production I've seen at its venue, so that you can fully enjoy the show...and especially the singing of Taylor Kate Manns, who is by far the best reason to come see this.
17. #OUCH! An Accidental Comedy


Show Rating: **



There are limitless great stories that can be told about the scandalous mess that is our American health system.
Sadly, this rambling and ultimately pointless one-woman show isn't one of them.
That's a surprise considering #OUCH! An Accidental Comedy is by Maryedith Burrell, a veteran comedic actress who's had recurring roles on Seinfeld, Parenthood, Home Improvement, Fridays, and more. And if that's not impressive enough, Burrell is also a writer who's been nominated for Emmy and Golden Globe awards, and a skilled improvisor who's performed at The Groundlings and The Second City.
Burrell's performance chops are evident. She's extremely comfortable commanding the stage and hitting lines with perfect comedic timing.

Where her show falls apart is in the writing choices. Instead of using her personal experiences with surgery on a fractured leg as a springboard for something more universal, the bulk of the hour consists of the kind of kvetching you might hear from a relative (albeit a witty relative) after a trip to the hospital.
A telltale sign the show is short on perspective is that Burrell generally fails to use the most tried & true tool of comics: making fun of herself. Her series of complaints lacks clear direction, notable insights, and—most important—consistently solid laughs.
I've had surgery on both knees, and also two cancer surgeries. These were by far the most excruciating experiences of my life, and required very long and difficult recovery periods.
Similarly, I imagine Burrell's leg surgery was unbelievably painful, and it will take her a while to get over both the physical and mental trauma. So it may be that Burrell simply wrote this show too soon, before she's had a chance to achieve enough distance from her horrible experience to craft a script with the underlying focused vision that typically makes a show like this both valuable and emotionally satisfying. If so, I hope she considers reinventing the show at some point to make it a truer representative of her considerable talent.
Meanwhile, you need look no further for a superb autobiographical show about health than the festival's Type What Now by Jessie Bear. For my review of the latter, please click here.
| | |
| --- | --- |
| Rating: *½ | |
Ben Rauch is an energetic and charismatic actor/singer/musician/composer who I always enjoy seeing on stage.

Unfortunately, this production indicates that he's not a strong scriptwriter.
Single Room Occupancy is the sort of musical that's best described as "relatively story-free." I'm told the seed for the show was a collection of songs for which Rauch composed the music and co-wrote the lyrics, and then later decided to somehow string together into a musical.


The result is a hodgepodge of songs that have little to do with each other, flat characters, virtually no plot, and—frankly—little understanding of what a story is.

If that wasn't bad enough, the show is terribly sexist, turning every woman into a scantily-clad object who for no apparent reason throws herself at men who have no clear appealing qualities—in other words, textbook male jerkoff fantasy.

And speaking of cliches, a subplot about the main character's preference for Asian women made some audience members uncomfortable. Watch this music video by Rauch and decide for yourself...
I'm told that two weeks before the show opened, a couple of the cast members who are comics plunged in to try to improve the script. I have no idea what they did; but at best, it was too little too late.
To make matters worse, the opening is an anemic musical improv segment that has nothing to do with the plot. I've no idea what the reasoning was here; but if you like musical improv, go see Your Love, Our Musical (please read my review here), or buy tickets the next time Chicago-based Baby Wants Candy comes to town, to experience the form done right.
On the up side, the entire cast is charming; Rauch's music is quite good; and his band is terrific. Particularly notable is musical director and keyboardist Noriko Sunamoto, who displays such enthusiasm and joy in the background that watching her is often the best part of the show.
As for Ben Rauch, again, he's a talent worth experiencing. I simply hope that next time he realizes there's more to a musical than music, and collaborates with a sharp professional writer to create a worthy showcase for his genuine gifts.

| | |
| --- | --- |
| Rating: * | |
A fine eight-person orchestra, solidly composed music, and one notable singer (Aaron McAleavey) are not nearly enough to save this dull and depressing musical about mental illness that splits its scenes between a college campus and a psych ward.

You'd think a production written and performed by mostly Yale students would be exceptional. But the acting is mediocre; the direction is bad; and the writing is simultaneously amateurish, pretentious, and self-indulgent.

Twenty minutes in I turned to my companion and asked, "How long is this?"
Without hesitation, she replied, "Looks like three days." (Some might say it's actually an hour and 45 minutes; but that's merely in terms of chronology...)

She and her friends fled during intermission.
But I stayed for the whole three days, dear reader, just so I could warn you.
This is beyond a story about feeling suicidal; it's a delivery system.
Keep your gaze skyward and skip going Under.
I feel confident in saying Kill Sister, Kill! is the only production in the festival that features a nun cutting off a rapist's penis (see photo above), and then lightly tossing the penis away so it and its dangling severed arteries can lay glistening under the stage lights.
Unfortunately, this scene is the absolute highlight of the production.
The overall story is dull, sporadically brutal, and consistently stupid; and the direction is itself a felony.
Thomas Finn and Heather Motut do a nice job as ill-fated lovers, but that's not nearly enough reason to sit through everything else.
Skip this and instead rent the sexplotitaion source material—such as the 1965 Russ Meyer cult film Faster Pussycat! Kill! Kill! It'll make no more sense, but will be way more fun.
Other Cool Places to Visit
Hy on Theatre Discounts Hy's Comedy Club Discounts
Best New York Comedy Become a HyReviews.com Insider
BookProposal.net HyOnYourScript.com
Hy's Previous FringeNYC Coverage
FringeNYC 2014 FringeNYC 2013 FringeNYC 2012 FringeNYC 2011 FringeNYC 2010
FringeNYC 2009 FringeNYC 2008 FringeNYC 2007 FringeNYC 2006 FringeNYC 2005
Copyright © 2015 Hy Bender
Email: hy@hyreviews.com