Hy on the Fringe: Your Personal Guide to the
2012 New York International Fringe Festival
This Stars Page Was Most Recently Updated: Friday August 17th 2012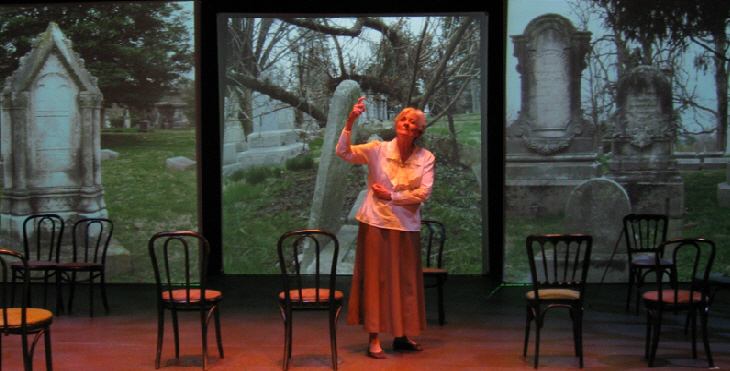 TV & film star Lee Meriwether raises the dead in The Women of Spoon River: Their Voices from the Hill...
...and former SNL member Rachel Dratch & former Daily Show correspondent Mo Rocca act in the comedy Tail! Spin!
Having established talent in a production is no guarantee it'll be worth seeing.
But it doesn't hurt, either.
With that in mind, below are FringeNYC 2012 shows notable for the TV, film, and/or Broadway veterans involved. At this early stage I know of only two:
• The Women of Spoon River: Their Voices from the Hill: This one-woman show is performed by famed actress Lee Meriwether, who began her career by winning the 1955 Miss America pageant. Comics fans know her best as one of the sexiest versions of Catwoman via the 1966 Batman feature film. She went on to such roles as Ruth Martin, who was a recurring characters for years on All My Children; Betty Jones, the crime-solving partner of Barnaby Jones; and Lily Munster in the 1980s revival The Munsters Today. It's a special treat to have someone of Meriwether's stature at this year's festival; but her choice of material is something else again. (For my review, please click here.)
• Tail! Spin!: This comedic play received lots of buzz for selling out its entire run in a flash, and for the impressive talents involved, including Rachel Dratch (cast member of Saturday Night Live from 1999 through 2006, author of Girl Walks Into a Bar) and Mo Rocca (former correspondent for The Daily Show, current correspondent for CBS Sunday Morning; Broadway's The 25th Annual Putnam County Spelling Bee). Happily, the buzz was well-deserved; and Dratch almost steals the show with her hilarious portrayals that include betrayed wives, porn stars, and Barbara Walters. For my full review, please click here.
Please click a link below to jump directly to what you're after:
Introduction to FringeNYC 2012
Best Video Promos & Sneak Peeks
Shows Selling Out Performances
Shows Receiving Added Performances
Hy's Previous FringeNYC Coverage:
Other Notable Pages on This Site:
Best NYC Comedy (Updated Daily)
Become a HyReviews.com Insider
Hy's Other Sites:
When you need a winning book proposal, world-class editor, or bestselling ghostwriter: BookProposal.net
When you need to bulletproof a screenplay or teleplay: HyOnYourScript.com
If you know anyone who might have a thyroid problem: The Complete Idiot's Guide to Thyroid Disease
For the best comedy shows tonight, and every night year-round: HyReviews.com and BestNewYorkComedy.com
Copyright © 2012 Hy Bender
Email: hy@hyreviews.com