Hy on the Fringe: Your Personal Guide to the
2012 New York International Fringe Festival
And the FringeNYC September Encore Series
This Comedy Page Was Most Recently Updated: Monday August 27th 2012
Notable FringeNYC Comedy Shows
If you visit this site during the rest of the year, you're probably a comedy fan. You should therefore be aware that there are a number of funny shows at the Fringe. They include the following by stellar comics from Chicago and NYC: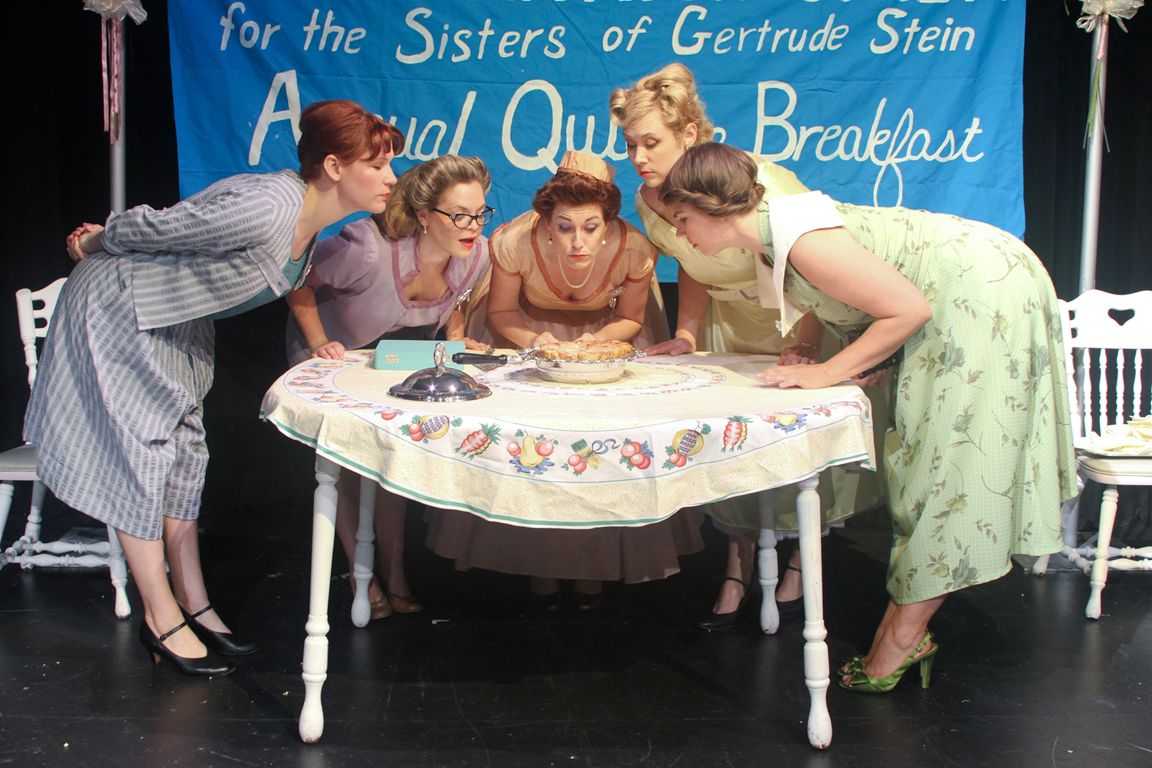 5 Lesbians Eating a Quiche is one of the funniest comedies—and finest ensembles—to ever grace FringeNYC...
...Skinny Bitch Jesus Meeting delivers dark sketch with The Underdeveloped and Overexposed Life and Death of Deena Domino;
and Matt Graham is brutally honest and very funny in his autobiographical one-man show This Too Shall Suck
• 5 Lesbians Eating a Quiche: Developed from improvised scenes by its sharp Chicago cast, this New Colony production is one of FringeNYC's finest comedies ever, and a not-to-be-missed event. For my review, please click here.
• The Underdeveloped and Overexposed Life and Death of Deena Domino: Leah Rudick and Katie Hartman are an NYC-based sketch duo calling themselves Skinny Bitch Jesus Meeting; and as the name implies, their comedy is both witty and unsettling. For a couple of video samples, please click here and here, and for a trailer please click here. Their FringeNYC show starts out strong and then becomes inconsistent, reflecting their background in sketch rather than long works; but it's well worth seeing for the great bits, and to experience these unique two performers and their special dynamic.
• This Too Shall Suck: Matt Graham is an international Scrabble champion (prominently featured in the bestselling book Word Freak), a former writer for Saturday Night Live and Conan O'Brien, and a former roommate & drinking buddy of comedy giants David Cross and Marc Maron (for a chat between Matt & Marc, please click here). Graham's autobiographical one-man show is exceptionally honest and packed with laughs; for my review, please click here.
Some Comedy Advice for FringeNYC Performers
Here's some advice for FringeNYC performers who've never experienced an NYC comedy stage before.
Even if you're the top comic in your area, please be aware that humor often doesn't translate smoothly across long distances.
For example, John Oliver is now one of the greatest stand-ups in comedy history. (That's not hype, by the way; am simply stating a fact.) But when John first moved to NYC, his timing was too slow—he was used to UK audiences, who are more laid-back than Americans in general and New Yorkers in particular.
John was a quick learner. But even so, he had the luxury of retooling his craft by playing small Manhattan & Brooklyn venues night after night.
You, on the other hand, will mostly be judged by your very first FringeNYC performance.
The single biggest mistake Fringe productions make is treating the first performance as a kind of rehearsal. It's actually the "make or break" show for the whole run, because the majority of both reviews and word-of-mouth buzz will come from that initial audience.
And New York audiences are different from any others. We're quicker to "get" the joke, and less patient with the obvious, the unoriginal, and the cheap laugh. (I've seen way too many LA comics who were shocked that they fatally bombed within 60 seconds of doing an anemic, plastic routine before a sharp NYC crowd...) We especially value bravery, honesty, and reacting organically in the moment (e.g., being quick-witted).
If you're available Monday nights, come watch Whiplash at 11:00 pm at UCBT. (You can make reservations by clicking here.) It's often the best stand-up show in NYC and will provide a feel for pacing; plus it's free.
You can also find free comedy open mics for testing out bits of material virtually every night via my daily-updated comedy sites HyReviews.com and BestNewYorkComedy.com.
New Yorkers are among the toughest comedy audiences in the world. But if you can make us laugh, we'll love you for it...because you'll have really earned it.
Please click a link below to jump directly to what you're after:
Introduction to FringeNYC 2012
Best Video Promos & Sneak Peeks
Shows Selling Out Performances
Shows Receiving Added Performances
Hy's Previous FringeNYC Coverage:
Other Notable Pages on This Site:
Best NYC Comedy (Updated Daily)
Become a HyReviews.com Insider
Hy's Other Sites:
When you need a winning book proposal, world-class editor, or bestselling ghostwriter: BookProposal.net
When you need to bulletproof a screenplay or teleplay: HyOnYourScript.com
If you know anyone who might have a thyroid problem: The Complete Idiot's Guide to Thyroid Disease
For the best comedy shows tonight, and every night year-round: HyReviews.com and BestNewYorkComedy.com
Copyright © 2012 Hy Bender
Email: hy@hyreviews.com